This is the cake I wrote about in my
Mexican Brunch
post, the one that's listed there as All-Purpose Vegetable Cake. There, I made it with mashed up corn, and this time around, I used some sweet, juicy pears for a uniquely flavored, wonderfully satisfying cake.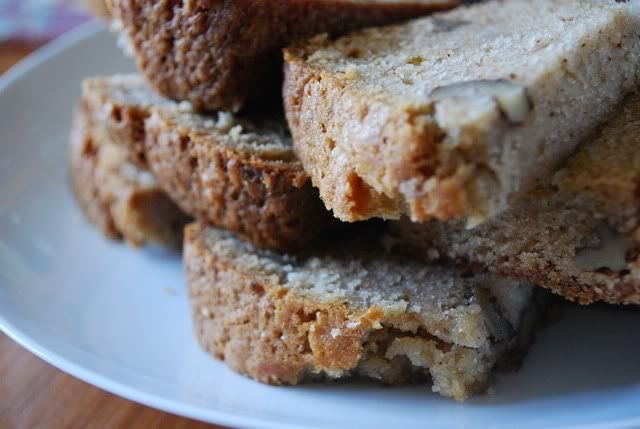 This is how it goes with my family and pears: Every year at the beginning of spring we're all starved for fruit, and we'll see them stacked up so prettily in the grocery. We'll buy a whole bunch and enjoy a few when they're still deliciously firm and crisp. Then they'll start to ripen, and we'll be stuck with a ton of pears that are still technically good but that no one is going to eat.
I don't know why I'm so picky about pears, but I am. As soon as they start to soften in the least, I won't eat them. The thing is that I do love the taste of pear; just not that ripened texture. So this year I realized that the perfect solution was to put that flavor into something else. What is the "something else" I usually come up with? Why, cake, of course.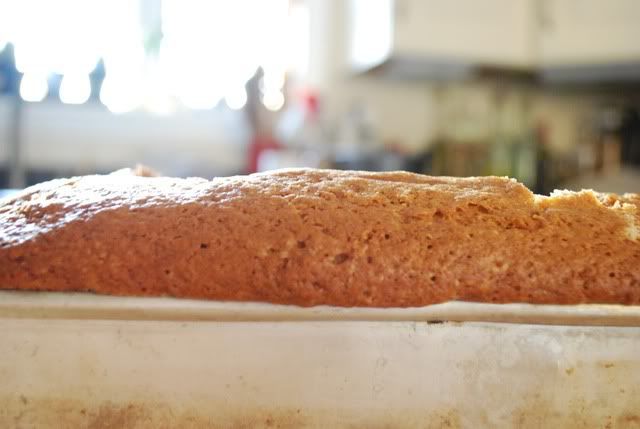 This cake, as I've said before, is really all-purpose. It works as banana, zucchini, cherry, corn, and pear bread, and I'm sure that if you wanted to experiment with the pulp used, you'd get even more great results. This was my first time using the pear variation, and it worked great. The pear flavor is subtle but detectable; if you don't know it's in there, you'll be wondering what the mystery flavor is (and reaching for another slice).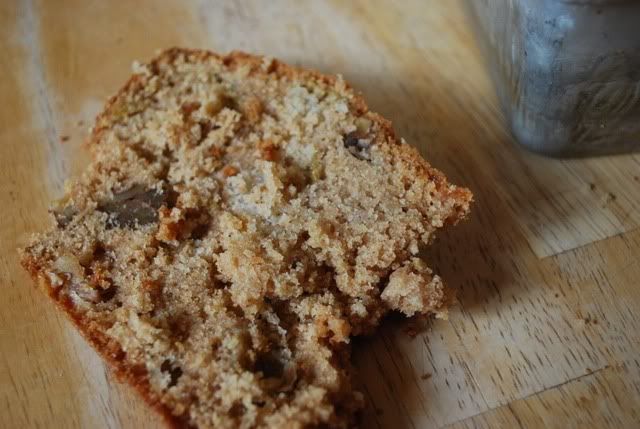 My mom had her friends over for tea the afternoon I made this and she set out a plate with slices for them. Its flavor is so perfect for this time of year, when we finally get to go outside and enjoy the sun and spring air again. It's satisfying, yet light and fruity, and wonderful for springtime tea or coffee.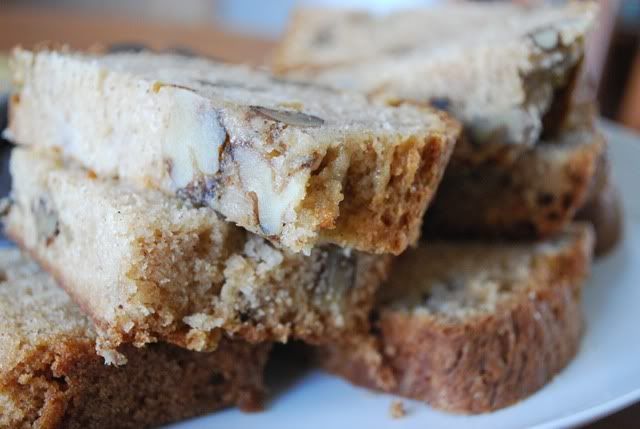 If you plan to make this, absolutely use the walnuts called for in the recipe. They caramelize in the batter while baking and are so, so good. Feel free to substitute any kind of vegetable or fruit pulp for the pears. If you're using something juicy (pears, bananas, most kinds of fruit) mash them well with a mortar and pestle or
very briefly
put them through a food processor; it's better if it's a mash, not a puree. If you're using something dry (zucchini, carrots) just grate them. Either way, go by weight and use 11.5 ounces of mashed whatever.
And use those walnuts. I'm not kidding.
All-Purpose Vegetable Cake (or Pear Cake)
1 pound flour
14.5 oz sugar
7 oz oil
3 eggs

11.5 oz mashed corn (or banana, or zucchini, or carrots, or beets...)
3.5 oz walnuts
1 tsp baking soda
1 tsp salt
1 tsp cinnamon
1 1/2 tsp vanilla

Whisk the sugar into the oil.
Add the fruit/vegetable, eggs, and the vanilla.
In a separate bowl, combine the flour, baking soda, salt, and cinnamon.
Add to the liquid ingredients and mix until just combined.
Mix in the walnuts.
Bake in a greased and floured Bundt pan at 350F for 1 hour and 15 minutes.