Junior year.  My weekends have become a mad dash to see my friends, finish all my homework, and do all the baking I've been deprived of during the week.  With so little time to do everything I want, I'm starting to enjoy my time in the kitchen even more.  When I have a day off, I start it at the breakfast table with a cup of tea and a patient excitement for the day ahead that can only mean one thing.
I'm spending the entire day in the kitchen.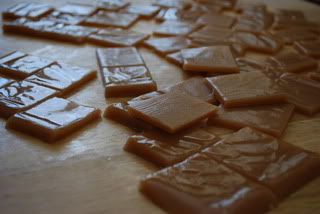 So.  This Sunday, I found that I was quickly running out of time to bake (even though I'd already made baguettes on Saturday).  Instead of behaving as a normal, sane honors student would, I brushed my mounting pile of homework aside, valiantly marched past the stack of college letters on my dining room table, and started pulling things out of the fridge.
Such as this monster block of butter.  We got it from an Amish farmer who delivers produce to city dwellers like us (I didn't know the Amish can drive vans into town, but hey).  It's deliciously rich, brilliantly yellow, honest-to-goodness butter, and yeah, it tastes heavenly on warm bread or biscuits.  The only problem?  It's cultured and salted, making it a bit funky-smelling for baking.  It's got this great fermented smell to it, almost like cheese, and a tangy taste, so you can imagine that for cakes and cookies, it's a no-go.  And besides my baking endeavors, we don't really use a lot of butter in my house.  So it's been sitting around in my fridge for a good while, just waiting for me to come up with something to make with it.
And then, while looking through
David Lebovitz
's recipe archive, I found them.  The salted butter caramels with which I would soon fall in love, sacrifice my waistline, and elope with.
Or something like that.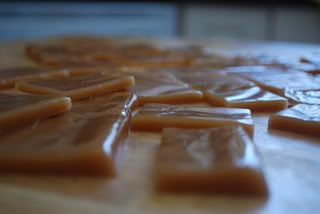 My Spanish teacher has a candy dish that she brings out for us when we're good (or when we raid her cupboards), and I thought these would be perfect as a treat for my class.  When individually wrapped, they're easy to move around, and they keep well, so I could leave them at school and wouldn't have to worry about taking home any leftovers.
Well, it turns out that I needn't have worried.  By the end of the period, the fifty or so candies the recipe yielded were all gone.  What can I say?  Teenagers and their appetites.  Though to be fair, I think I may have eaten more than my fair share of those.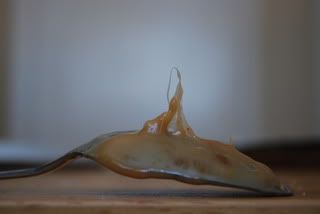 Definitely use cultured butter if you can get your hands on it.  I thought it might not work well when I started these, since the butter does have a bit of a cheesy smell to it, but I was so pleased with the result.  The caramels reserve that great tang but don't have any of the unpleasant taste I was expecting.  And, of course, the saltiness of the butter goes wonderfully with the sweet, creamy candy.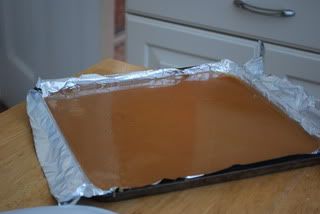 The caramels are soft and chewy, but hold their shape very well.  They were surprisingly easy to cut into neat little squares, which looked great when I was taking them in to school.  The only thing I hated was cutting out rectangles of cling wrap to package them in.  It was frustrating (cling wrap is true to its name and clings to everything, and I am not a patient person at all), but in the end I think it was very much worth it.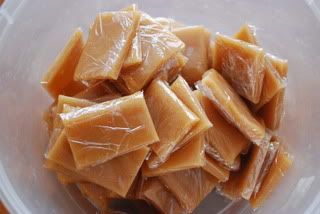 Well, I'm done extolling praise for these little guys.  I suggest you get off the computer and make a batch of these yourself.  You can thank me later.
But if you can't stop at one (or ten), I had nothing to do with it.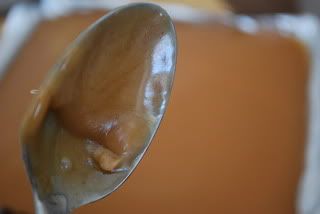 3/4 cup heavy cream
1/2 teaspoon vanilla extract, paste, or powder (I just used an empty pod that I had lying around and heated it with the cream)
1/2 teaspoon and 1/4 teaspoon flaky sea salt
160 g light corn syrup
200 g sugar
60 g cultured, salted butter or salted butter, room temperature
Line a 9-inch loaf pan with foil.  Grease the inside.
Heat the cream, vanilla, 1/2 teaspoon salt and 30 g of the butter in a small saucepan.  
Bring just to a boil and then remove from heat.  If using the vanilla bean, remove it now.  Cover to keep warm.
Heat the corn syrup and sugar in a medium saucepan with a candy thermometer.
Stir gently until the sugar has distributed evenly.
Bring to 310F, stirring only when necessary to avoid any scorching.
Remove from the heat and stir in the warm cream mixture.
Return to the heat and bring to 260F.
Remove from the heat and stir in the remaining butter until smooth.
Pour into the pan.
Wait ten minutes, then sprinkle the 1/4 teaspoon salt over the top.
Allow to cool completely, then lift out the caramel, remove the foil, and slice into cubes.
Wrap individually in cling wrap or waxed paper.
Store in an airtight container for up to a month.