Mmm, bread.  Nourishing, wholesome, comforting.  The staff of life and all that good stuff.  If I could, I might make whole meals just out of really good bread.  Or spread it with some hummus.  Or tapenade.  Or a slice of cheese.  Or make it into a chorizo sandwich.  Whatever you like, this bread is perfect.  It's delightfully soft, has a good flavor on its own, and works beautifully with spreads or as a sandwich bread.  The lovely golden color just screams "homemade goodness," and I (really really) suggest taking it to work or school with you for lunch so that you can
casually
pull out a crusty, golden brown sandwich and
casually
 mention that you made it yourself.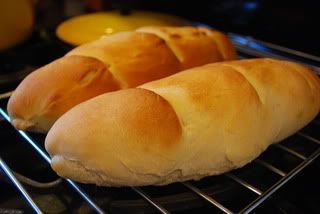 Generally I try to use machines as little as possible when baking.  I love my KitchenAid to death, but whenever possible I just mix by hand.  However, with bread it's a different story.  Because bread requires gluten development, and gluten development requires muscles.  Which, much as I work out and pound that bread dough, I simply do not have enough of to pass the
windowpane test
.  So I quit my grumbling about machines taking over our kitchens when it comes to bread and keep mum.  
And truth be told, the stand mixer is really indispensable to the home bread baker (at least small girls like me who insist on homemade bread).  Without it, I doubt that this bread would have risen so beautifully and yielded such a pleasant, soft crumb.  I've made bread by hand-kneading before and it has, without fail, been a disaster every time.  So I'm immensely grateful to my mixer and to this wonderful recipe from Patricia Wells which make genuinely good French bread just within my grasp.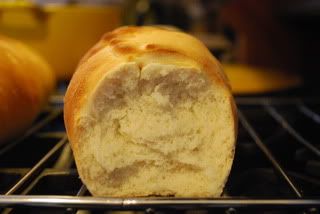 Let's talk about shaping the baguettes, shall we?  Ohhh tay!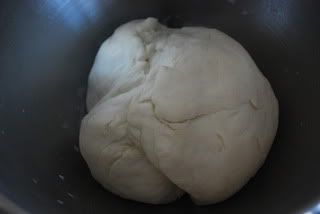 After the first rising period, your dough should look like this.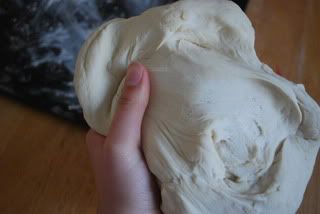 Ahh, so soft and nice.  And so much fun to play with!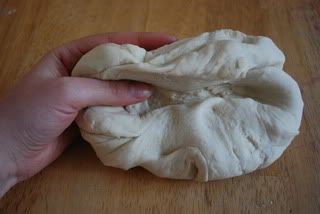 Split your dough into two oblongs and make an indent in one, as shown.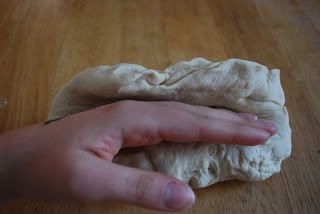 Use the side of your hand to deepen it.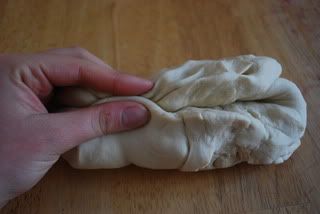 Now pinch the edges together as shown, being careful not to flatten the pocket of air you've just created...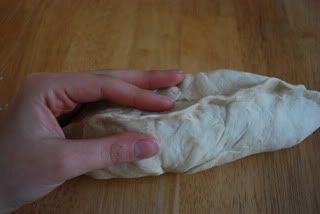 ...Until you get something like this.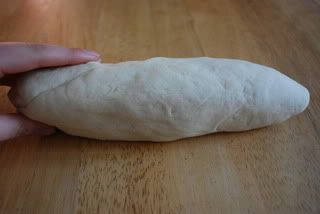 Very gently roll and shape the loaf to your desired length.  I suggest making them long and skinny, since this dough rises very well (though chubby baguettes are fine by me, too).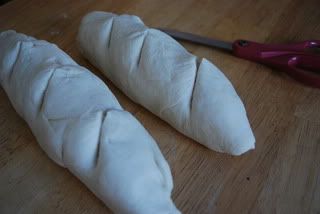 Repeat with the other baguette and score the tops three times with a pair of very sharp kitchen scissors.
After the second rising period,  your loaves should look puffy and ready for the oven:
Amazing stuff, bread.  And so very, very tasty.
Adapted from
Simply French
, by Patricia Wells
2 teaspoons active dry yeast
1 teaspoon sugar
1 1/4 cups lukewarm water
2 teaspoons fine sea salt
3 3/4 cups bread flour
Fill a spray bottle with water.
In the bowl of a stand mixer fitted with a dough hook, combine the yeast, sugar, and 1 cup of the lukewarm water.  Mix with a fork and cover with a damp cloth.  Set aside for 15 minutes.
Combine 1/4 cup lukewarm water and salt.  Stir and set aside.
Return the yeast mixture to the mixer and mix on low speed.  Slowly pour in the salt water.
When combined, gradually add in the flour (you may need a little more or a little less).
Continue kneading on low speed for 7 minutes, until the dough is firm and smooth but not dry.
Knead the dough gently by hand for 1 minute.
Cover with a damp cloth and let rise 40 minutes in a warm place.
Divide the dough in half and form each into a baguette, as shown above.
Place the loaves on a baking sheet and cover with a damp cloth.  Let rise 1 hour.
Place a baking stone in the oven and heat to 475F.
As you are placing the sheet with the baguettes in the oven, generously spray the baking stone with water from the spray bottle (alternately, you can squirt water on the stone with a large water bottle, but be careful not to get any hot water on the oven door).
Quickly close the oven door.
Bake 12-15 minutes, until golden brown.
Watch the bread carefully.  If one side is browning more than the other, rotate the pan.
Cool the loaves on a wire rack to ensure a crispy crust.