This week, I had a cake order for an office going-away party. The only specifications were that the cake should have layers and include chocolate; lots and lots of chocolate. Of course, being me, I decided to use a chocolate cake recipe I'd never tried before. Not surprisingly, the cake didn't work out as I had hoped. While delicious and rich and chocolatey, it was too moist to cut well and stack. So what do you do when life gives you a whole chocolate sheet cake? You make it into cake balls.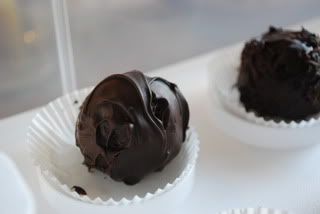 I'd heard wonderful things about Ree Drummond's (
The Pioneer Woman
)
chocolate sheet cake
, and so I thought I'd bake the sheet cake, cut it in half, spread whipped cream between the layers, and frost the whole thing with ganache. A perfect layer cake, right?
Wrong. Because this is what happened when I cut the cake in half: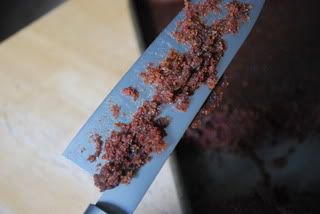 The crumb was so soft and moist that there was no way I could cut it neatly, much less stack it. It stuck to that knife like nobody's business.
I'll admit I had a little fit when this happened. I'd just used up two sticks of butter and four tablespoons of my precious cocoa powder and didn't even have a cake for the party to show for it. Plus, I now had a rather large sheet cake sitting in my downstairs fridge that I
knew
my family, much as we like sweet, wasn't going to be able to finish off.
So I sulked and grumbled and swore at the cake all evening until after dinner, when I sliced it up for dessert. Feeling rather bitter towards it and hoping to spruce it up a little bit, I brushed it with some lemon simple syrup we had in the fridge and served it in small squares.
And then I realized that this cake kicks butt.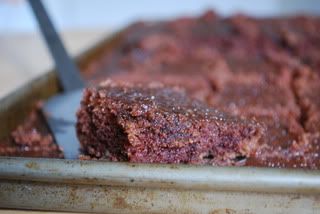 Honestly. The whole time I had been griping about how I couldn't cut it neatly or use it for the layer cake, I had completely missed the fact that it's actually a gorgeous cake. Moist, rich, and so tender. It even has that beautiful reddish color that some chocolate cakes with baking soda develop.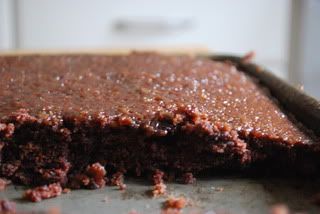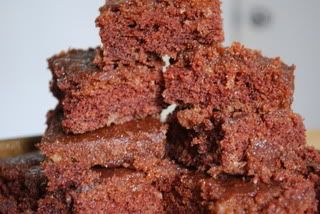 I was grateful that the cake had actually turned out very well, but I was still annoyed that I had used up ingredients. But then while I was preparing to make the ganache for the actual party cake (more on that soon!), I had an idea. Why not take a page out of the ridiculously talented
Bakerella
's book and make cake balls?
I needed a dessert for a school function on Tuesday anyways, so I figured this was the perfect solution to my lack of a dessert (and ingredients) for the function and my cake surplus. Cake balls, or, as I decided to bill them as, cake truffles, are bite-sized, simple, definitely not messy, and miraculously portable. The cake gods had smiled upon me again.
So I made that life-saving wonder they call ganache...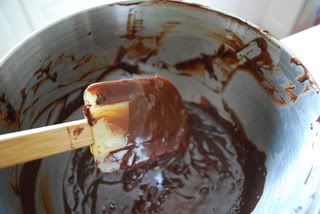 ...Whipped it up (sorry, no picture of that part) and crumbled up my cake...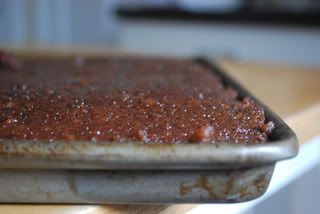 ...Mixed the two together, and rolled the mixture into little balls. Ta-da! Sweet, cute, simple little cake truffles. And rich, too. But I wasn't done yet.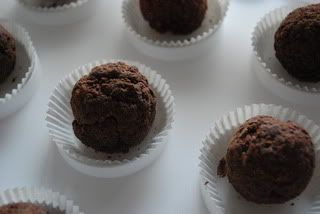 These ones got rolled in grated chocolate-rum
turrón
. I loved it because it wasn't overkill, but it did make them look quite polished.
Those on the left, as well as in the first picture of the post, got dressed up in melted semisweet chocolate. Such classy little truffles. They were adorable.
I took these to the school function and not one was left over. My mum has asked me to make them again for a dinner she's having for her friends. My mom
never
asks for desserts with butter and/or cream.
So yeah. These are good.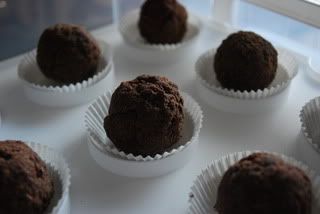 Also, I'm frosting the 272 cupcakes from the previous post tomorrow, so expect a big one on that!
Chocolate Sheet Cake
From
The Pioneer Woman Cooks
Ingredients
2 cups all-purpose flour
2 cups sugar
1/4 teaspoon salt
4 heaping tablespoons cocoa powder
1 cup (2 sticks) buter
1 cup water
1/2 cup buttermilk (I like to use 1/2 cup milk + 1/2 tablespoon white vinegar)
2 eggs
1 teaspoon baking soda
1 teaspoon vanilla
Grease a baking sheet and line with parchment paper. Grease the paper.
In a large bowl, sift together the flour, sugar, and salt.
Melt the butter in a saucepan.
At the same time, bring the water to a boil.
When the butter is melted, add the cocoa powder.
Add in the boiling water and allow the mixture to boil for 30 seconds.
Pour over the flour mixture and stir gently.
Beat the eggs.
Combine the buttermilk, eggs, baking soda, and vanilla.
Add to the chocolate mixture.
Pour into the sheet pan.
Bake 20 minutes at 350F.
Whipped Ganache
2 cups heavy cream
1 pound semisweet chocolate
In a saucepan, bring the cream to a boil.
Pour over the chocolate mixture and let sit one minute.
Gently stir until the chocolate is completely dissolved.
Allow to come to room temperature and then put in the fridge for at least one hour.
In the bowl of an electric mixer fitted with a whisk attachment or with a hand mixer, beat the cold ganache until very light and fluffy.
For instructions on making cake balls, please visit
Bakerella
's lovely site.