So, remember how in the recent
chocolate buttercream post
I said that my teacher asked me to make the 250 cupcakes for her daughter's birthday party? Well, of course I said yes! Since the theme of the party is gold and pink (in varying shades), I think it will be perfect to make gold cake cupcakes with two different types of frosting, tinted all different shades of pink. I already know that I want to make the successful "Crazy Good" buttercream that I love so much, but I had to decide on a new one. I set my little heart on seven-minute frosting after experimenting with soft-centered meringues (something about whipping up egg whites is just magic to me). The thing is, the last time I tried this kind of icing it was far, far too sweet, and I did something wrong with the syrup and the whites and it just didn't fluff up. So I decided to plan ahead a bit and give it a test run at home before preparing the actual party cupcakes.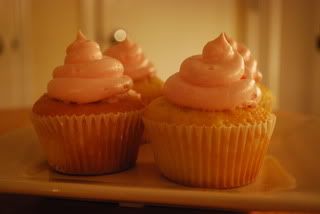 This time, I tinkered with the recipe I got from
Baking Bites
and which I used last time. Also, this time around I was equipped with a properly functioning candy thermometer and my lovely wonderful fantastic stand mixer. The frosting worked out wonderfully this time - not too sweet, wonderfully fluffy and soft, and lovely for piping.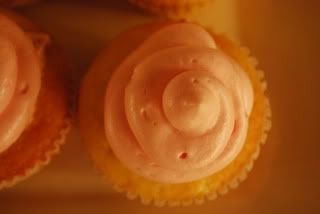 Of course, there was also the pretty pink tint to it. I'm not sure if you can see it in these photos (sorry about the lighting) but the frosting is a light, girly pink which I think will be perfect for the birthday party. I wanted to experiment with powder colors for these cupcakes, but I haven't had time to go to an actual cake supply store in a good long time. So I tracked down every last bottle of food coloring in the local supermarket looking for one that pink. Not just red, no; I wanted real, girly, ohmigod pink. I eventually found a product called
NEON! Food Colors
from McCormick, and I have to say that it works really well. The tint is the true pink I wanted and I really can't see the downside everyone claims of liquid dyes, at least not in simple cupcake frosting like this.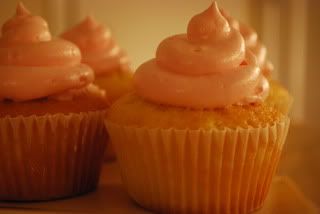 The cupcakes were leftovers from my
eight-yolk cake/chocolate buttercream post
, but that cake is so darn good that it goes with pretty much anything you put on it, and this frosting was no exception. Even one of the little guys was left over and got the princess treatment.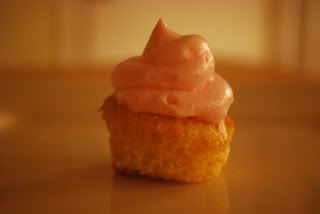 Poor little guy never made out of the photo shoot. Chomp.
I will definitely be using this frosting for the party cupcakes. With the success I've been having with icings, I'm ridiculously tempted to experiment with other kinds of buttercream (swiss meringue, anyone?) but I know that I already have one and having two buttery icings would just be overkill. Besides, this seven-minute one is indulgent but light, and I think it will be a nice contrast to the richer buttercream.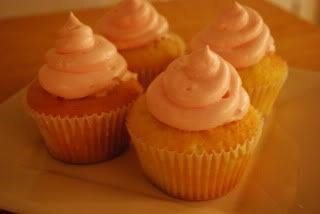 I'll be making the party cupcakes this Sunday, freezing them, and frosting them all the day of the party. I hope to take as many pictures as I can while working, so expect some sizable updates as I go. I'm so excited for this.
One more thing. (I know, I know, I'm going!) The recipe below is for the smallest quantity I could make, using only one egg white, because I didn't want a ton of frosting I'd never use sitting in my fridge. This quantity will generously frost about seven or eight cupcakes, but you can double it easily if you'd like more.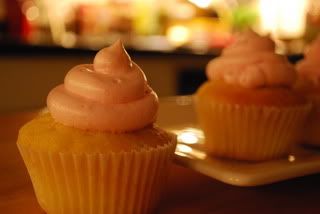 Seven-Minute Frosting (Smallest Quantity Possible)

Adapted from
Baking Bites
Ingredients

1 egg white, at room temperature
1.25 ounces sugar
1/8 tsp cream of tartar
1 ounce water
Food coloring, if desired
Place the egg white in the bowl of an electric mixer fitted with the whisk attachment.
Combine the water, sugar, and cream of tartar in a small saucepan and cook to 242F.
As the syrup is reaching 242F, begin whipping the egg white to soft peaks.
When the syrup is the right temperature, slowly stream it into the whites with the machine running.
Beat until the frosting is very light and fluffy and the sides of the mixer bowl are no longer warm.
Add the food coloring, if using, and beat until combined.