Today my very talented friend Anna came over. Anna will be going off to Johnson and Wales next year, so the girl is serious about baking. It was so great to bake with a friend that is genuinely as nuts about food as I am, and we tried a recipe that requires patience, dedication, and a honest-to-God love of baking: macarons. I've had success with macarons before in my
Macarons For Beginners
post, but Anna had never gotten them to work. I'm glad to say that our macarons were beautiful, and surprisingly delicious.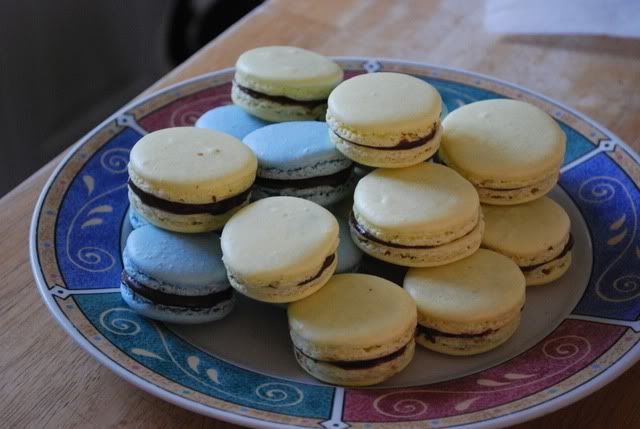 The macarons we made are for the baby shower of my mom's friend, and it's going to be a boy. I thought that pastel blue and yellow shells would be perfect for the occasion, "boy" colors, but still light and springy and perfect for the beautiful weather we're starting April with.
I made sure to fold the batter enough this time. Last time I whipped the egg whites to the bird's beak stage, as you're supposed to, but babied the batter when adding in the ground almonds, and when I piped the shells, they had visible peaks and didn't spread, and were therefore a little thick for sandwiching. With these batches, we really gave the batter a good stir (without overdoing it, mind you!) and the macarons spread just enough when piped to be thin and delicate but also hold their shape. The first ones we piped, the blue ones, weren't all so pretty: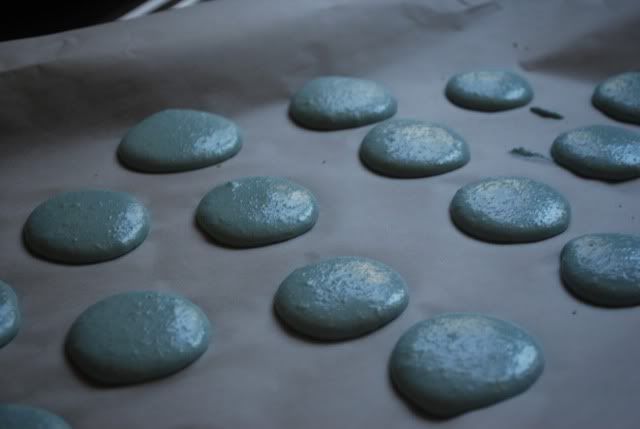 But it didn't matter much to us. When we pulled them out of the oven, a few were oblong or cracked, but we both screamed for joy at the beautiful little feet our cookies had.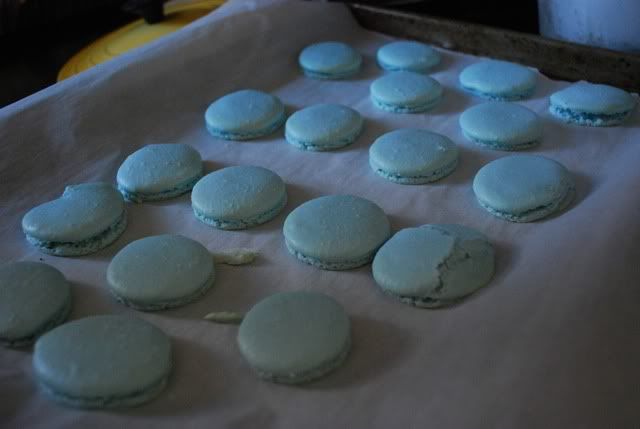 Besides, we did get quite a few good ones out of the batch, and they had all risen properly.
The yellow ones were better, as we'd gotten a better grasp on the piping and just how much they would spread. We let each batch sit for an hour before baking it to let the skin dry out and, therefore, to get the coveted little feet on the bottom. This trick is absolutely indespensible in making macarons, and really shows that these little guys are much more about technique than anything else. As far as I can see, the keys are whipping the egg whites enough, folding the batter properly, piping, and letting the piped shells rest before baking.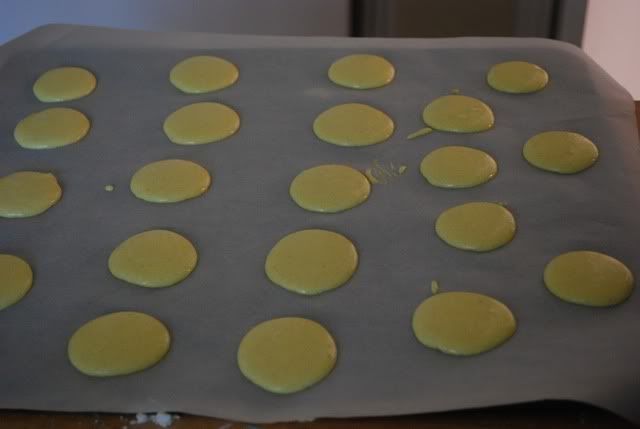 When we pulled the second batch out of the oven, there were more squeals. They were absolutely perfect; not a single ugly one in sight. As soon as we could, we started peeling them off the parchment paper and filling them.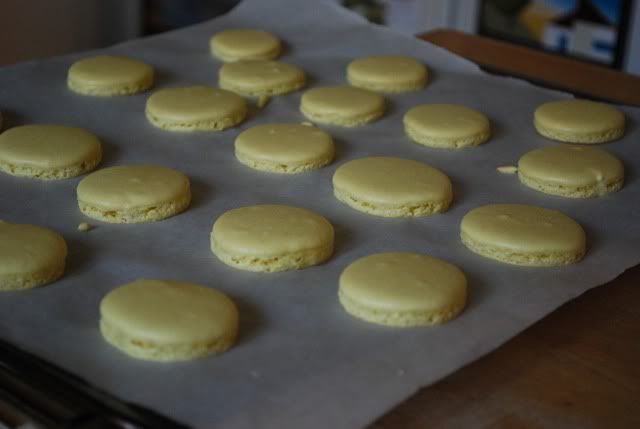 I made a chocolate pastry cream for these, as with my macarons for beginners. This time I was careful to cook the cream very gently to avoid curdling the eggs, but for a longer time so that it was deliciously thick and spreadable. When I pulled it from the fridge and started mixing it, it was paste-like and we started saying that it looked like Nutella. Which got us to thinking that really, macarons could only be bettered by a teaspoon of hazelnut oil in the filling...
Unfortunately, we didn't have any hazelnut oil, so we mixed a teaspoon of almond extract into the cream. And I'm so glad we did. These macarons are ridiculously tasty, moreso than my first attempt. This is partly because the pastry cream is better, and partly because the shells are the proper thickness, and you get the perfect ratio of cookie to cream in every bite.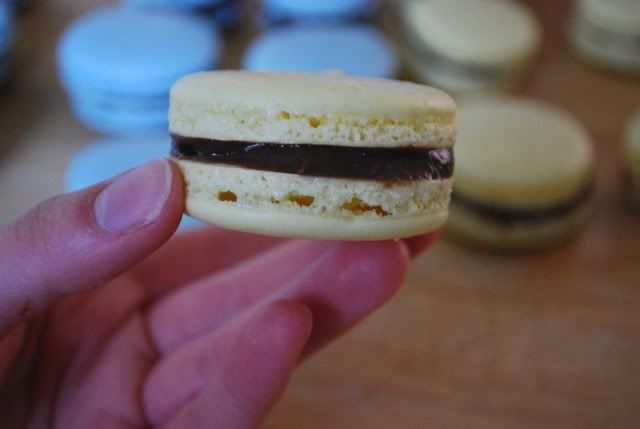 Anna was great in the kitchen. She's very talented and dedicated and we both want to learn everything we can about baking, even if it means admitting that we don't know everything. We had a lot of fun baking, filling, and posing our perfect macarons (and freaking out at the fact that they were perfect).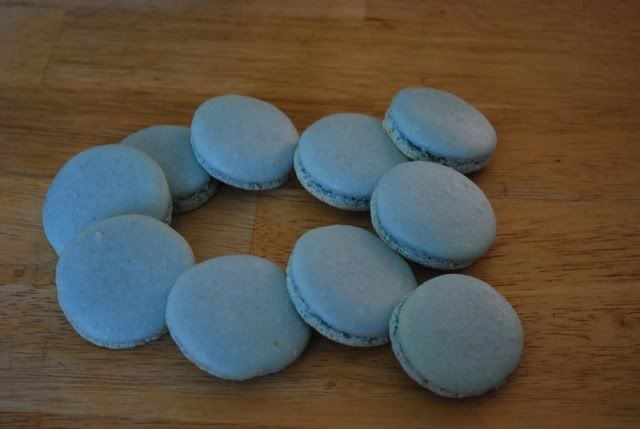 A for Anna!
The finished macarons are such cuties. Almost all of them are perfectly round and the shells were all pretty much the same size. With a thick layer of chocolate pastry cream in the middle, they're ready for the party. (By the way, the one on the left is me, and the one on the right is Anna. Yes, we're adorable little macarons.)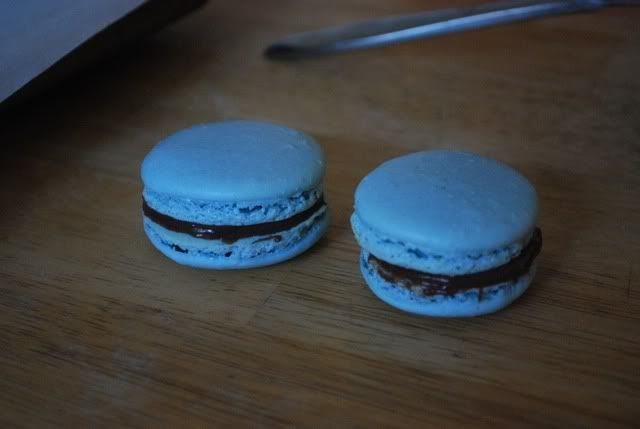 So that's my offering to you and to the mother-to-be. Sweet, tasty, spring macarons. The coveted cookie that's really not so hard to make...but definitely better when made with friends.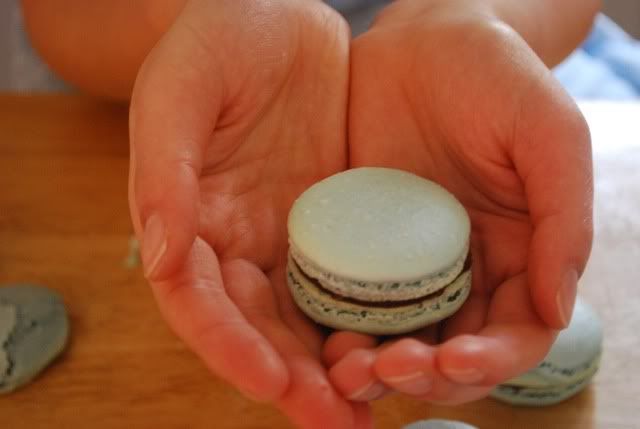 Macarons
Adapted from
Joe Pastry
Note: To color the macarons, we made half of the recipe all the way through, adding blue, and then made the other half of the recipe using yellow.
Ingredients
3.8 ounces almonds
7 ounces powdered sugar
3.5 ounces egg whites (aged overnight at room temperature, or brought to room temperature and then zapped in the microwave for no more than ten seconds)
1.75 ounces granulated sugar
Cover two cookie sheets with parchment paper.
Place the almonds and powdered sugar in a food processor and grind until very fine. You should see no almond pieces. (You may have to work in batches if the machine is small. Just divide up your almonds and powdered sugar evenly each time.)
Pass this through a sieve or sifter and set aside.
In the bowl of an electric mixer fitted with a whisk, beat the egg whites until they are at the soft-peak stage. Add any food coloring at this point.
Add the granulated sugar and beat until very stiff.
Add the ground almonds all at once and stir - don't fold - until the batter starts to come together. Slow down as it starts to look consistent.
Test a little bit on a small plate. If it holds a peak, give it a few more turns. If it settles into a nice, peakless (but still full) round, it's just right. If it flattens out completely, you've overmixed, or your egg whites weren't stiff enough.
Fit a piping bag with just the coupler, no tip, and stand it up in a glass for easy filling. Spoon in the batter.
Pipe small circles, about 1.5 inches in diameter, on the parchment paper.
Let these stand at room temperature for an hour.
Bake at 300F for 12-15 minutes.
Let cool and then peel the parchment paper off.
Fill with a thick pastry cream, buttercream, ganache, jam, preserves, etc.
Chocolate Pastry Cream
Slightly adapted from
Joy of Cooking
Ingredients
4 ounces semisweet chocolate
1 1/2 cups milk
1/2 teaspoon vanilla extract
1/2 cup sugar
1/4 cups all-purpose flour
4 egg yolks
Scald the milk with the chocolate and vanilla.
Beat the egg yolks in a small bowl.
Mix in a double boiler the sugar, flour, and egg yolks. Beat until light.
Very gradually add the scalded milk by adding a small amount to temper the yolks and then whisk in the rest.
Cook over gentle heat, stirring constantly, until the custard begins to thicken.
Remove from the heat and continue stirring for a minute.
Cool and place in the refrigerator until ready to use.
If the cream curdles slightly, just a) pass it through a sieve or b) use a blender, food processor, or immersion blender to smooth it out. Works wonders.