272 cupcakes. 3 hours. 1 very happy baker.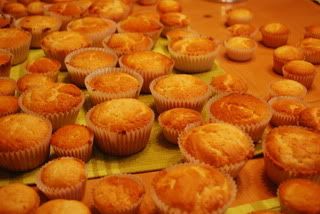 Well. That was amazing.
The cake-making part of the baking (now I have the frosting left to do) went wonderfully. My teacher's family was really wonderful; her very sweet daughter helped me out in the kitchen, and they were all so welcoming and grateful that I was making the cupcakes (even though
I
was grateful they were letting me invade their kitchen). The cakes themselves went very smoothly. I was terrified that in my nervousness I would burn something or forget to add the sugar or what have you, but everything went well, and the cupcakes looked gorgeous. It's always scary baking in a kitchen that isn't yours, where you can't reach automatically for a spatula when you need it and where you have to ask for the flour. Ovens, especially, are so moody and vary so much from one to another that it's hard to immediately adapt to one you're not familiar with. I was a little shaky at first, but by the end we were consistently turning out pretty perfect cupcakes.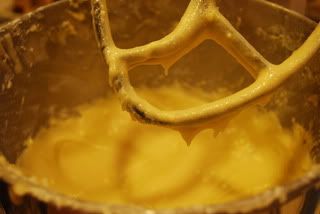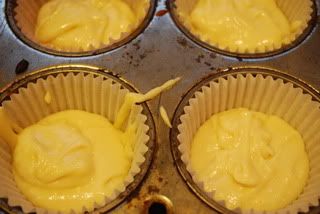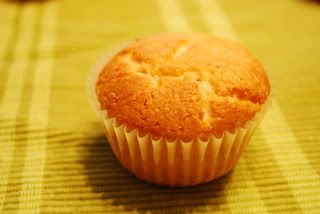 As I said, I got 272 cupcakes done, not including the ugly ones that had to be eaten. There were so many, in fact, that I couldn't get a picture with all of them in it. But by the time we were done, the cupcakes had completely taken over their kitchen and dining room.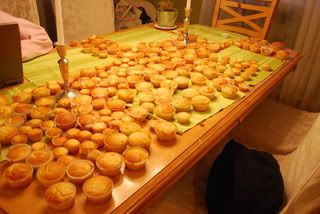 So the baking part was a real workout, but it was absolutely worth it, and I can't wait to repeat the process with the icing. My teacher's adorable youngest son left his Legos on the kitchen counter, and we had a little fun with them...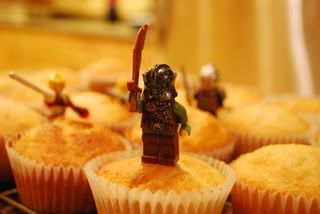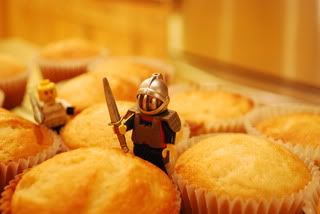 Cute, no?
About the cupcakes. They are the same ones I made for my very first buttercream post, and they are my go-to vanilla cupcakes. I chose them for this project because they have a wonderful taste, go well with frostings, and have a pleasant, soft crumb but are still quite sturdy and will stand up to handling and icing and transfer.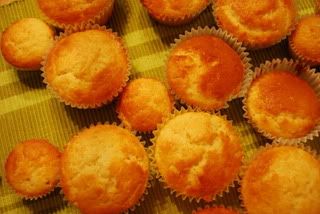 They also freeze very well, which is what we had to do with them to keep them fresh until next Saturday (again, I couldn't get a frame with all of the freezer bags of cupcakes in it).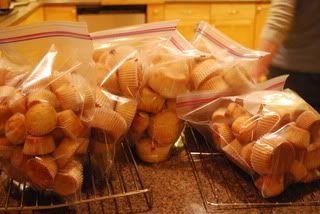 The baking was so much fun, and I feel like I learned a lot about dealing with larger batches than I'm used to, as well as how to deal with clients and business. I hope to keep doing catering projects like this (I have a chocolate cake order right now, so check back for that one!) and to keep learning from them. I had a great time and it only reaffirmed the fact that while I'm still learning and will always be learning, baking is my passion.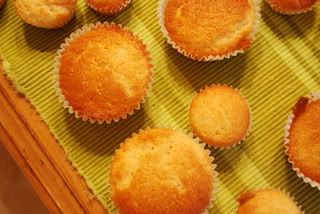 2/3 cup butter
1 3/4 cup sugar
2 eggs
2 tsp. vanilla extract
3 cups all-purpose
2 1/2 tsp. baking powder
1 tsp. salt
1 1/4 cups milk
Line two muffin tins with paper liners.
Cream butter and sugar until light and fluffy in the bowl of an electric mixer, on medium speed. Add the eggs and vanilla extract and mix until combined. Set aside.
Sift together the flour, baking powder, and salt.
Alternate adding the dry ingredients and the milk to the butter mixture, mixing on low speed after each addition just until combined.
Fill each tin 1/2 way with batter - these rise like crazy.
Bake on separate racks for 20-25 minutes at 375F, until golden.
Immediately remove from muffin tins.