It's safe to say that the birthday party cupcakes were a success. Everything (well, almost everything) went smoothly, the cupcakes looked great, the frosting was delicious, and by the end of it all we had 270 prettily iced little cakes for the party (we lost a couple to taste checks along the way).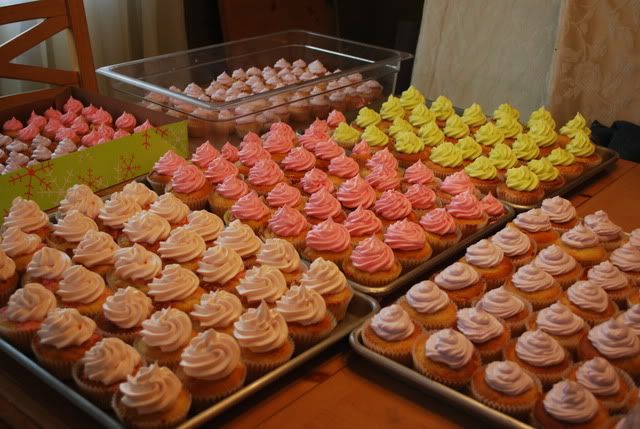 I made a seven-minute frosting and a buttercream for these, and the birthday girl chose the colors and helped me dye the icings. At the last minute she decided against the all-pink theme and chose a few lovely pastel colors. I have to say I'm quite glad she did; the color scheme matched the gorgeous spring day and looked so pretty when we set the cupcakes on their stands at the party.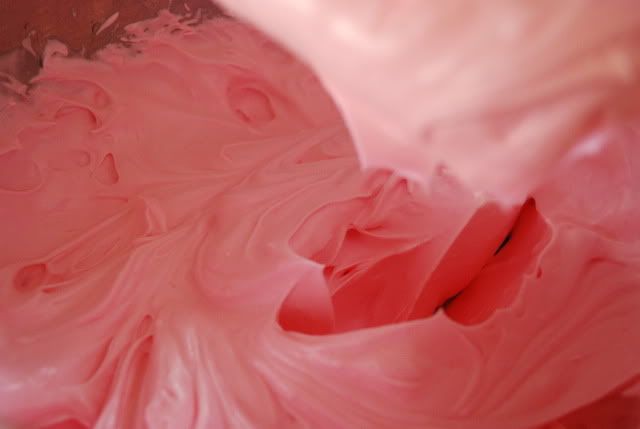 The seven-minute frosting is always a lot of fun to work with since it's so fluffy and builds up beautifully when piped. We dyed it pink, lavender, and an apricot color. I was skeptical when my helper said she wanted to try the color combinations on the back of the food color box, but she turned out to be right. The colors were perfect, and I especially loved that creamy-looking apricot.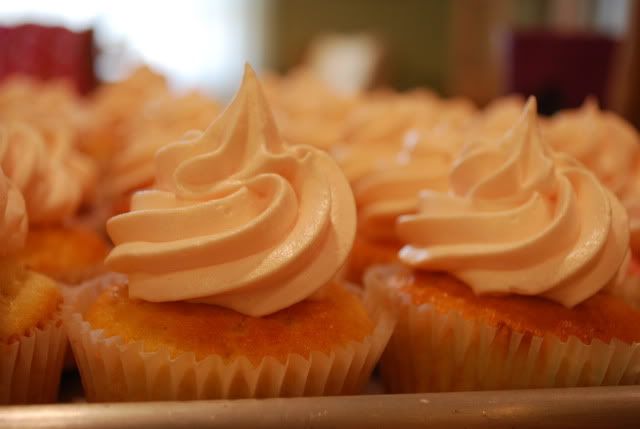 I don't have a 1M decorating tip at home, but my teacher had one (as well as those blessings known as heavy-duty pastry bags) and I went crazy for it. I've never been able to do the big old traditional cupcake swirl, but I found that I absolutely love it. The cupcakes looked so professional and so cute.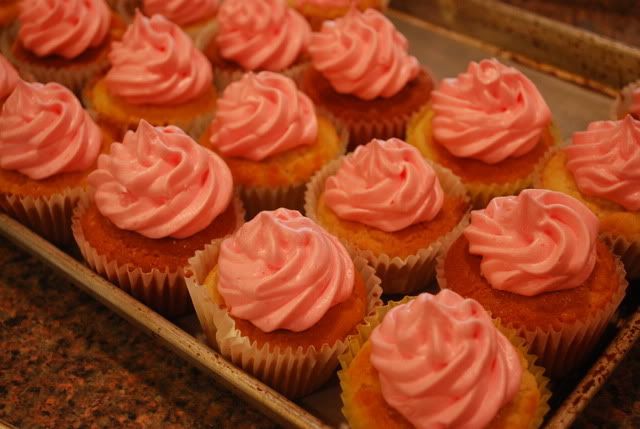 I made one very special cupcake for the birthday girl. She was delighted and said it looked "like an ice cream cone." The cupcake may have arrived at the party in better condition had she not been snatching off the icing the whole car ride there, but hey, it was her party. And I think she enjoyed it immensely.
Now about that buttercream. This. Stuff. Is. Amazing. Really. It's incredibly smooth and rich, yet somehow it's not greasy and has this wonderfully light taste and mouthfeel. You can taste the butter but it's not
too
buttery, as I usually find icings to be. It's also not cloyingly sweet, which, to me, is so important in desserts.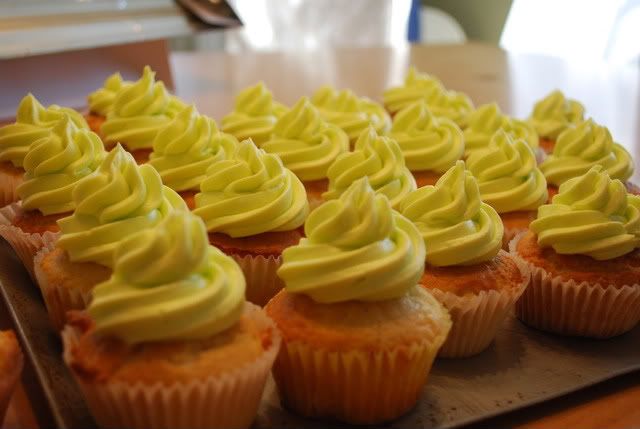 In the first batch of buttercream I made for the cupcakes, I didn't beat the butter enough, and when I iced the cupcakes it seperated and looked pretty gross, even though it tasted fine. So I scraped it off of those and iced those again with the remains of my last batch of seven-minute frosting. You can kind of see the remains of the pink buttercream on those, but I didn't let myself worry too much, because, as my teacher said, these were for a middle school birthday party. And they really weren't going to be that offended if their aprictot-colored cupcakes had some pink on them.
But back to that buttercream. The second time I got it right, and man, is it good. The birthday girl wanted to dye it lime green, and the color turned out gorgeous. It was so springy and perfect for a warm-weather party. I took great care to beat the butter correctly this time, and it came out thick and smooth and just generally amazing. Look at it. Look at it and try not to drool.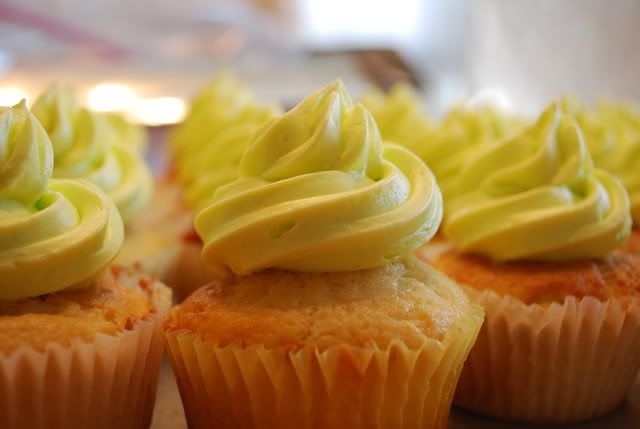 I was so grateful that everything went well and that the cupcakes all looked good. I had a
ton
of fun, and the whole family was great and, as last time, very welcoming. Everyone wanted to help however they could, and I won't even mention the mess they let me make in their kitchen. I got some help from my young kitchen assisstant with these little cuties: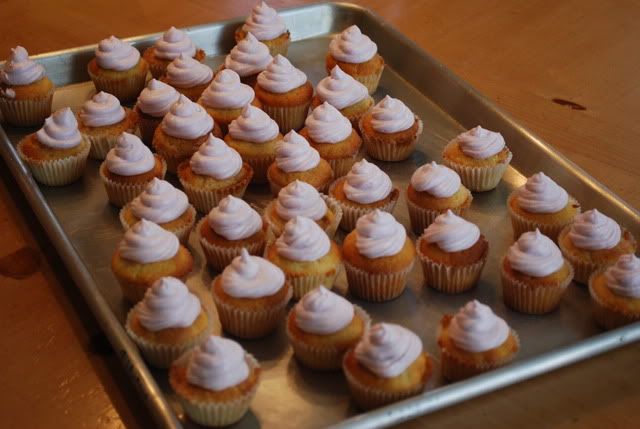 And don't they just look smashing?
After about four hours of boiling, whisking, beating, and piping, it was time to pack the cupcakes up and get them (and us) to the party. A few went in a garment box, like these guys:
And we
all
got to carry cupcakes on our laps on the drive over. I think they took up more space than we did.
The cupcakes were a hit at the party. The girls all thought they were so cute, and I was approached by various adults who told me that they were delicious. The best part of the night was when the guests were finally allowed to take a cupcake (after the star had blown out her thirteen candles) and everyones' faces lit up as they each ate it in their own way; licking all the frosting off first, shoving the whole thing in their mouth, or carefully biting to get just enough cake and just enough frosting each time. And then there were the kids who kept coming back for more. They were my favorites.
I'm very grateful to the family for letting me use their kitchen and for giving me a chance to do what I love professionally, even at such a young age. I think the funniest part was that as I was driving home, I was already thinking, "When can I do it again?!"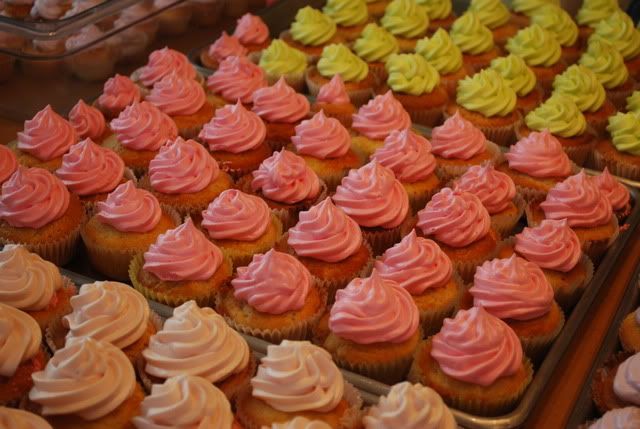 As named by Mom.
1 1/2 cups sugar
1 cup heavy cream
2 sticks unsalted butter, cut into 8 1-ounce (two tablespoon) pieces
1/4 tsp cream of tartar
Food coloring

Combine the sugar, heavy cream, cream of tartar, and 2 1-ounce pieces of butter in a medium
saucepan over medium-high heat.
Bring the mixture to a boil, stirring constantly.
Continue stirring constantly and keep it at a boil for 2 minutes.
Remove from the heat.
Allow to cool to room temperature, and then place in the fridge for at least half an hour.

Pour the mixture into the bowl of an electric mixer.
Using the paddle attachment, beat on slow for thirty seconds.
Increase to medium and beat for two minutes, while adding the remaining pieces of butter until fully incorporated.

Beat on high for two minutes.
Scrape down the sides of the bowl and beat on high for another minutes, until very light and fluffy.

Add the food coloring, if using, and beat until combined.
Place back in the fridge to firm slightly before piping.
Seven-Minute Frosting

Adapted from
Baking Bites
Ingredients

4 egg whites, room temperature
5 ounces sugar
3/4 tsp cream of tartar
1/2 cup water
Place the egg whites in the bowl of an electric mixer fitted with the whisk attachment.
Combine the water, sugar, and cream of tartar in a saucepan and cook to 242F.
As the syrup is reaching 242F, begin whipping the egg white to soft peaks.
When the syrup is the right temperature, slowly stream it into the whites with the machine running.
Beat until the frosting is very light and fluffy and the sides of the mixer bowl are no longer warm.
Add the food coloring, if using, and beat until combined.
Place back in the fridge to firm slightly before piping.