This week my friend, who's just been through surgery and won't be back at school for a week or two, suggested (though "suggested" implies some subtlety...) that I make her cupcakes when she comes back. She wanted chocolate cake with a mint frosting, and I started thinking of icings I could use. Not seven-minute frosting, as peppermint extract will prevent egg whites from whipping up, and not buttercream, as frankly, I wanted to branch out a little bit. Then I thought of cream cheese frosting, which I've never tried making before and seemed like a perfect experiment. Then I remembered some delicious black bottom cupcakes I made last year, with a chocolate cake base and a cream cheese filling. I got to thinking, why not use the great cake from that recipe but dress the cupcakes up with a cream cheese frosting rather than a filling?
Also, I'll admit that I'm a little addicted to piping.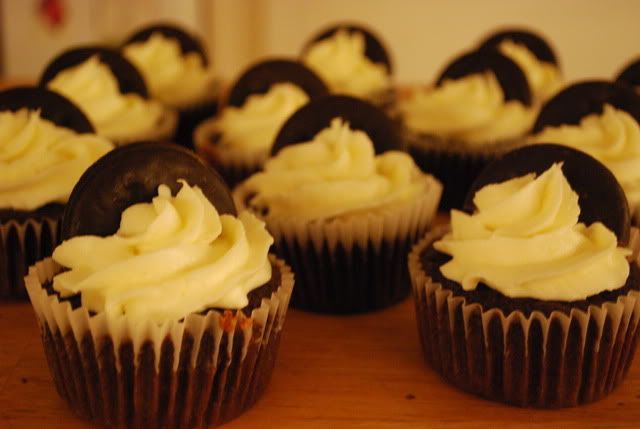 These little guys, however, are not for my friend, since she won't be back for a while. These were a little test run...and a result of the fact that I hadn't been in my kitchen for a week, and I was going to go nuts if I didn't make something, quick. I'm deciding whether to take them on a picnic I have planned with my friends tomorrow (hello, spring!) or let my mom take them into work. Though it almost seems a shame to send them off to an office break room, when they're so prettied up.
The cake is from the original black bottom cupcakes from
BakingBites
. I could have chosen a different cake recipe, but I
loved
this one the last time I made it. I don't know who thought to put sour cream in a cake batter, but I'm grateful that they did. These little cakes have a wonderful texture all their own and a very satisfying, chocolatey taste. They're also fuss-free, as they bake up neatly and evenly (granted you rotate the pans halfway through baking).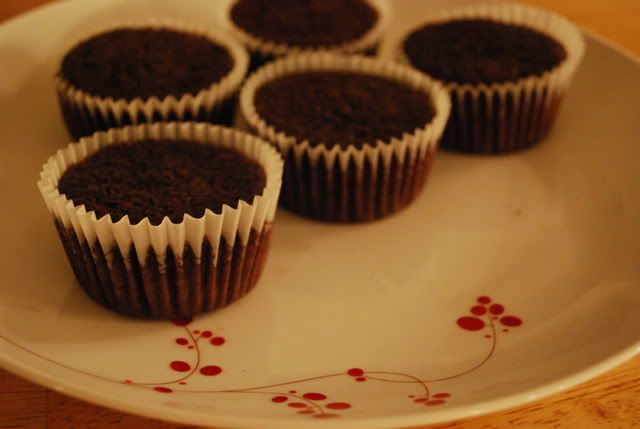 The frosting recipe is one that I seriously adapted from Two Fat Als. I noticed, as I was searching for cream cheese frosting recipes, that almost all of them call for absolutely ridiculous amounts of sugar. Maybe it's just me, but I find that most frostings with more than a cup of sugar (for a dozen cupcakes) are way too sweet, so the recipes with 2 or 3 cups of sugar were terrifying. The version I've included calls for 1 cup of sugar to 16 ounces of cream cheese, and if you're a super sweet frosting fan, that may seem really low. But I strongly suggest you try it. The frosting is delicious, and it
is
sweet. If you truly find that it's not sweet enough for you, you can, of course, up the sugar. But promise me you'll give this a try first.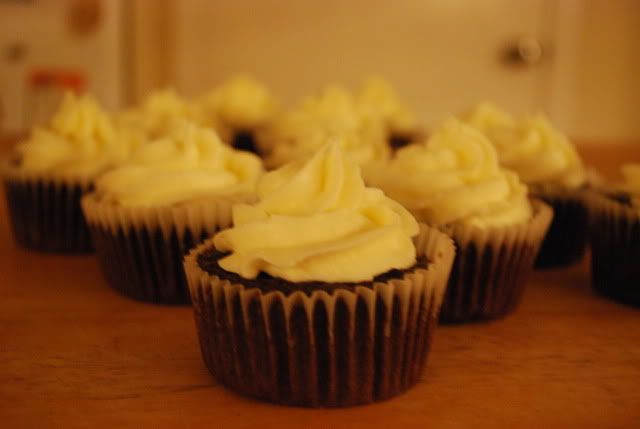 I'm a little in love with these cupcakes. I'm definitely going to use the two recipes again for my friend's welcome-back treats, and probably throw a little mint extract into the frosting to fill the order. Speaking of which. These look a little innocent, don't they?
Let's corrupt them.
That's better. The half a thin mint on top was partly to see if the mint flavor goes with the cupcakes, and partly because I have a big problem with gilding the proverbial lily. A big, tasty problem.
A final note about the frosting. I tried creaming the butter and cream cheese together in my stand mixer, but the butter refused to smooth out and I kept finding nasty lumps of it in the frosting. I eventually just switched to my hand mixer and that worked fine, but it might just be because the butter had warmped up at that point. So! Be sure to start out with
room temperature
butter (it's not pie dough, don't freak out at the thought like I do), and no matter what kind of appliance you use, check to make sure that the frosting is smooth and clump-free before using it.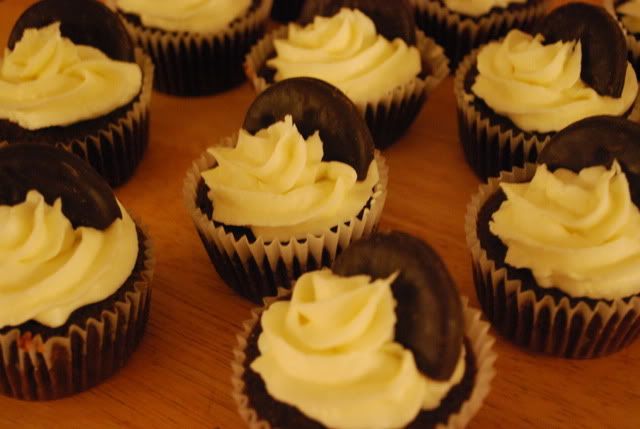 Black Bottom Cupcakes
From
Baking Bites
Ingredients

1 1/2 cups all-purpose flour
1/2 cup Dutch-processed cocoa powder
1 1/4 cups sugar
1/2 tsp salt
1 1/4 tsp baking soda
3/4 cup sour cream
1 1/3 cups water
1/2 cup butter
1 tsp vanilla extract
Line two 12-cup muffin tins with liners.
Melt the butter and allow it to cool slightly while preparing the rest of the batter.
In a large bowl, sift together the flour, cocoa powder, sugar, salt, and baking soda.
Make a well in the center of the dry ingredients and add in the cooled butter, water, sour cream, and vanilla.
Stir until just combined and there are no flour streaks left.
Distribute evenly among the 24 cupcake liners.
Bake 20-25 minutes at 350F.
Cream Cheese Frosting
Adapted from
Two Fat Als
Ingredients
16 ounces cream cheese
1/2 cup butter
1 cup powdered sugar
Cream together the cream cheese, butter, and powdered sugar until thoroughly combined, smooth, and no clumps remain.
Top it all with a thin mint, if you so choose.