Both of my parents are professors, so I think I've always had a good appreciation for teachers. I hate when my friends complain that a teacher is "out to get them" or try to take advantage of a teacher who is more benevolent with their class. But this past weekend, I really discovered how important teachers are in my life.
I was recently selected as a finalist for a poetry recitation contest, and this weekend was the competition. I didn't win, but two of my teachers coached me for weeks beforehand, put immense effort into preparing me for the reading, and took time out of their own Saturdays to come and support me at the competition. They were wonderful every step of the way, and I realized that without them, I probably wouldn't even have been selected as a finalist in the first place.
Since I show appreciation and affection the best way I know how, with food, these cupcakes were to thank them.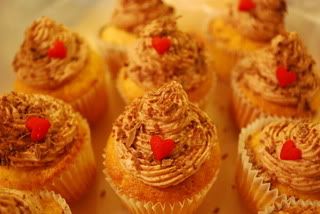 Since I had so many egg yolks left over from the macarons and meringues from the last posts, I decided to put them to good use in these cupcakes and make eight yolk cake (how perfectly convenient is it that there were exactly eight yolks in my fridge?). The frosting is a simple and
delicious
buttercream with chocolate added in. Seriously. This stuff is so good. My mom insisted on getting the bowl when I was done, and by the time she was done with it it looked like it had been through the dishwasher already.
We had some chocolate turrón lying around our pantry that had been dried out when we bought it, and no one wanted to eat it. So I shaved it with a snazzy vegetable peeler and sprinkled it on top of the buttercream.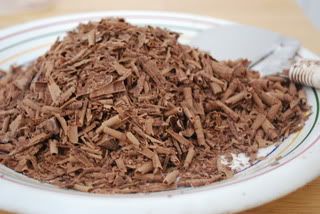 Then, of course, there were some leftover marzipan hearts. I couldn't help myself.
These were a big hit. I took them to the staff room and left them there for all the teachers to enjoy, since they are all (generally) so thoughtful and helpful. At break the teacher whose class I was in for the afternoon came back from the teachers' room and told me that the cupcakes were very good. Then she asked me if I would like to provide the cupcakes for her daughter's thirteenth birthday party. Her daughter's
huge
birthday party. Her daughter's
huge
birthday party with 250 cupcakes, all in varying shades of pink.
250 cupcakes.
Um, yes.
Then, literally a minute after she asked me, another teacher came into our room and announced to me, loudly and in front of the whole class, that the frosting was amazing, that she usually just took the frosting off of things, but that this one was just too good.
So, yeah, I felt good. And you see the powers this frosting has.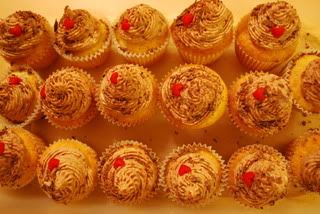 For me, there are few things better than seeing someone enjoy something I've baked. It's an amazing feeling, knowing that you're letting someone enjoy and indulge a little bit during their day. And if that person is someone that's helped you and truly deserves something made just for them, it's even better. Because you know that you're returning the favor, even if it's simply with a batch of mini cupcakes.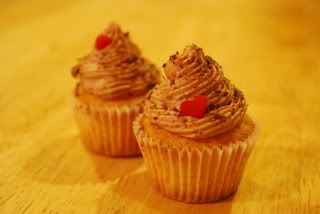 Eight Yolk Cake
From
Joy of Cooking
Ingredients
(Sift before measuring) 2 1/2 cups flour
2 1/2 teaspoons double-acting baking powder
1/4 teaspoon salt
3/4 cup butter
1 1/4 cups sifted sugar
8 egg yolks
3/4 cup milk
1 teaspoon vanilla
Have all ingredients at room temperature.
Line three mini muffin pans with paper liners (if you don't have three, you can refrigerate the remaining batter while the each batch is baking).
Resift the flour 3 times with the baking powder and salt.
Cream the butter and sugar until light.
In a separate bowl, beat the egg yolks until light and lemon colored.
Beat the yolks into the butter mixture.
Add the flour mixture in three parts, alternating with the milk and stirring after each addition.
Add the vanilla and stir until combined.
Bake 20 minutes at 375F, until golden.
Chocolate "Crazy Good" Buttercream

As named by Mom.
Adapted from
Culinary Concoctions by Peabody
.
Ingredients
1/2 cup cream
1/2 cup sugar
1/8 tsp cream of tartar
1.5 ounces semisweet chocolate, finely chopped
1/2 cup butter, cut into 8 1-tablespoon pieces
Heat cream, sugar, cream of tartar, and 2 1-tablespoon pieces of butter over medium heat in a saucepan.
Bring to a boil, stirring constantly, and boil two minutes, still stirring.
Remove from heat and add in the chocolate.
Wait one minute and then whisk the mixture until combined.
Allow this mixture to come to room temperature, and then refrigerate for 30 minutes.
In the bowl of an electric mixer fitted with a paddle attachment, beat on low, adding the butter a piece at a time until all combined.
Increase gradually to high and beat until very light and fluffy.