No one in my family is crazy about meringues. Or, I should say, no one in my family is crazy about typical meringue cookies. We all find them too dry and kind of boring. But my mom does remember a kind of meringue from her childhood in Madrid that she loved. The meringues she describes weren't really cookies, nor were they pavlova or a soft meringue topping. They were very typical goodies found in nearly every Spanish pastry shop, and they were soft and gooey on the inside, with a crisp outer shell. Which sounds awfully promising.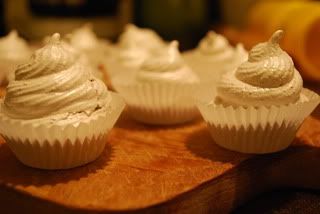 So, yesterday was my Mom's birthday, and I wanted to make her something special that she would actually like. She's not as big a fun of super-rich and super-fattening pastries as I am, so I always try to come up with lighter desserts that are still flavorful for family occasions. Because I was working with egg whites for the macarons in the last post, I remembered the meringues she sometimes talks about with starry eyes. Pow! I had my birthday dessert for Mom.
I'd never heard of this type of meringue before, only the dried-out cookies and the soft meringue topping used on pies and such. So I didn't really know what kind of recipe to look for. I tried Googling "soft meringue," but I got nothing but recipes for seven-minute icing. I tried "
merengues sauves
" in Google Spain and got a lot of suave merengue bands shaking their stuff on YouTube. Sexy, yes, but not quite what I was looking for.
It took a ton of searching and word combinations to finally find a promising recipe. The only reason I didn't decide my mother was completely delirious or making these little meringues up was that I had seen them in bakery windows when we went to Spain this summer (though, sadly, never got to try one). Just as I was giving up hope, "meringues soft on inside crispy outside" led me to
Martha Stewart
's blessed site which featured a recipe for "meringue porcupines." Alright, admittedly not very traditionally-Spanish-sounding, but the description said that they had a crispy shell and a marshmallow-like consistency inside. That sounded about right, so I kicked everyone out of the kitchen, told my mom not to come in for about an hour, and set to work.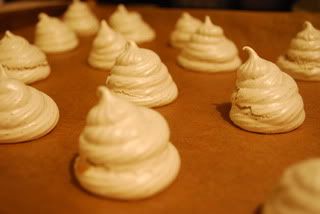 The meringues worked. They were delicious and, I was overjoyed to find, had the same soft inside my mother had described.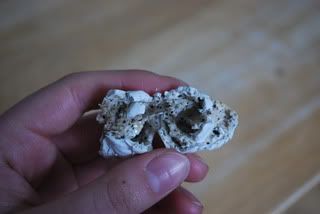 They were also hella cute. Look at this little guy!
The recipe was extremely easy. It was basically a seven-minute icing piped into cookies and then baked at a very low temperature for a long time. This ensured the wonderfully gooey, marshmallow-like consistency on the inside and the pleasant "snap" when biting into the shell. They came out of the oven looking gorgeous, with a pearly sheen to them and a very light color, even though they had a good coffee taste. I popped them in mini cupcake wrappers, like I'd seen done in the Spanish pastry shops, and they were absolutely irresistible.
I'm glad to say that my Mom loved them (and I did too!). Since I felt it necessary to gild the lily, I served them with a drizzle of chocolate pastry cream and some strawberry preserves.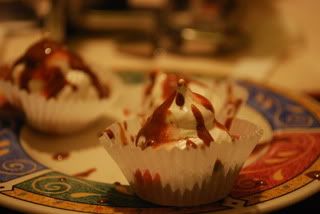 Delicious, but these are great on their own, too. And now I can say that I've tasted the soft Spanish meringues that my mom remembers so well and that I wondered so much about. Though I'd be down for a trip to Spain for another tasting. You know, just to double-check.
Merengues Suaves de Café
Adapted from
MarthaStewart.com
Ingredients
4 egg whites
1 cup sugar
Pinch of cream of tartar
1/2 teaspoon pure vanilla extract
2 tablespoons instant coffee granules
Set the heatproof bowl of an electric mixer over a pan of simmering water on the stove.
Put in the egg whites, sugar, and cream of tartar.
Cook, whisking constantly, for 3 minutes.
Remove from the heat and move the bowl back to the electric mixer, fitted with the whisk attachment.
Add the vanilla and instant coffee granules.
Whip the mixture, starting on low speed and working your way up to high, until the whites are glossy and hold very stiff peaks.
Line two baking sheets with parchment paper.
Fit a piping bag with a star tip and pipe swirls of the meringue onto the baking sheets. Alternately, you can simply spoon the meringue into circles.
Bake for 1 hour at 200F, until hard to the touch but soft and marshmallow-like on the inside.
If your swirls were larger, you may find that the meringues stick to the parchment paper or collapse when touched. If so, just return them to the oven for a few minutes until removable.