My friend, cool guy to end all cool guys, recently had a birthday party. After seeing the
Pokémon cupcakes
I made for another friend's birthday, he requested that I make his birthday cake. The order was very specific: it had to be chocolate, chocolate, chocolate, and it had to be the cake from a video game called Portal. Long story short?
My friends are dorks.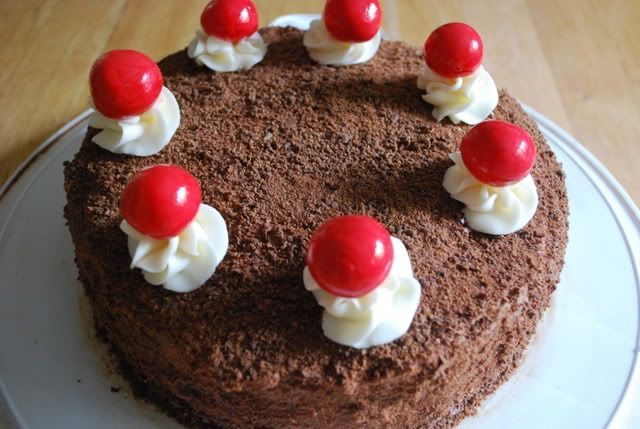 Let me explain a little bit, for those of you who have lives. Portal is a video game which I have played all of three times. It's actually a pretty cool game, and this is coming from someone who couldn't hold her own in Super Smash Bros. if her life depended on it. Anyways, in the game, there is a promise of cake if you complete the "experiment" in which you are participating. But guess what? THE CAKE IS A LIE!
Ahem. What I mean is that, as I have it from my gamer friends, the cake is impossible to reach. It certainly does look appetizing, though:
So this friend of mine requested the Portal cake for his birthday. I made it with my favorite chocolate cake recipe and my own chocolate Swiss meringue buttercream. I didn't feel like buying a whole tin of maraschino cherries for the top to only use a few, so I made the balls with marshmallow fondant (I swear I will get around to doing a marshmallow fondant post one of these days). The result? Well, I think it looked good! And though I didn't taste it myself, I heard it was delicious from the friends who dug in.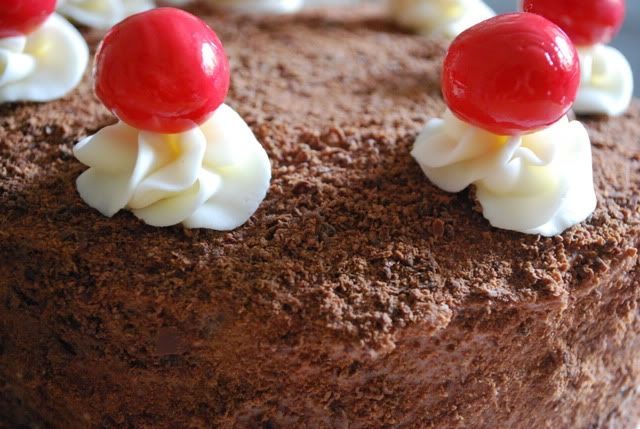 Even though it's a little after the fact now, a very happy birthday to "Wolf," whose band is mentioned at the bottom of
this post
. The cake is not a lie!
Your Baking Soundtrack for Chocolate Cake with Chocolate Swiss Meringue Buttercream:
Mr. A-Z, Jason Mraz.
I used to hate Jason Mraz. He seemed a bit whiny for me. But last winter I gave him a chance and bought this album, and I'm quite happy I did. He's good kitchen music, I think - intricate, layered melodies that let you lose yourself in thought as you bake.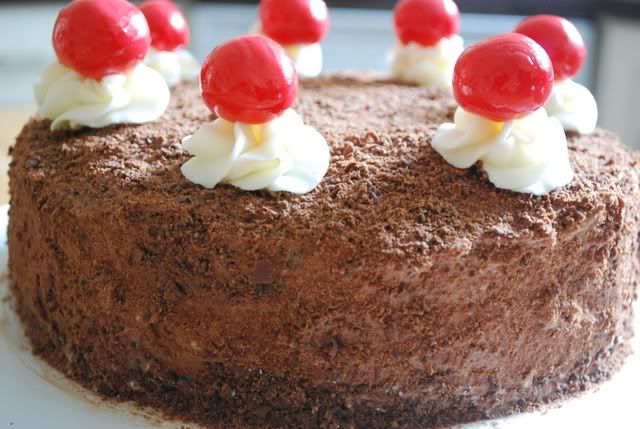 Chocolate Cake
Ingredients
1/2 cup cocoa powder
1 cup boiling water
3/4 cup brown sugar
1/2 cup buttermilk
2 teaspoons vanilla
1 1/4 cups baking soda
1/2 teaspoon salt
1/2 cup butter, room temperature
1 1/4 cups sugar
2 eggs
Grease and line two 8-inch baking pans with parchment paper rounds. Dust the sides with cocoa powder.
Whisk together the cocoa powder and boiling water.
Add the brown sugar, buttermilk, and vanilla.
In a small bowl, mix together the flour, baking soda, and salt.
In the bowl of an electric mixer fitted with the paddle attachment, cream together the butter and sugar.
Add the eggs one at a time and mix until fully incorporated.
Starting with the flour, alternate adding the flour mixture and the cocoa mixture in three additions.
Mix until fully incorporated.
Evenly distribute the batter between the prepared pans.
Bake at 350˚F for 30-35 minutes.
Let the cake cool before assembling.
Chocolate Swiss Meringue Buttercream
4 egg whites
5 oz sugar
1/4 tsp cream of tartar
2 sticks soft unsalted butter
4 ounces semisweet chocolate, melted and cooled

Combine the egg whites, sugar, and cream of tartar in the top of a double boiler over simmering water.
Whisk to combine and continue to do so every so often as the syrup cooks.
Cook to 160F.
Pour into the bowl of a stand mixer fitted with the whisk attachment.
Turn on high and whip to stiff peaks.
Switch to the paddle attachment.
Add the butter piece by piece, with the mixer on medium high.
The mixture will most likely turn goopy and you may think that you've overbeaten the whites. Do not panic, and do not turn the mixer off. Keep beating, even if it seems a lost cause. The meringue will poof right back up after a few (or more) minutes' time.
Beat until thick and of frosting consistency.
Alternately, if your butter is a little cold, the buttercream may "curdle." Again, just keep beating it until it becomes smooth.

Now, set aside a small amount of the buttercream for the white rosettes on top of the cake.
Add the melted and cooled chocolate to the remaining buttercream and beat just until fully incorporated.