Let me begin this post by saying that I

hate

living in the North. Not a very positive way to start a post, but hear me out. I can't stand the cold (the temperature drops below sixty degrees and I automatically catch a cold), the short days and long nights, or the fact that winter up here last for five months at the least. However, some of the few wonderful things about the North that I grudgingly admit to appreciating are the berries. Blackberries, mulberries, raspberries (my favorite!), and cherries all grow if not in our neighborhood, then close to us throughout the city and its outskirts. We're actually lucky enough to have a massive cherry tree in our backyard, which this year is absolutely loaded down with fruit. You'll often see me picking around the yard for ripe cherries that the birds haven't gotten to yet. With the abundance of fruit this year, I made some wonderful caramel and cherry mini tartlets.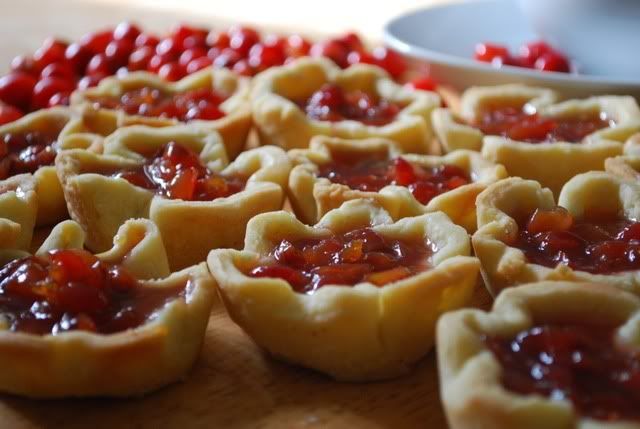 You'll notice that the title of this post says "caramel." Eh? Eh? See how clever I am? Because the caramel layer under the cherry filling is actually leftover dulce de leche from the last post. Lately I've been thinking a lot about how presentation affects how much we enjoy food - everything from how chefs decorate and arrange their foods to how they choose to name them. Those enormous, teetering, baroque-looking wedding cakes probably don't taste too good, but everybody loves them because a) hey, they're fat + sugar, and b) they're so much fun to look at! This is not to say that these little tartlets aren't tasty - because they certainly are - but I think it's so interesting that just by changing the name of a food (that is, its presentation), you can completely change how someone expects it to taste, and therefore how they actually taste it. Also, you can get away with reusing leftovers from your last blog post. Maha.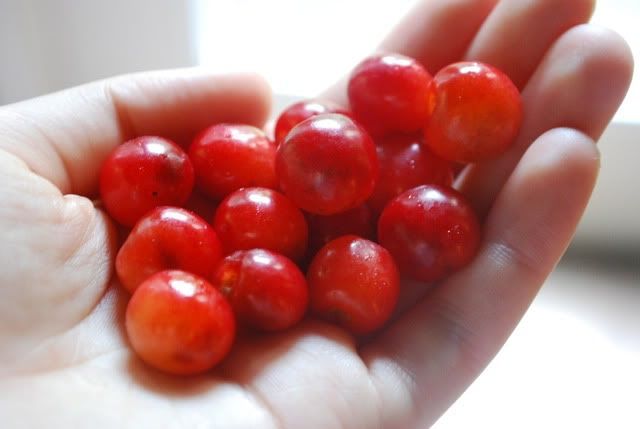 I find our garden cherries so charming because they're not perfect and they're not stanardized. They taste really good but they're not as sweet as supermarket cherries, and they're certainly not as uniform in flavor or appearance. As you can see, they're not all the same deep red, some of them are bruised or scratched up, and they've got a few brown spots. But none of these things matter because they're delicious, honest-to-goodness cherries, and they don't cost a fortune at the grocery. In fact, I've taken to collecting them (I've already made two batches of these tartlets) and freezing them for future use. Hopefully they'll be just the thing to brighten up a cold winter day when I'm wishing fervently for summer.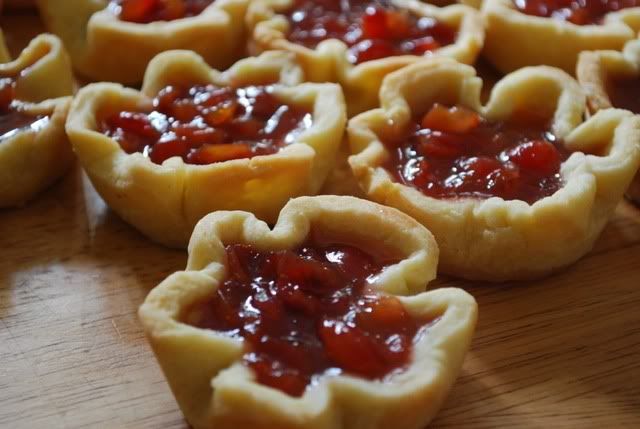 I was so pleased with how the tart crusts on these came out. I'll let you in on a horrifying little secret: I'm not a fan of American pie dough (gasp!). I know that everyone says,

Oh, well you've just never had properly made, flaky pie dough

. Sush. Yes, I have, and I still don't like it. Plus, it's a hassle to make as you have to keep the butter ridiculously cold and barely touch the dough at all, you can't add in too much liquid, the dough gets all dry and crumby, and it won't roll out...you get the picture. That's why I'm so very much in love with pâte sucrée, the traditional dough of those gorgeous French fruit tarts, usually filled with a layer of pastry cream and topped with rings of fresh, sparkling berries, slices of apples or pears, or slivers of plums and peaches. It's not "flaky" (what is it with this

flaky

obsession, anyways?), but it's very light, crisp, and, most importantly, tender. It's sweeter than most American pie doughs, but never cloyingly so.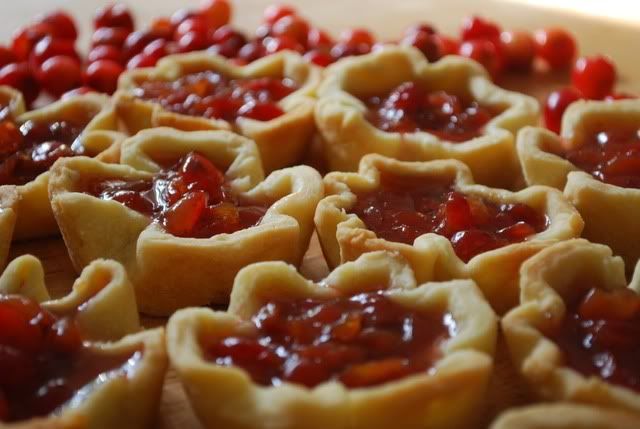 Now, for the cherry filling. I wanted something that reminded me of those store-bought, canned cherry fillings (which I'll guiltily admit that I love), but without all the high fructose corn syrup, artificial colors, added flavors, etc, etc. I think I found it in this one. It's thickened with cornstarch and ridiculously simple. Just cook the cherries in water, whisk in some sugar and thickener, and boom, cherry pie filling. If you'd like to use this filling for a standard pie shell, just double the quantities.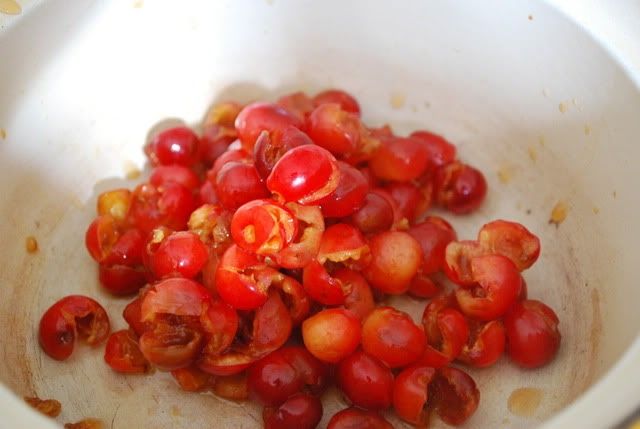 So there you have it. Small, sweet cherry tartlets with a surprise of soft caramel under the fruit layer. Perfect for summer, especially afternoon tea (imagine serving these at an Alice in Wonderland-themed tea! Too cute). Of course, you can always make these little pies as a full-sized version...but I think they're so much cuter, and therefore so much better, this way.


Your Baking Soundtrack for Caramel Cherry Mini Tartlets


Fearless, Sleepless,

Fenix Down
This is my friend's solo project. He's an amazing musician (not to mention a genuinely cool person), and when he started selling his CDs I jumped at the chance to snap one up. The vocals are charmingly raspy and he's downright awesome on guitar. He also composes all his own songs and lyrics and is a terrific writer, so I can't praise him enough. His music reminds me a bit of Against Me!, so if you like them, give his stuff a listen.






Pâte Sucrée
Adapted from
The Secrets of Baking
, by Sherry Yard
Ingredients
1/2 cup butter, room temperature
1/4 cup sugar
1/4 teaspoon salt
1 egg yolk, room temperature
1 1/2 cups all-purpose flour, sifted
1 tablespoon heavy cream
Grease a 12-cup muffin tin with melted butter.
In the bowl of an electric mixer fitted with the paddle attachment, beat the butter on low speed for 2 minutes until creamed.
Add the sugar and beat for 30 seconds.
Scrape down the sides of the bowl and add the salt and the egg yolk, mixing just until incorporated.
Add the flour and mix on medium speed just until the dough begins to come together.
Add the cream and mix on low speed for 30 seconds.
Wrap the dough in plastic wrap and refrigerate for at least 4 hours, or freeze for 2. The dough may be kept refrigerated for 3 days or frozen for a month.
Unwrap the dough and break it into four parts. It will be hard at this point.
Working on a floured surface, gently hit each piece with a rolling pin until it becomes somewhat pliable, and then very briefly kneed each one until they are manageable.
Gather the pieces together into a ball and roll the dough out, adding flour to your workspace as needed, to about 1/8 of an inch thick.
Using a round cookie cutter 3 1/2 inches in diameter, cut out circles of dough. Gather the scraps when no more circles fit and continue to roll out and cut to get as many circles as possible.
Gently lower each circle into one of the muffin tin's cups, folding in the edges to make the circle fit and get a fluted look.
Weight each tartlet with pie weights.
Bake at 350F for 10 minutes. Remove the pie weights.
Bake for another 10 minutes, until the bottoms are slightly puffy and the crusts no longer look pale.
Allow to cool in the muffin tin before removing.
Cherry Pie Filling

Adapted from
Diana's Kitchen
Ingredients

1 cup pitted cherries
1/4 cup water
1/3 cup sugar (you may choose to reduce this to 1/4 cup if using store-bought cherries)
1 tablespoon cornstarch
Cook the cherries and water over medium heat in a small saucepan for 10 minutes.
Mix together the sugar and cornstarch.
Add to the cherry mixture and cook, whisking constantly, until thickened.
Dulce de Leche
Ingredients
16 ounces whole milk
162.5 grams sugar
100 grams corn syrup
1/8 teaspoon baking soda
Combine all the ingredients in a heavy saucepan over high heat and stir until combined.
Cook without stirring until the mixture begins to brown.
Turn the heat down slightly and continue to keep an eye on the heat as the caramel turns darker.
Once the dulce is a rich caramel color, remove from the heat and allow to cool to room temperature.
Store in the refrigerator.