My friend had a birthday party yesterday, and rather than a gift, he asked for cupcakes (seeing as a. everyone knows I'll take any excuse to bake and b. he thinks "Kitchen" is a hilarious nickname for me). We'd been at another friend's house the night before, where the boys were playing Pokémon video games, which, you may be interested to know, I suck at. I thought it would be cute if the cupcakes I made for his birthday were Pokémon themed, so I baked a batch of devil's food cake cupcakes, iced them with cream cheese chocolate frosting, and set to work making teensy fondant Pokeballs for each one.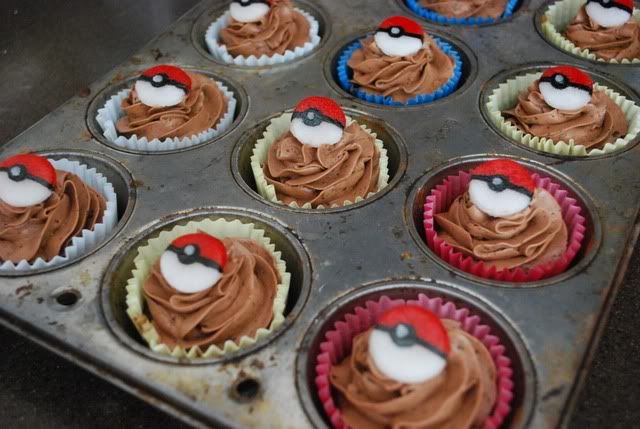 When I originally asked the birthday boy what flavors he liked, he said "Oreo." This is going to sound unbelievably snooty, but I have a strict aversion to using premade ingredients in my baking, no matter what. I don't know why, I just do. And since I had about a day to get these cupcakes done, I knew I wasn't about to whip up a batch of homemade sandwich cookies just to crush them and use them in frosting or something. Besides, a girl can only be called "Kitchen" so many times before deciding to take matters into her own hands. So I decided it would be simple chocolate through and through - because really, how many of the hungry, excited teenagers at the birthday party (most of them boys) are going to say no to chocolate cupcakes? Yeeeeeeeeeeah not many.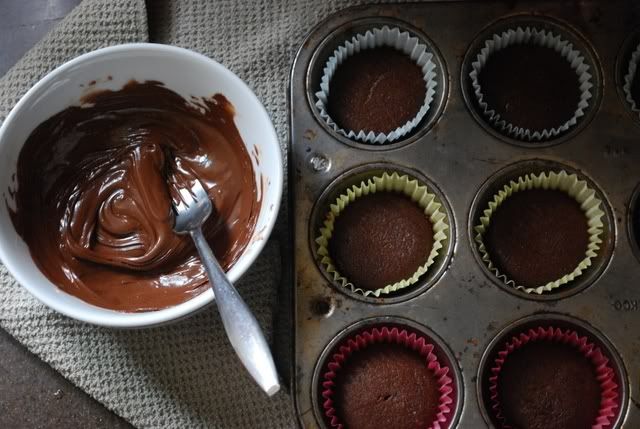 Besides, I was mostly worried about making the Pokeball decorations. They weren't difficult, but they did take some time and patience, more so than the cake and frosting did (both super easy, by the way). I used homemade marshmallow fondant (the marshmallows I used in it were homemade too, BOOYAH!) to cut out tiny white circles, then painted on the red and black details. I was so happy that they all turned out pretty similar, and they certainly looked cute when sitting on little mounds of chocolate frosting. Driving over, my friend, in what was clearly exorbitant praise, said they all "look pretty much the same."
Men.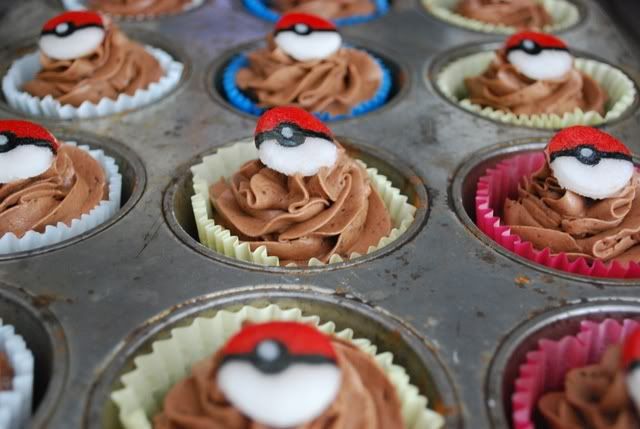 Anyways. About that marshmallow fondant. I think I'm going to go ahead and break my "no premade ingredients" rule and buy packaged marshmallows next time around. The recipes I followed were prepared with store-bought marhsmallows, and for whatever reason, whether a difference in moisture or the preservatives used or whatnot, my fondant turned out grainy and wouldn't hold a shape. I ended up pouring in, like, half a bottle of corn syrup (not really) to get the fondant to stick together. I eventually got it to hold a shape, and then I just rolled it out and used a bottle cap to cut out circles. I warned everyone not to eat the Pokeballs, since I'm not sure how fondant/corn syrup/massive amounts of food coloring tastes, but they did. The birthday boy said it was like "eating a pill made out of sprinkles."
And I'm going to take that as a good thing.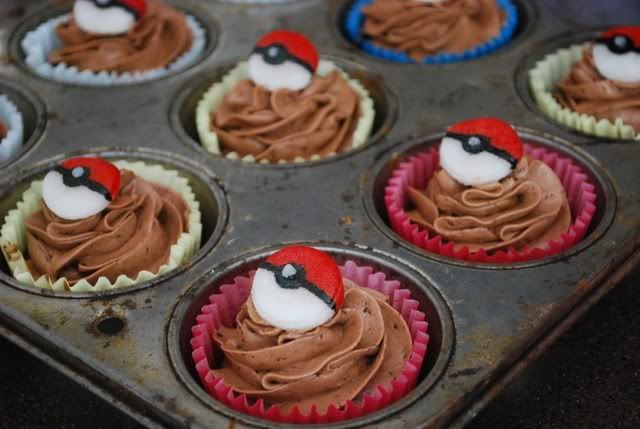 I think I'll be using these cake and frosting recipes again in the future. They were both so easy to make and turned out pretty perfect cupcakes, no stand mixer required. And I'll continue to play with marshmallow fondant; at the party, another friend already requested a birthday cake for November, and I'm excited to see what decorations will come to me for that one.
Your Baking Soundtrack for Pokémon Cupcakes:
Every Picture Tells a Story, Rod Stewart
This is *the* definitive Rod Stewart album, isn't it? Whenever I listen to it, "Maggie May" gets stuck in my head for days at a time - and that's a wonderful, wonderful thing. The bluesy rock feel of the album matches perfectly with autumn's return and our return to school; sweet, sad, and not too serious.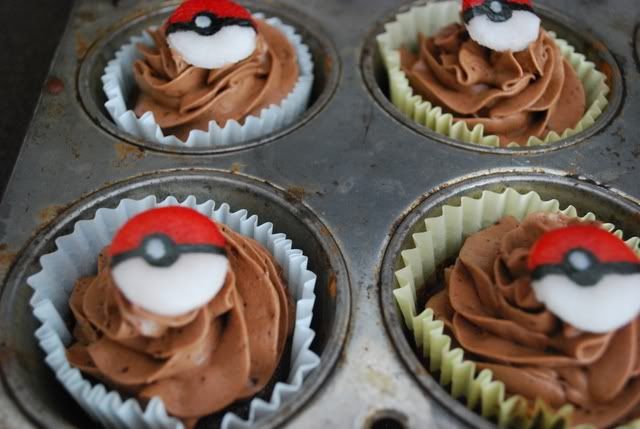 Devil's Food Cake Cupcakes
Ingredients
1/4 cup natural cocoa powder
1 ounce semisweet chocolate, chopped
1/4 cup boiling water
1/4 cup buttermilk
2/3 cup all purpose flour
1/2 teaspoon baking soda
1/4 teaspoon salt
1/3 cup brown sugar
1/4 cup sugar
1/4 cup butter, melted and cooled
1 egg
1/2 teaspoon vanilla extract
Line one 12-cup muffin pan with paper liners.
Stir together cocoa powder and chopped chocolate in a medium bowl.
Add boiling water and whisk until smooth.
Mix in buttermilk. Set aside.
Combine flour, baking soda, and salt in a small bowl. Set aside.
With an electric mixer in a large bowl, beat the melted butter, both sugars, egg, and vanilla until smooth.
Add the cocoa mixture and beat just until blended.
Add the flour mixture and beat just until blended.
Divide the batter evenly in the muffin pan.
Bake 10-15 minutes at 350F, until a tester inserted in the middle comes out with a few crumbs.
Cream Cheese Chocolate Frosting
Ingredients
3.7 ounces good-quality semisweet chocolate
8 ounces cream cheese
4 tablespoons confectioner's sugar
1/2 tablespoon clear apricot or citrus jam
Melt together the chocolate and jam, either over a double boiler or in the microwave.
Allow to cool until no longer warm, but still liquid.
Using an electric mixer, beat together the chocolate mixture, cream cheese, and confectioner's sugar until well blended and uniform in color.