The whoopie pie trend has been calling my name for a while now, and I've caved. I made this pumpkin version of the cookies for a party at a friend's house last night, and if I hadn't been counting on bringing them along, I'd have eaten the
whole batch
. They're that good.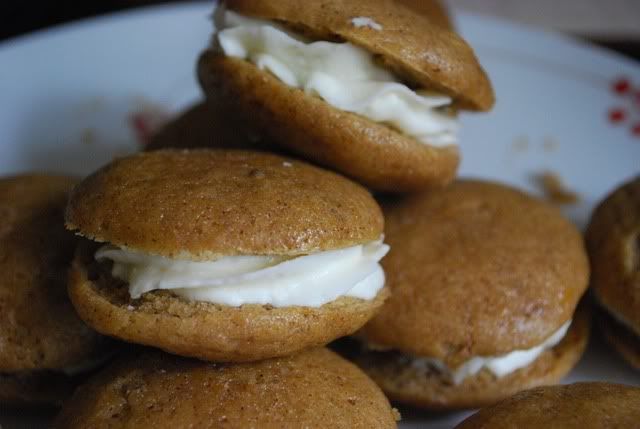 I attempted whoopie pies in spring of last year. I tried a classic chocolate recipe which looked scrumptious, but in my haste to make them, I added way too much liquid to the batter. The cookies flattened out in the oven and looked like sad little chocolate UFOs. After that I was scared of what is truly a very, very simple type of cookie, and was even afraid that I'd need one of those ridiculous whoopie pie pans they sell at Williams-Sonoma (I'll go into how that company scams people out of their money by selling superfluous kitchen tools in another post). But this weekend I had a ton of pumpkin left over and needed something to make with it, and my mind turned to these cute little cookies.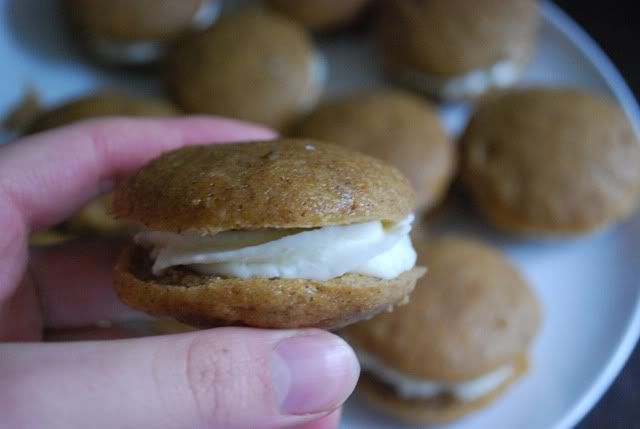 As it turns out, I needn't have worried. The batter was super simple and no more of a hassle than chocolate chip cookie dough. And the cookies themselves were absolutely delicious. The true magic, however, is the combination of the cookies and the filling; mellow, earthy pumpkin and spices meet sweet, tangy cream cheese and it is tear-jerkingly good. Based on the cookies, one man at the party told me he would leave his wife for me.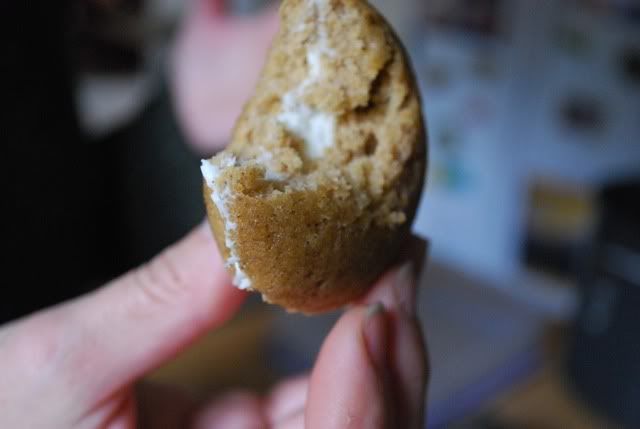 The recipe I used said it makes fourteen completed pies, but that's a lie - it makes about forty. Not a problem, though, because I used some of them as a birthday gift at another party, and will take some in to school on Tuesday for a celebration we're having there. And so begins the holiday season! If you choose to make them, you can always halve the recipe...but I wouldn't fret. Forty whoopie pies disappear faster than you'd imagine when they're this good.
One more thing. I am really, really excited to say that I've been hired by a local bakery! I started work on Thursday and I LOVE IT. I love the place and the people are fantastic. The best part, of course, is making all the treats: so far I've made/assisted in making focaccia, Jewish pizza (a biscotti-like treat with almond paste, almond slivers, and dried fruit), fruit tart, Napoleons, marjolaine, almond cookies, and chocolate tulips (handmade chocolate shells filled with chocolate cake, ganache, two mousses, whipped cream, and berries). I'm so very, very happy and grateful to be working there.
Your Baking Soundtrack for Pumpkin Whoopie Pies with Cream Cheese Filling:
The Warrior's Code, Dropkick Murphys
I'm the kind of girl that likes the Dropkick Murphys to the point of bothering other people. A few summers ago I went on a kick where I would play "Tessie" nearly every waking hour of the day. How my mother never strangled me I have yet to figure out. It might have something to do with me filling the house with cookies.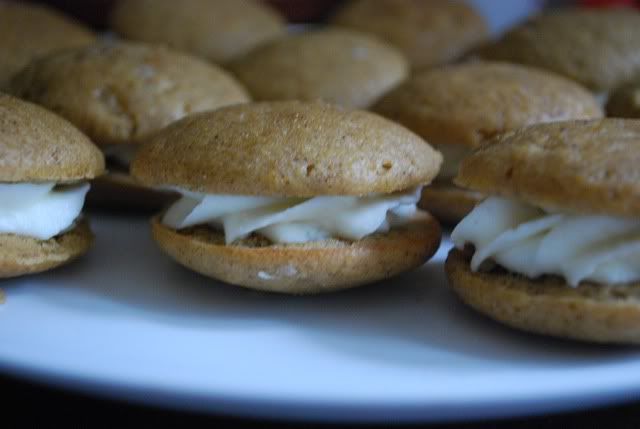 Pumpkin Whoopie Pies
Ingredients
3 cups all-purpose flour
1 teaspoon baking powder
1 teaspoon baking soda
1 tablespoon cinnamon
1 1/2 teaspoons nutmeg
1 teaspoon ground cloves
1/2 teaspoon salt
1 cup (2 sticks) butter, room temperature
2 cups brown sugar
2 eggs
15 ounces pumpkin puree
Line two baking sheets with parchment paper (have more parchment paper on hand, as you will be reusing the baking sheets).
Combine the flour, baking powder, baking soda, cinnamon, nutmeg, cloves, and salt in a large bowl.
In the bowl of an electric mixer fitted with the paddle attachment, cream the butter and brown sugar.
Add the eggs, one at a time, mixing well after each addition.
Add in the pumpkin puree.
Add the four mixture in two parts and mix just until incorporated.
Refrigerate the batter for ten minutes.
Using a small ice cream scoop or tablespoon, drop the batter onto the baking sheets, spacing the cookies 2 inches apart.
Bake at 350˚F for 10-12 minutes or until the tops of the cookies spring back when lightly pressed.
Let the cookies cool and then remove them from the parchment paper.
Repeat this process with the remaining batter, refrigerating it again for the 10 minutes while the next batch bakes, and so on.
Cream Cheese Frosting/Filling
Ingredients
16 ounces cream cheese, room temperature
1/2 cup (1 stick) butter, room temperature
1 cup powdered sugar
Beat all the ingredients with an electric mixer until no clumps remain and the frosting is smooth and fluffy.