So, this is not the prettiest cake I've ever made. Admitted. But it does have a story behind it, and it is one of the tastiest cakes I've ever turned out. And that alone makes it worth posting about.
So, to explain. For English class we were asked to make a 3D collage project to represent a character from Crime and Punishment. The project had to appeal to all five senses, so many kids made collages or shoe box diagrams, sprayed them with perfume, played music, etcetera. Two girls in our class wrote and performed their own songs. Being me, I asked if I could make a cake to represent Sonya. Everybody loves cake, so my English teacher, who has been waiting to let me make a cake for a project since my The Metamorphosis cockroach cake failed, said yes.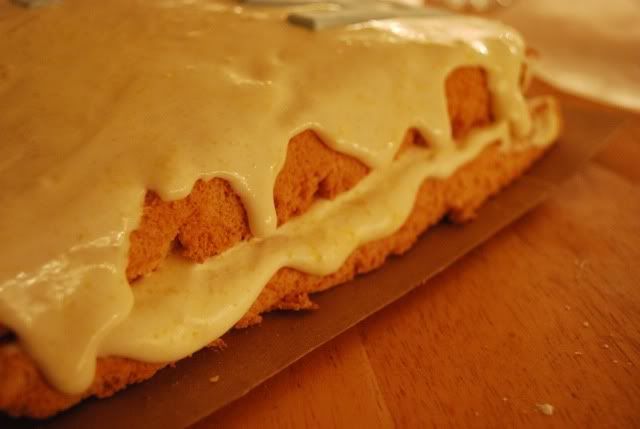 The plan was to make two layers of angel food cake to represent how light, apparently weak, and unable to stand on her own Sonya is. Taken straight from my accompanying "artist's statement":
"I feel like Sonya, since she is portrayed as a martyr and tells Raskolnikov the story of Lazarus, has an angelic, religious motif about her.
In keeping with this, I wanted to make the cake as cloud-like and angelic as possible - hence the angel food cake - and chose a cannoli cream filling.
The cream filling is light, white, and soft, representing both Sonya's personality and the motif of heaven.
I cut Sonya's name in Cyrillic out of blue homemade fondant, since I felt like blue went along with the heavenly theme.
I also cut out a Russian Orthodox cross, since religion is such a large part of Sonya's life, and is truly all she has left.
Finally, I wanted to include a few more flavors, and felt that the best way to do this was to research traditional Russian desserts.
I found that desserts typical to the country have lots of apples, and so I filled the layers with sliced and sautéed apples for some more flavor and a representation of Russian culture along with Sonya's character."
Eloquent, no?!
Anyways. I kind of expected the lobster tail cream (I called it cannoli cream because I didn't feel like explaining what lobster tails are in my paper) to be more frosting-like, but it was pretty runny. Delicious, but runny. If you don't know, lobster tails are Italian pastries made out of strudel-like dough, filled with sweet goodness. In Italy they are traditionally filled with orange-flavored ricotta, but here, specifically in Hoboken, New Jersey, in the Cake Boss Kitchen (*drool*) they are filled with a custard cream.
So I didn't know exactly how the cream would turn out, and the cake was a little saggy, and the fondant letters moved around. But it's all good, because the combination of angel food cake plus lobster tail cream plus sautéed apples was heavenly (sorry, cheesy) good. A few people went for seconds in class and one girl licked the cake carrier clean. Lesson learned? Cake=new friends.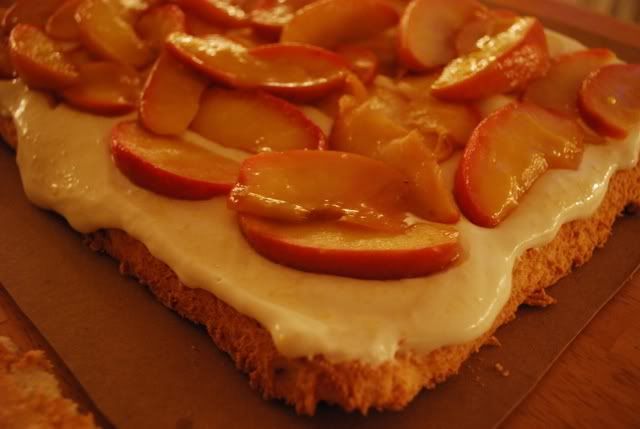 Also, I'm sorry about the rather crappy photography in this post. It's been really dark and rainy here, so the natural light is no good.
On a happier note, though, I have the marshmallow fondant tutorial all photographed and ready to go, and now I just need to caption it. Be on the lookout!
Your Baking Soundtrack for Sonya's Cake:
Slow & Steady Seduction: Phase II, Anya Marina
This album is packaged as a cheesy romance/mystery novel, which makes me giggle. I played "Move You" while serving my cake
as th
e audio portion of my presentation.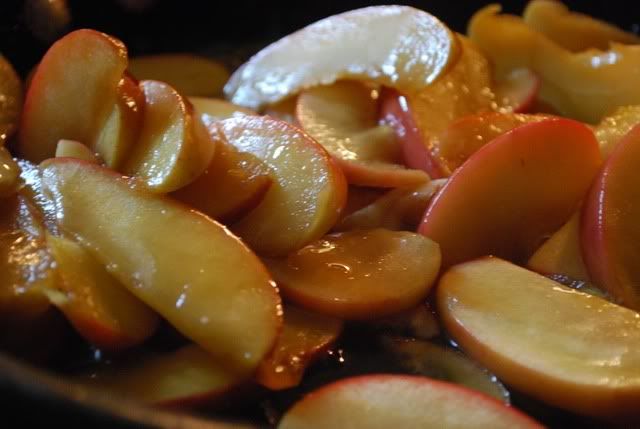 Angel Food Cake
From Good Housekeeping
Ingredients
2/3 cup cake flour
2/3 cup confectioner's sugar
8 egg whites
1/4 teaspoon salt
2/3 cup granulated sugar
Grease a 16 x 10 jelly roll pan. Line with waxed paper and grease waxed paper.
Sift flour and confectioner's sugar into a small bowl.
In the bowl of an electric mixer fitted with the whisk attachment, beat the egg whites and salt to soft peaks.
Sprinkle in granulated sugar 2 tablespoons at a time.
Beat to stiff, glossy peaks.
Add in vanilla.
Sift flour mixture over egg whites.
Fold in just until combined.
Spread batter evenly in prepared pan.
Bake at 350˚ for 25-30 minutes.
Allow to cool in pan.
Sfogliatella Cream
Adapted from Cake Boss: Stories and Recipes from Mia Famiglia, by Buddy Valastro
Ingredients
For the custard:
2 1/2 cups whole milk
1 tablespoon vanilla
1 cup sugar
2/3 cup cake flour, sifted
6 egg yolks
2 teaspoons butter
Pinch of salt
For the cream:
2 cups heavy cream
1/2 cup sugar
1 tablespoon brandy (such as Calvados apple)
Combine the milk and vanilla in a large saucepan and bring to a simmer over medium heat.
In a large bowl, beat the sugar, flour, and egg yolks using a hand mixer.
Temper the yolks by slowly pouring a cupful of the hot milk mixture into the yolk mixture, beating continuously with the hand mixer.
Immediately add the milk-yolk mixture back to the pan.
Over medium heat, beat the mixture with the hand mixer for 1 minute, until thick and creamy.
Remove from the heat, add the butter and salt, and beat for 2 minutes to thicken.
Place a layer of plastic wrap directly on the surface of the custard to prevent a skin forming and allow to cool.
Refrigerate for at least six hours.
When the custard has been refrigerated, whip the cream, sugar, and brandy to stiff peaks.
Fold the cream into the custard until just combined.
Apple Filling
Ingredients
2 medium, firm apples
2 tablespoons orange juice
2 tablespoons butter
3 tablespoons brown sugar
Sauté all ingredients in a large frying pan until the apples are tender and translucent.
To Assemble
Invert the cake onto a cutting board. Cut in half.
Top one half with half the sfogliatella cream and the sautéed apples.
Place the remaining half on top.
Cover with sfogliatella cream.