Today is my dad's birthday! Ever since I started baking, he's been asking for a chestnut and chocolate cake. He's an excellent, excellent chef and really knows his flavors. This year, I knew that a simple chocolate or vanilla layer cake would definitely not be enough; I wanted something interesting, multi-dimensional, and delicious. My mind turned back to that chestnut and chocolate cake he's been craving, and I decided to surprise him with it.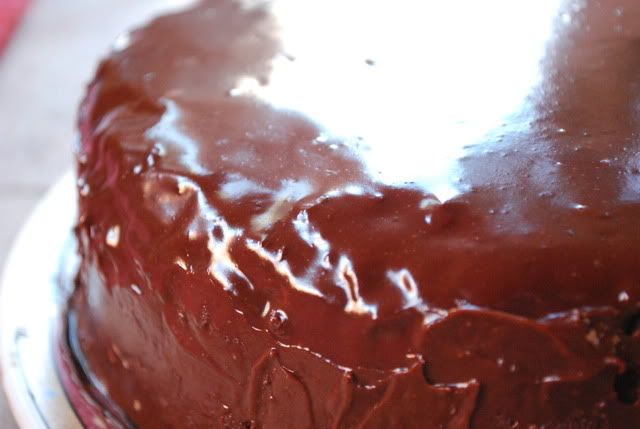 My whole family loves chestnuts. We usually just roast them and eat them hot, but this year my mom and I made sure to buy pounds and pounds of them, so we could use them on Thanksgiving, roast a few after dinner on weeknights, and still have enough for the cake. We actually ended up hiding a pound in the basement so that my dad wouldn't get to them before I could use them in the cake!
This cake has quite a few things going in its favor: all the different, complimentary flavors (chocolate, chestnuts, and brandy), its big showy look, and the fact that it is so much fun to make. There's a lot of different components to it - the chestnut cake base, the brandy syrup, the chestnut pastry cream, the ganache, and the chocolate-brandy glaze - but I think that makes it a real work of art.
P, from last week's post, came over to help me roast the chestnuts for the puree. It's simply chestnuts boiled in milk until soft, passed through a sieve, and ground into a fine paste. The cooking liquid, plus some extra milk, is added back in to lighten the puree. It's used in the cake itself and in the chestnut pastry cream.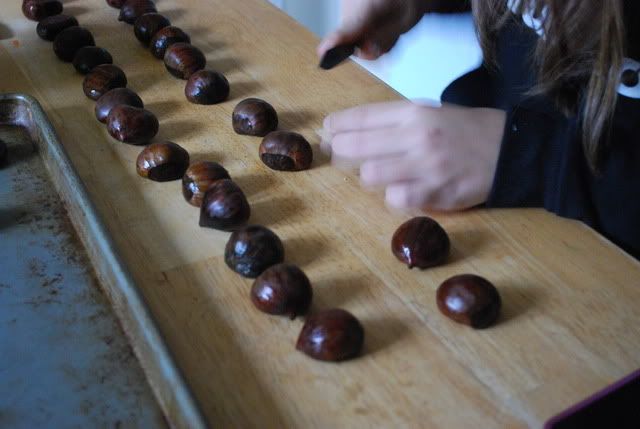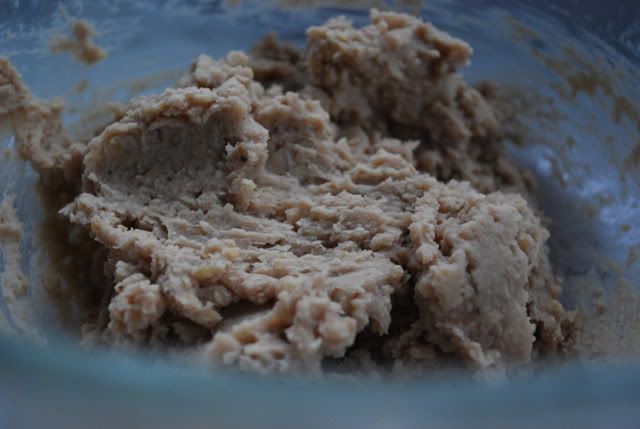 This cake is a big one. It's lightened with beaten egg whites, so it's not too dense, but it still has a lovely, rich crumb. It's split into three layers which are sandwiched together with the pastry cream.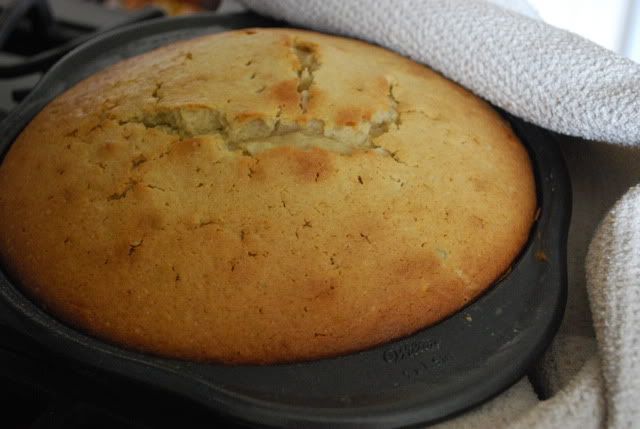 The pastry cream smells amazing. It's got the rich, warm scent of chestnuts, which always makes me think of the holidays. But it's sweetened and made more delicate by the addition of egg yolks, sugar, and milk. It's also a very thick pastry cream, so it really is perfect for spreading between the layers of the cake - no oozing, no mess, just lovely, neat cake layers.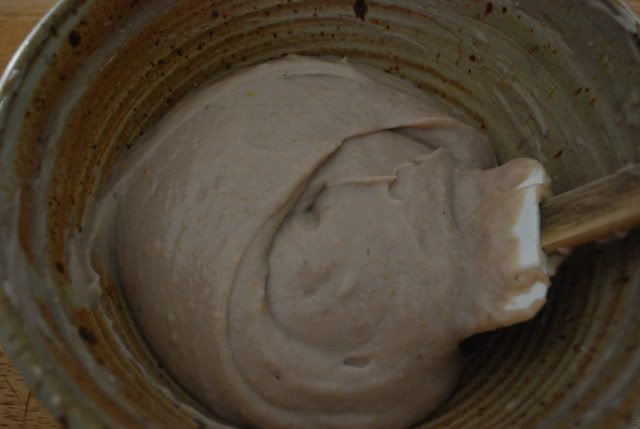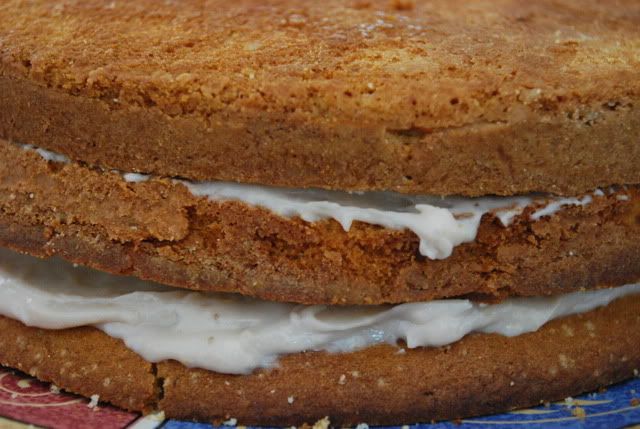 Then there's two types of ganache on top of the cake. The first is a beaten one, so it's fluffy and spread on like frosting. I almost stopped after this one, because the cake already looked so decadent and beautiful. But always the intrepid explorer, I decided, heck, a little more chocolate can't hurt.
The second ganache is a chocolate glaze. It's incredibly smooth and glossy, and it's poured onto the cake while still warm. I actually had trouble getting a good image of the finished cake because the glaze reflected so much light that my camera couldn't process it! But all that shine makes the cake look magnificent, and so tempting. I can't wait for tonight when we tear it apart!
¡Felicidades, Papá! ¡Te quiero mucho mucho mucho mucho!
Your Baking Soundtrack for Chestnut Chocolate Cake:
The Lady Killer, Cee Lo Green.
Seriously, I can't get enough of this album. It's so catchy and bouncy and kind of hilarious that you won't even think about Gnarls Barkley while dancing around to it.
Chestnut Chocolate Cake
Chesnut Puree
For use in the chestnut cake and chestnut pastry cream.
Ingredients
14.8 ounces chestnuts, roasted and peeled
2 1/4 cups whole milk, plus more for mixing in
Pinch of salt
Combine the chestnuts, milk, and salt in a large saucepan.
Bring to a simmer and cook, partially covered, until the chestnuts are quite soft and the liquid has reduced to about a 1/2 cup.
Strain the mixture through a fine-mesh sieve into a bowl.
Reserve the cooking liquid separately.
In a food processor, process the chestnuts until very smooth and no chunks remain.
Add the cooking liquid a tablespoon at a time, adding extra milk if necessary, until the puree has the consistency of a thick spread.
Cover with plastic wrap and refrigerate until ready to use.
Chestnut Cake
Ingredients
2 cups cake flour, plus more for dusting the pan
2 teaspoons baking powder
3/4 teaspoon salt
1 1/2 cups sugar
1 cup (2 sticks) butter, room temperature
4 large eggs, separated
1 large egg white
1 cup chestnut puree
1/4 cup whole milk
Spray a deep 9-inch round cake pan with cooking spray. Line with parchment and spray again. Dust with flour, tapping excess out.
Sift together flour, baking powder, and salt.
Cream together the butter and sugar in the bowl of an electric mixer fitted with the paddle attachment.
Beat in the egg yolks.
Add the flour mixture in 3 additions, alternating with the chestnut puree after the first addition and the milk after the second. Mix just until incorporated after each addition.
In a separate, clean bowl, beat the egg whites until they form stiff, glossy peaks.
Whisk a third of the whites into the chestnut batter until just combined.
Fold in the remaining whites.
Pour the batter into the prepared pan and level the top with an offset spatula.
Bake at 350˚F until a toothpick inserted into the center comes out clean, about one hour.
Brandy Simple Syrup
Ingredients
1/4 cup sugar
1/2 cup water
2 tablespoons brandy
Bring the sugar and water to a boil in a saucepan.
Remove from heat and stir in brandy.
Allow to cool to room temperature.
Chestnut Pastry Cream
Ingredients
1/2 cup sugar
2 egg yolks
Pinch of salt
3 tablespoons cornstarch
1 1/2 cups chestnut puree
2 1/4 cups whole milk
Fill a large bowl halfway with ice water and place a slightly smaller bowl within it.
In a medium bowl, whisk together 1/4 cup of the sugar, the egg yolks, and salt.
Whisk in the cornstarch 1 tablespoon at a time.
Whisk in chestnut puree.
Bring the milk and remaining 1/4 cup sugar to a simmer in a large saucepan.
Temper the yolks by drizzling in about half of the hot milk, whisking the yolks constantly.
Pour them back into the pan with the rest of the milk, stirring constantly.
Bring to a boil, stirring constantly.
Boil for two minutes.
Pour through a fine mesh strainer into the bowl over the ice water.
Stir occasionally until the mixture has cooled.
Place a piece of plastic wrap directly on the surface of the pastry cream and refrigerate until needed.
Whipped Ganache Frosting
Ingredients
1 cup heavy cream
8 ounces bittersweet chocolate, chopped
Place the chocolate in a medium owl.
In a small saucepan, bring the cream to a simmer.
Pour over the chocolate. Let stand one minute, and then stir until smooth.
Let cool completely.
Beat until fluffy.
Chocolate Brandy Glaze
Ingredients
3/4 cup heavy cream
6 ounces semisweet chocolate, chopped
4 tablespoons butter, room temperature
1 tablespoon brandy
Place the chocolate in a medium owl.
In a small saucepan, bring the cream to a simmer.
Pour over the chocolate. Let stand one minute, and then stir until smooth.
Add the butter and brandy and stir until smooth.
Use immediately.
To Assemble
Trim the domed top of the cake.
Cut the cake into three equal layers.
Place one layer on a cake board or serving platter. Brush with brandy syrup.
Spread half the pastry cream on the layer.
Top with another layer of cake. Brush with brandy syrup.
Spread the remaining half of pastry cream on the layer.
Top with the remaining layer of cake.
Refrigerate for half an hour.
Spread ganache frosting over top and sides of cake.
Refrigerate ten minutes.
Pour chocolate brandy glaze over top of cake. Smooth over top and sides with offset spatula (do not pour it all at once, as it may be a bit too much).
Allow glaze to set before serving.