Hooray! I said I would do it and here it is. Let's get right down to it, then.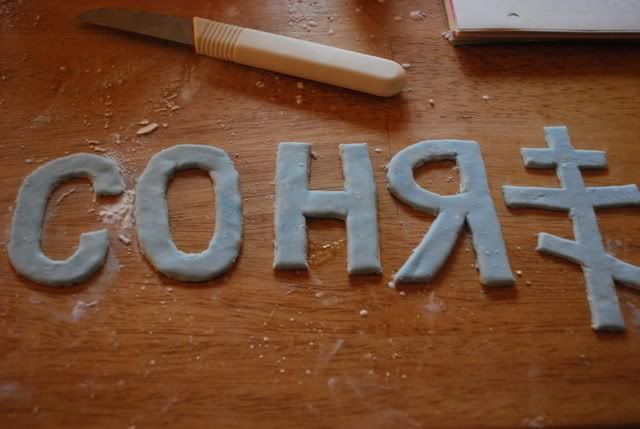 Here I'm cutting out the name "Sonya" in Cyrillic, plus a Russian Orthodox cross.
You will need:
8 ounces marshmallows
1 pound powdered sugar, plus a good deal more for dusting
2 tablespoons water
Food coloring (optional)
Measure your marshmallows into a large microwave-safe bowl.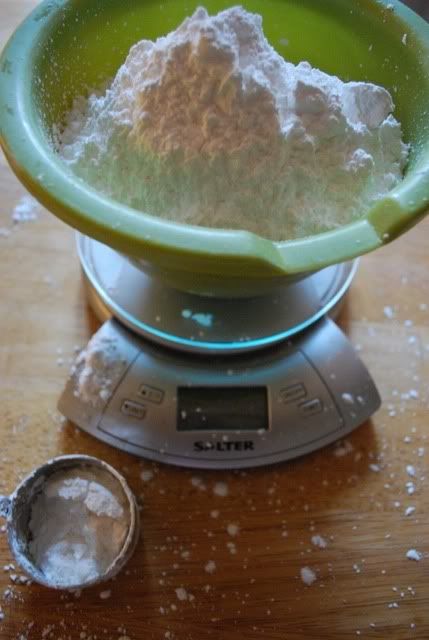 Measure out your powdered sugar.
Add the water to the marshmallows and microwave on high for one minute. Stir out all those clumps. If those pesky clumps won't go away, microwave again for 30 seconds and stir. Now is the proper time to add food coloring if you're coloring the entire batch.
Sift the powdered sugar over the melted marshmallow.
Stir.
Keep stirring. This is why you need a bigger bowl than the one I used. Powdered sugar everywhere. Mix the marshmallows and sugar until it is impossible to stir.
Now, heavily dust a work surface with powdered sugar. Dust your hands. Dust a rolling pin. Heck, dust your face for good measure. Turn the mixture out onto the table and knead it, coating your hands with more sugar as necessary.
Keep kneading until the fondant is smooth and elastic. You'll need to add sugar as you go, but it's important not to add too much, since it will make the fondant stiff and hard to work with.
If you wish to color a portion now, break off a piece and flatten it, more or less. Put a little food coloring in the center - start small, since you can always add more as you go along, and it's a pain to have to start adding more white fondant to lighten up a color. Now knead again, until the color is evenly dispersed.
This blue isn't quite as dark as I'd like it. Just keep adding little by little until you hit the right color.
Dust a rolling pin and the work surface with more powdered sugar. Roll out the fondant to the thickness you need, rotating it as you go to prevent it sticking to the table. The thickness will depend on what you're using it for. I'm cutting out letters, so I'll go pretty thin.
Using a small, sharp, non-serrated knife, cut out shapes. It's a good idea to score them on lightly with the knife before cutting them out. It's an even better idea to have cookie cutters in the shapes you want.
And there you have it! Marshmallow fondant. Super easy to make at home, easy to roll out and cut, and it tastes like really sweet marshmallows. Plus plus plus.