I've been meaning to get this post up for a while, but with grades closing and that beautiful spring weather beckoning to me, I've been a little distracted. I made these cupcakes for a bake sale at school, and they turned out wonderfully. I wanted desperately to do something springy, cute, and somehow involving adorable little chicks, and I finally had the nerve to go for really elaborate cupcakes. They taste delicious and I'm so happy with how they came out, so now I'm sharing them and hope that you enjoy them as much as I did (and as much as the kids at the bake sale did).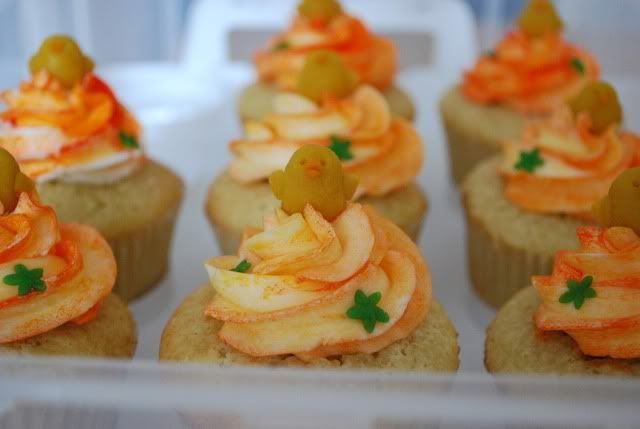 The cupcakes are a combination of sour cream cake, chocolate pastry cream filling, Swiss meringue buttercream, and marzipan decorations. The combination is fantastic; even I was surprised by how well all the flavors went together. My friend absolutely raved about the buttercream and was shocked when I told her it only used one stick of butter (I'll get to that in just a second!).
Let's start with the cake itself. It's a great sour cream cake I found online on
Epicurean.com
, though it's originally from
Seriously Simple Holidays
by Diane Rossen Worthington. Usually I won't use recipes online unless they're from a blogger or website that I know and trust, but I took a chance on these and was happily surprised. They have such a wonderful, classic taste, and they're very moist. I really decided to go all-out, and I filled the center with a little surprise: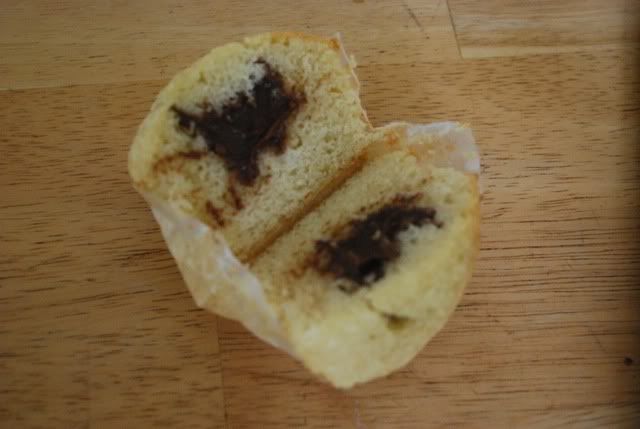 Leftover chocolate pastry cream! And yes, it is so good. Filling cupcakes is actually ridiculously easy, but creates such impressive results. To do it, just take a sharp knife (or use an apple corer, though you won't be able to control the size of the hole) and cut a circle in the top of your cupcake, making sure that you cut straight down, about 3/4 of the way. Remove the cylinder of cupcake you've just cut out and fill the cavity.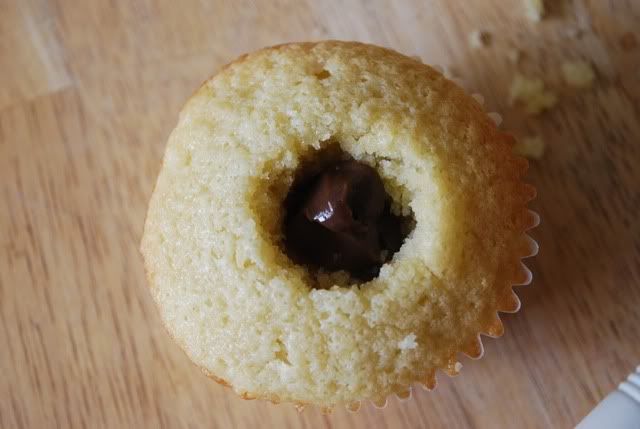 Cut the bottom of the cylinder off so that you have a relatively thin disk, with just the part that was once the very top of the cupcake. Stick it back on top of the cavity and you're done.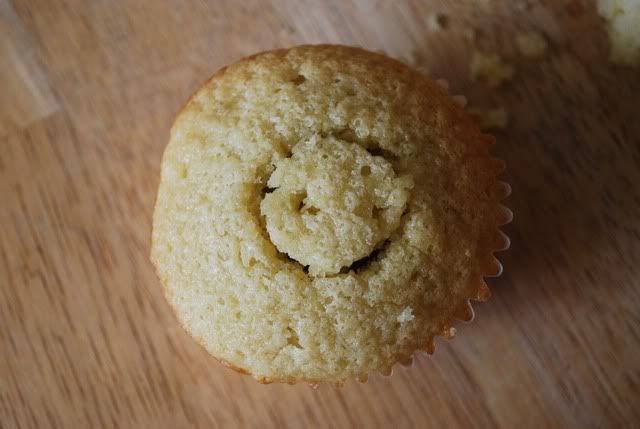 Frost it, and no one will suspect a thing.
Make sure you use a good, thick filling and refrigerate the cupcakes after you put it in; you don't want a runny filling making them soggy.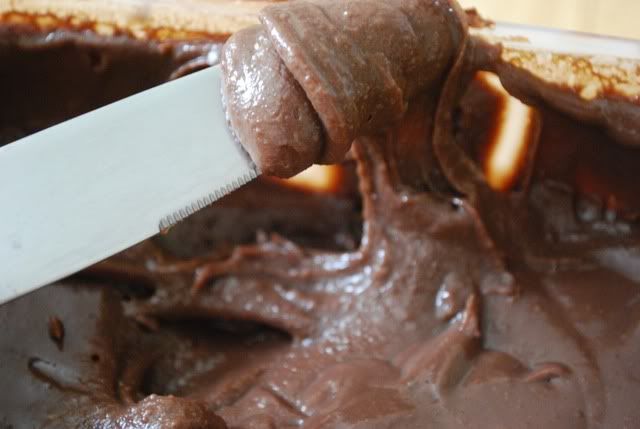 Oh, yeah. That's some serious pastry cream.
As if these weren't getting decadent enough already, I topped them with a heavenly Swiss Meringue Buttercream. I'd been itching to make a SMB after hearing so many good things about it and after having success with my last buttercreams (
here
,
here
, and
here
). However, my new rule with making frosting, since I find that most are disgustingly buttery and way too sugary for my taste, is to significantly down the sugar and, right off the bat, cut the butter in half. I was a little nervous to try it with a SMB, since it's famous for getting goopy once you add the butter to the meringues and I thought it might not puff up, but it worked. Oh, it definitely worked. It's light and smooth but still definitely a buttercream. I used
Joe Pastry
's recipe but cut the butter in half, as well as scaled it down to frost twelve cupcakes. This buttercream is
surprisingly
good, you can still taste the butter, and it avoids that gross, greasy mouthfeel and butter overload that you get so many times with frosting.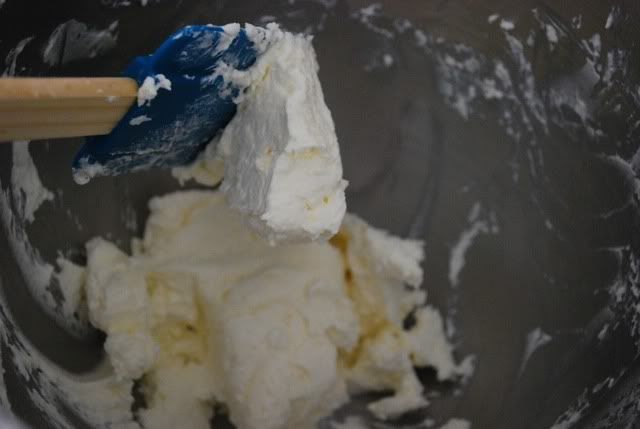 Piping it, on the other hand, was an adventure. I'd seen photos on Flickr of that gorgeous piping trick where the baker will streak a color through the frosting or meringue so that it looks prettily swirled in the final product (a perfect example is
here
). To do this, you paint four lines on the inside of your pastry bag, on the top, bottom, left and right, like so:
Then you simply fill it and pipe. The technique works well, but I used yellow gel food coloring and the coloring straight out of the package is orange, so I didn't get the color I wanted right away. Only after I had piped a few cupcakes did the coloring start blending into the icing and the stripes start turning the yellowish color I'd wanted. So a few of them are more orange than the others - I don't think anyone really cared (or noticed, actually...ever seen teenagers eat?). I didn't let myself get too worried, either, as when topped with the marzipan chicks and flowers I'd made, the cupcakes were downright adorable.
Even I couldn't help but squeal a little bit when I had finished these. They were so ridiculously tiny and cute, and everyone was shocked that I'd actually made them by hand. I was asked several times where I had bought my cupcakes, and I was always happy to explain that nope, they were homemade.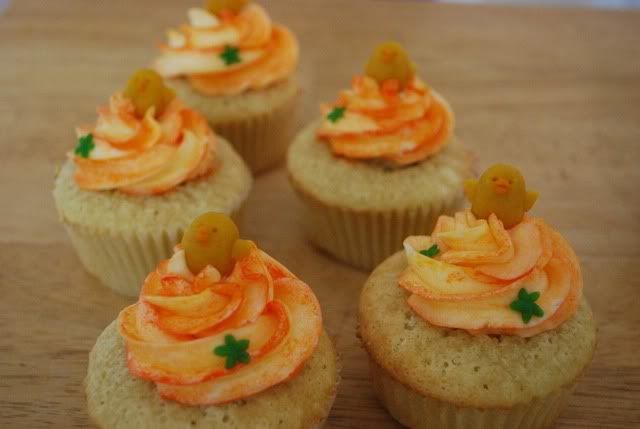 They were a huge success, and the first thing to sell out. When I got to the bake sale after classes, there were literally people pushing and shoving to get to the side of the table they were on. My friend was in a panic because three were sold in the time it took her to find her change purse, and another friend got the bragging rights of snatching up the last one. I'm glad that they came out so cute, but I'm also very happy that, besides looking good, they tasted really good as well.
Sour Cream Cupcakes
From
Seriously Simple Holidays
by Diane Rossen Worthington, via
Epicurean.com
Ingredients

1 1/4 cups all-purpose flour
1/2 teaspoon baking powder
1/4 teaspoon baking soda
1/4 teaspoon salt
2 large eggs
1 cup sugar
1/2 cup butter, room temperature (and I do mean room temperature.)
1 1/2 teaspoons vanilla extract
1/2 cup sour cream
Line one 12-cup muffin tin with paper liners.
Sift together the flour, baking powder, baking soda, and salt.
In the bowl of a stand mixer fitted with the paddle attachment or with an electric mixer, bea tthe eggs and sugar until light and creamy, about two minutes.
Add the butter and vanilla and beat on low until well blended.
Beat in the dry ingredients until combined.
Add the sour cream and beat until blended.
Evenly distribute the batter in the muffin tin.
Bake at 350F for around 23 minutes.
Let cool in the pan for 10 minutes.
Remove from the pan and cool on a wire rack.
Chocolate Pastry Cream
Slightly adapted from
Joy of Cooking
Ingredients
4 ounces semisweet chocolate
1 1/2 cups milk
1/2 teaspoon vanilla extract
1/2 cup sugar
1/4 cups all-purpose flour
4 egg yolks
Scald the milk with the chocolate and vanilla.
Beat the egg yolks in a small bowl.
Mix in a double boiler the sugar, flour, and egg yolks. Beat until light.
Very gradually add the scalded milk by adding a small amount to temper the yolks and then whisk in the rest.
Cook over gentle heat, stirring constantly, until the custard begins to thicken.
Remove from the heat and continue stirring for a minute.
Cool and place in the refrigerator until ready to use.
If the cream curdles slightly, just a) pass it through a sieve or b) use a blender, food processor, or immersion blender to smooth it out. Works wonders.
Swiss Meringue Buttercream
Adapted from
Joe Pastry
(scroll down for SMB)
2 egg whites
2.5 oz sugar
1/8 tsp cream of tartar
1 stick soft unsalted butter
Combine the egg whites, sugar, and cream of tartar in the top of a double boiler over simmering water.
Whisk to combine and continue to do so every so often as the syrup cooks.
Cook to 160F.
Pour into the bowl of a stand mixer fitted with the whisk attachment.
Turn on high and whip to stiff peaks.
Switch to the paddle attachment.
Add the butter piece by piece, with the mixer on medium high.
The mixture will most likely turn goopy and you may think that you've overbeaten the whites. Do not panic, and do not turn the mixer off. Keep beating, even if it seems a lost cause. The meringue will poof right back up after a few (or more) minutes' time.
Beat until thick and of frosting consistency.
Alternately, if your butter is a little cold, the buttercream may "curdle." Again, just keep beating it until it becomes smooth.
For the colored piping technique used on these cupcakes, please see above in the post.