My school is hosting a bake sale for the earthquake victims in Haiti this week.  When I first saw the posters for it around school, I knew I was making something.  I already had some Valentine's Day cupcakes planned for my class, and I thought that I would make another batch for the bake sale.  I firmly believe that cutesie colors and tiny hearts are appropriate at any time of the year, and even more so when they're for a good cause.
Plus, my mom let me back in the kitchen seeing as these are going to charity.
I was actually going to make these during the week, but babysitting and homework take first priority on school days, and I realized I wouldn't be able to make these Tuesday night, as I had hoped.
However, we've been hit by a pretty massive snow storm, and on both Friday and Saturday, it was impossible to get out of the house.  A nuisance, yes, but a pretty perfect excuse to stay in PJs all day and bake to my little heart's content.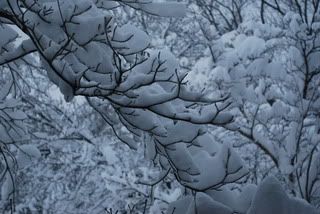 I made the base with my go-to chocolate cake recipe from
Baking Bites
, and the cupcakes turned out just as moist and delicious as the regular cake.  The recipe makes two dozen cupcakes with a little batter left over, so I made a few miniatures.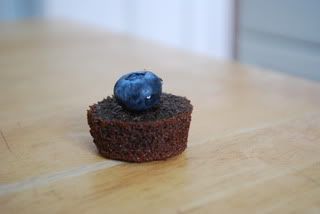 Cute, no?  And kind of dangerous to just have sitting around the kitchen - the minis are all gone.
So, the cupcakes themselves went well.  Then came the buttercream.  I was so excited to make it, because I got a lovely new Ateco decorating bag and was just itching to give it a test run.  However, as I've written before, buttercream and I don't get along.  I seem to have an incredible gift for messing it up.  This time, I'll admit I was just stupid about it.  I attempted adapting a recipe from
Culinary Concoctions by Peabody
 to use milk rather than cream, and the result was downright disgusting.  It was greasy, melty, and tasted way, way too much like butter.  To make matters worse, I accidentally put in too much food coloring, and the frosting turned a radioactive pink.  I stubbornly tried to pipe it, but after three cupcakes even I had to admit that it wasn't working.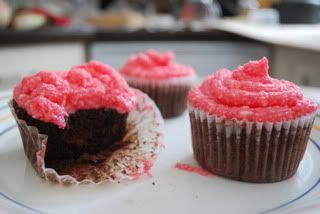 Look at those chunks of butter in the frosting.  It was so bad.  And that one bite was as far as I could get into the cupcake.
However, being incredibly pigheaded has its advantages.  I scrapped the first batch of buttercream and tried it again, this time using cream, as I should have from the beginning.  And I added the food coloring drop by - literally - drop to get the exact color I was after.
And look how I was rewarded.
I did insist on adapting this from the original recipe (pigheaded, remember), and I downed the sugar by a bit, because I find most buttercreams to be far too sweet.  But this time all my little changes worked, and the buttercream is incredibly fluffy, holds its shape, looks gorgeous, and tastes like heaven.  Yeah.  I'm that excited about frosting.
And to add to it all, the piping gods smiled upon me.  I found out that in this case, it actually wasn't me being inept, and that my troubles with piping really did come from my decorating bag.  The old one was canvas and very heavy and I could hardly get anything to come out.  With this lovely new one, piping is a dream.  Who knew making those adorable little cupcake swirls would be so easy?  I want to put them on everything now.
At this point, I was elated.  I kept opening the fridge to peak at the cupcakes.  But I wasn't done yet.  How could these possibly get any cuter, you ask?
With these!
Tiny almond paste hearts that took forever to make but are so, so worth it.  Yes, I know that they're not true marzipan if they're just almond paste, but I'm going to go ahead and be a bad Spaniard here and admit that I'm not crazy about marzipan.  I find it much too sweet (and I even think almond paste is already quite sweet on its own!).  So I just colored some almond paste red and started shaping.  I've worked with almond paste for modeling before, and it never disappoints.  This is a cake I made for my friend's sweet sixteen, using it for the decorations:
It works wonderfully, even if you need to roll it very thin or work in tiny details.  
Anyways!  Back to those cupcakes.  I topped each cupcake with a teensy heart...
...And I can confidently say that I'm in love.
Please take a moment to aid, pray, or simply keep the victims of the earthquake in Haiti in your heart.
Chocolate Cupcakes With Buttercream and Marzipan Hearts
1/2 cup cocoa powder
1 cup boiling water
3/4 cup brown sugar
1/2 cup buttermilk (I use 1/2 cup milk + 1 tablespoon white vinegar, mixed together and left
out while assembling the other ingredients)
2 tsp vanilla
1 1/4 cups all purpose flour
3/4 tsp baking soda
1/2 tsp salt
1/2 cup butter
1 1/4 cups sugar
2 eggs
Fill two muffin pans with liners.  The recipe makes a bit more than two dozen cupcakes, so you
can either a) use a third muffin pan and put about 1/4 inch of water in the unfilled cavities, 
b) bake the remaining batter in a mini muffin pan, as I did, or c) pop the remaining batter
in the refrigerator while the first batch is baking.
Mix the cocoa powder and boiling water.  Whisk in the brown sugar, buttermilk, and vanilla.
Combine the flour, baking soda, and salt in a bowl.  Set aside.
In the bowl of an electric mixer or with a hand mixer, beat the butter and sugar until light and
fluffy.  
Add the eggs and beat only until incorporated.
Add one third of the flour mixture to the butter, and then one third of the cocoa mixture.  
Alternate adding the remaining thirds of each mixture, mixing after each addition,  and
beat until just incorporated.
Fill each muffin tin a little over halfway.  
Bake for 30 minutes at 350F, until a toothpick inserted comes out clean.
As named by Mom.
1 1/2 cups sugar
1 cup heavy cream
2 sticks unsalted butter, cut into 8 1-ounce (two tablespoon) pieces
1/4 tsp cream of tartar
Red food coloring
Combine the sugar, heavy cream, cream of tartar, and 2 1-ounce pieces of butter in a medium
saucepan over medium-high heat.
Bring the mixture to a boil, stirring constantly.
Continue stirring constantly and keep it at a boil for 2 minutes.
Remove from the heat.  If you see that it's caramelizing, plunge the pot into some ice water (I
just ran outside and used a snowbank...)
Allow to cool to room temperature, and then place in the fridge for half an hour or more.
Pour the mixture into the bowl of an electric mixer.
Using the whisk attachment, beat on slow while adding the pieces of butter one at a time.
Gradually increase the speed and beat on high until very light and fluffy.
Add the food coloring drop by teeny tiny drop, beating until it is spread throughout the frosting
and you have the color you want.
Place back in the fridge to firm slightly before piping.
The hearts I used were made simply with almond paste, but if you want to make true marzipan, I suggest you use
this
recipe from The Cookie Shop.
Almond paste or marzipan - a tube of almond paste will be more than enough.
Red food coloring
Knead the paste so that it is soft and pliable.  Work in the coloring drop by drop until you have your desired shade.  Break off pea-sized pieces and shape into hearts.  Store any leftovers wrapped very tightly in aluminum foil in the fridge, if you're going to use the paste within a few days, or in the freezer to keep for a few months.