So I ended up in the emergency room last week with bronchitis. I didn't have a chance to bake until this Saturday, mostly because my mother would have had my head if she had caught me sick and anywhere near the kitchen. I'd been feeling baking-starved all week, so when I was finally able to find the time and permission to go near the oven, I wanted to go all-out. These little cupcakes are the result of that pent-up creative energy, a surplus of clementines, and the need to practice for a very special cake order that's come up.
Also, in an attempt to spread my love of good music, I'm going to start including what albums I've been listening to in the kitchen on each post. Look at the end of this one for your baking soundtrack for making these cupcakes!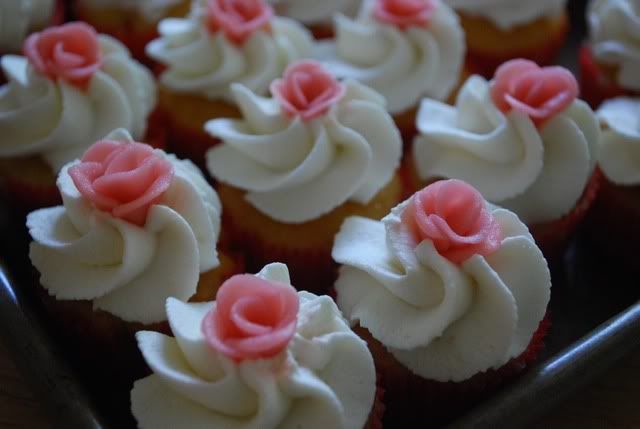 I started the whole thing with curd. I'd never made lemon (or any type of citrus) curd before, but I was desperate to try it, as I kept hearing about how delicious and ethereal it is. We had a ton of clementines lying around the house that technically hadn't spoiled but were just no good for eating, so I decided to make a clementine curd instead. The technique used to blend in the butter - whipping it into the curd with a food processor, rather than cooking it with the custard - was inspired by Dorie Greenspan's
Baking: From My Home to Yours
, but the recipe is mine. And my God, is it good. It's incredibly light, smooth, and creamy, and is bursting with bright citrus taste. We've taken to spreading it on anything we can find in the refrigerator; toast, cake, strawberries, right off the spoon...I tried it spread on a piece of
Pear Cake
, and the combination was to die for.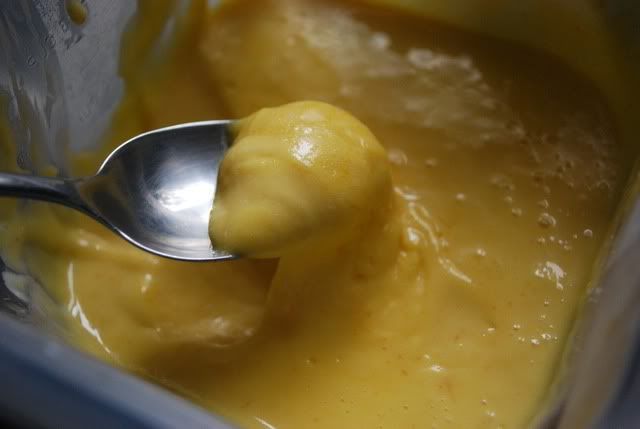 I also made the cream because of something I'm planning for an upcoming cake order. I've had seventy five cupcakes ordered for a wedding shower, and the bride-to-be loves complicated, boutique-style flavors. So I've put together a "menu" of four different elaborate cake, filling, and frosting combinations (more on that as we move into May). One of the flavors I have planned is called August Wedding, which will be a lavender cake base with a lemon curd filling and honey-sweetened whipped cream on top. I wanted to try making curd (though really it's a cream here, since the resulting product is lighter) before I start baking for the actual order, and with this little project - and a surplus of clementines - I had the perfect opportunity.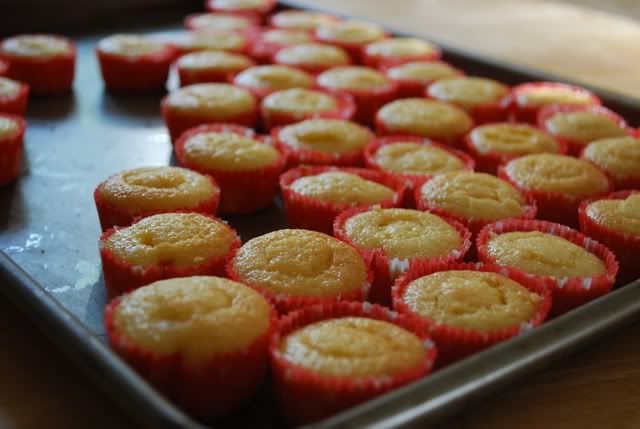 Each tiny cupcake holds an even tinier dollop of clementine cream. They're wonderful just like this. For instructions on filling cupcakes, see the
Spring Cupcakes
post.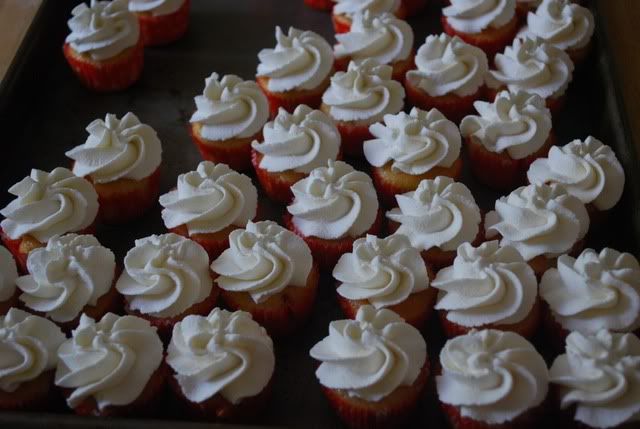 I really wanted to top these with a frosting, though; after all, it's not a cupcake without icing. So in keeping with the practice for the August Wedding cupcakes, I topped them with honey whipped cream rather than a buttercream. I personally
love
whipped cream as a frosting; it's so much lighter and tastier than the often greasy, sugary messes you find at even boutique bakeries. The only reason I can imagine as to why bakeries don't use it as a frosting as much as I wish they would is that it's a bit less sturdy than buttercreams, and so if the cupcakes have to be kept for a while, it may not hold up as well. But I've never had any real problems with it wilting or such, and anyways, bakeries shouldn't be keeping their cupcakes out
that
long.
Sorry. I'm done.
Anways. The lightly sweetened whipped cream is perfect. The flavors of fresh cream and honey pair beautifully with the bright clementine center and this topping avoids becoming too heavy or too sweet. I personally love it. Plus, cream pipes very well when whipped to stiff peaks, so it's perfect for fancy little cupcakes.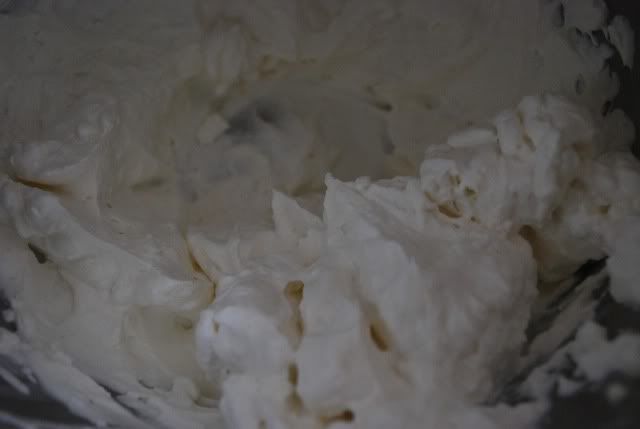 The final touch on these was adding some teeny tiny marzipan roses that I'd made. Marzipan and almond paste are both great for sculpting, and taste endlessly better than fondant or gum paste. I just use store-bought marzipan (
Odense
), which can be of surprisingly good quality and very convenient. If you want to make your own, I suggest using The Cookie Shop's
recipe
. I used only two tiny drops of red food coloring to about .8 ounces of marzipan to get the right pink.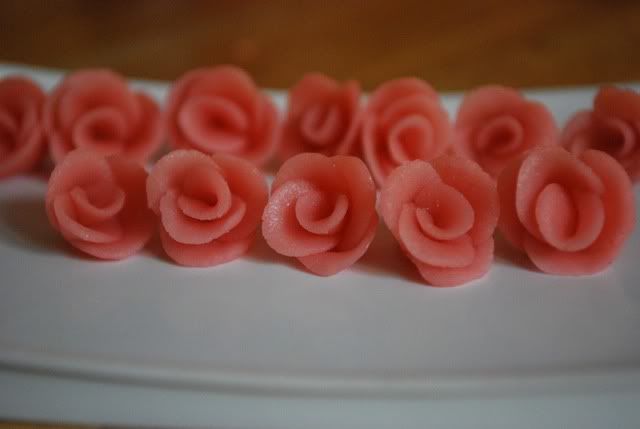 And there! They're done. I've had a few (or more than a few) and they're delicious. I especially like them as minis, since you can pop just one in your mouth and still get a good dose of flavor, with the citrus, vanilla, honey, and cream.
The little marzipan roses on top are just gilding the lily. Which I do quite well.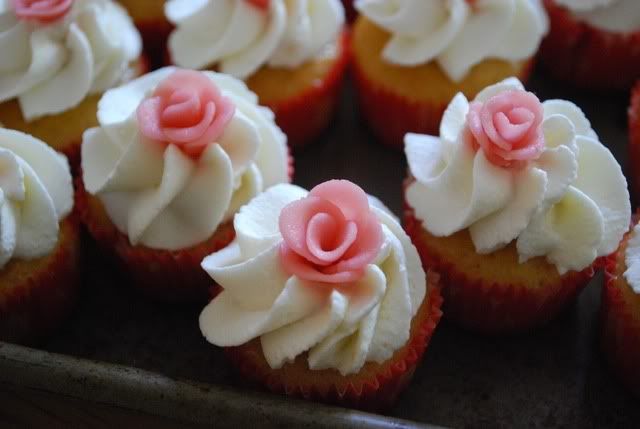 I'm not including the recipe for the vanilla cake, since it didn't quite convince me. Use your favorite vanilla, citrus, or maybe even spice cake as the base for these, and I promise they'll be fantastic. Though really, you could use cardboard for the cake and the cream would make up for it.
Your Baking Soundtrack for Mini Vanilla Cupcakes with Clementine Cream Filling and Honey Whipped Cream:
Moondance
, Van Morrison
This album is deliciously mellow and upbeat at the same time. It's perfect for relaxed spring days in the kitchen and will keep you smiling and tapping your foot even while rolling and cutting endless marzipan roses.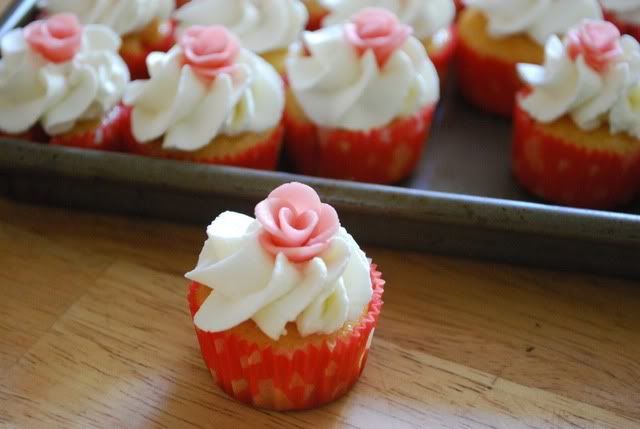 Clementine Cream
You may substitute fresh-squeezed orange juice and zest for the clementine.
Ingredients
4 egg yolks
3 ounces sugar
3.2 ounces clementine juice
1 tablespoon lemon juice
2 tsp clementine zest
1/2 cup butter, room temperature
In a heatproof bowl, rub the zest into the sugar until moist.
Whisk in the yolks and clementine and lemon juice.
Set the bowl over a double boiler of simmering water.
Cook on low-medium heat, stirring constantly, until the cream thickens. It will be rich but not extremely dense. Do not overcook it.
Remove from the heat and pour into the bowl of a food processor or blender.
Allow to cool to room temperature, and place in the refrigerator until well-chilled.
Add in the butter a piece at a time, pulsing with the food processor or blender after each addition until combined.
The cream may be quite runny. It's fine.
Once all the butter has been incorporated, refrigerate the cream for at least five hours (or use it sooner if you don't need it as firm). Store it with a piece of plastic wrap pressed directly onto the top of the cream to avoid developing a skin.
Honey Whipped Cream
Ingredients
1 cup heavy cream, very cold
2 tablespoons honey
Whip the cream to soft peaks.
Add in the honey and continue to beat until very thick and fluffy.
If piping, spoon into the pastry bag and then refrigerate the bag for a few minutes before using to keep the cream firm.