Perhaps this post should be titled "Why Dorie Greenspan is a Genius," because these little, unassuming cookies floored me. Quite simply, they're shortbread; tender, sandy, wonderfully buttery and painted around the edges with egg yolk and sugar for a sweet, crunchy contrast to the center. The perfect thing to bring to an egg-dyeing party, and capable of being completely devoured before the night was over.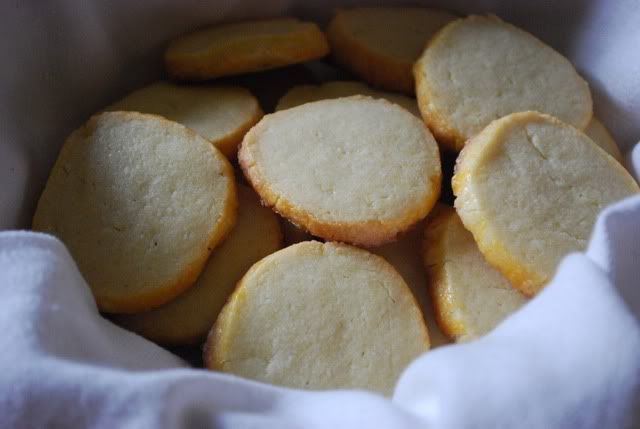 I got Dorie Greenspan's
Baking: From My Home to Yours
out of the library a few days ago, and started itching to try one of its gorgeous recipes the minute I opened it. The cakes, the cookies, the drool-worthy French Lemon Cream Tart on page 331...all of them, calling to me. I've taken to leafing through it whenever I sit down to eat, daydreaming about the beautiful layer cakes, cookie baskets, and creamy puddings I'm going to make before the book is due back at the library.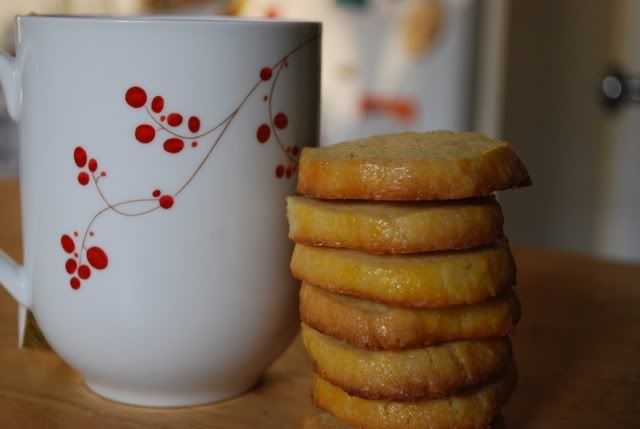 On Friday, I was invited to an egg-dyeing celebration at a friend's grandparent's house (I know. A party? On Black Friday? I was confused, too). I didn't want to show up empty-handed, and I wanted to make a good impression, so I decided to make cookies. Nothing too fancy; I didn't want to feel ridiculous walking through the door with a layer cake or a dozen frosted cupcakes, but I wanted something homemade, with a little thought put into it.
Also, I really, really wanted to use the book.
I'd noticed a recipe for sablés in
Baking
and thought that they would be perfect. The picture showed them as adorable little round cookies with slightly puffed edges, rolled in coarse decorating sugar and presented in cute gift boxes. What could be better? Simple, quick, portable, mess-free, and they looked delicious.
So I made them. Or, rather, Anna and I (find our baking adventures in the
last post
) made the dough and refrigerated it, and when she went home I sliced and baked the cookies. These are simple refrigerator cookies (though very sophisticated refrigerator cookies, at that), and the dough needs to be rolled into a log and refrigerated before baking. Anna rolled it, and obviously just eyeballed it. That's why we were so excited when it turned out to be the exact nine inches called for in the recipe.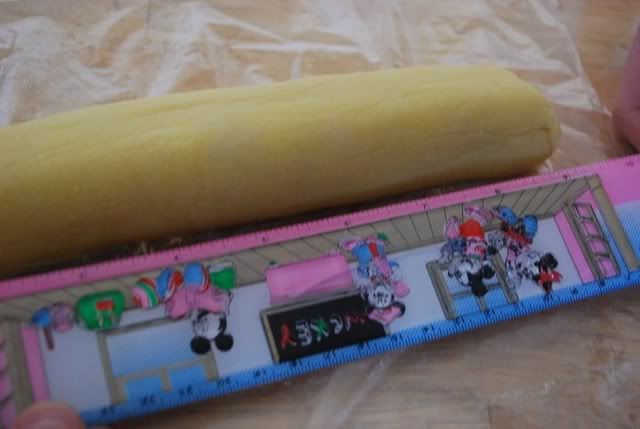 Also, you like my pink Disney ruler. We both know it.
When I took the log out of the fridge later that night and started to slice the cookies, I was actually kind of disappointed. I had tried to keep the log as nicely rounded as I could, but the sliced cookies just weren't as cute as the book's photo, and namely, they didn't have the puffed edges I had been after. They looked pretty pale, plain, and almost like I had bought premade cookie dough and sliced it. Definitely not what I was going for.
And so I baked them, hoping to at least have something to take to the party, even if it wasn't my greatest work. Five minutes into the baking time, they started to smell good. Halfway through, they started to smell
really
good. At fifteen minutes in, I had promised myself any ugly cookies that came out. Then the timer went off and I pulled them out, and my plain little refrigerator cookies had been transformed into sablés. Their sides had puffed up and were a golden color; their bottoms were light brown; and they smelled like heaven. The five mintues I had to wait for them to cool down so I could snatch up one of the end pieces were torturous.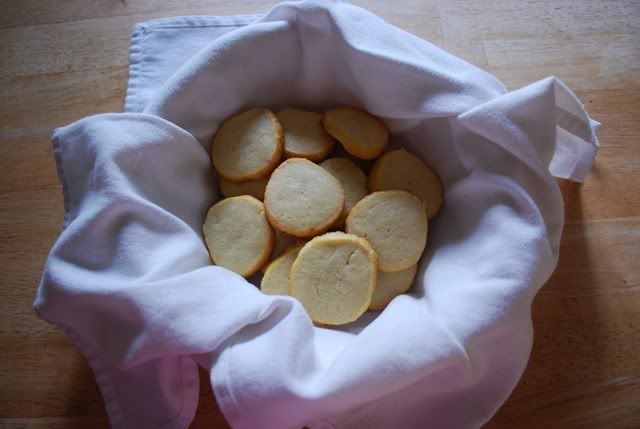 When I tried one, I knew that I had been wrong for doubting these cookies. They're so good. I've made butter cookies before, with a
Moosewood Restaurant Book of Desserts
recipe, and they were alright; they had a good butter flavor but were crunchy, almost hard, and looked just as they had going into the oven. I had thought that shortbread would be the same thing, but it's not. These are tender and crumbly and have an even better flavor.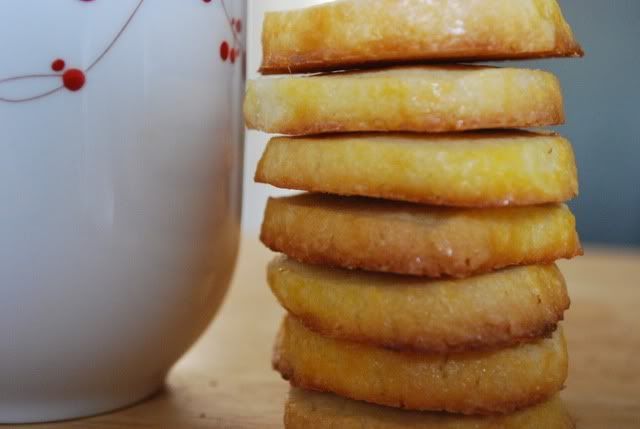 The only downside was that I didn't know how many people would be at the celebration, so I made half the original recipe, which makes a whopping fifty cookies. It turns out that fifty cookies would have been about right; these absolutely flew off the table. I received compliments on them from various family members and was told to come back, with or without my friend, with more cookies.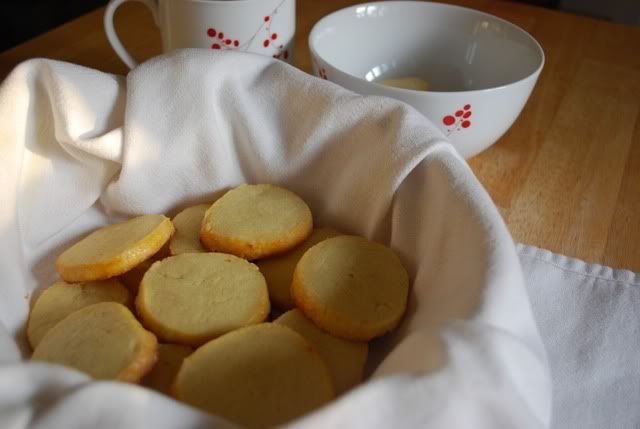 Sablés
(makes 50 cookies)
From
Baking: From My Home to Yours
, by Dorie Greenspan
Ingredients
2 sticks butter, room temperature
1/2 cup sugar
1/4 cup confectioner's sugar
1/2 teaspoon salt
3 large egg yolks (2 for the batter and one for the glaze)
2 cups all-purpose flour
Coarse decorating sugar

In the bowl of a stand mixer fitted with a paddle attachment, beat the butter on medium until smooth and creamy.
Add sugars and salt and beat until well-blended and smooth and velvety (not light and fluffy).
On low speed, beat in the egg yolks until smooth.
With the mixer off, add in the flour. Cover the mixer with a kitchen towel.
Turn the mixer on low for a few seconds, then turn it off.
Repeat four more times.
Check the dough. If there is still a lot of flour on top, repeat a few times. If not, remove the towel.
Continue at low speed for 30 seconds, until the dough is uniformly moist.
If flour is left on the bottom of the bowl, mix it in by hand with a spatula.
The dough should be clumpy rather than smooth. Do not overwork it.
Transfer the dough to your work surface. Divide it in half.
Working on plastic wrap, shape each half into a 9-inch log.
Wrap each log and refrigerate for three hours or more, up to 3 days (freeze up to 2 months).
Line two baking sheets with parchment paper.
Whisk the egg yolk and brush some all over the sides of one of the logs.
Sprinkle the log with the decorating sugar.
Slice the log into cookies from 1/4-inch to 1/2-inch-thick.
Place on the baking sheet, leaving an inch of space between them.
Bake at 350F, one sheet at a time, for 17 to 20 minutes, rotating the sheet at the halfway point.
Cool the cookies on the sheet for a few minutes and then lift them onto cooling racks with a metal spatula.
Repat with the remaining log of dough, making sure that the sheet is cool before using.