Guess who just got through the SATs? That's right. Yours truly just endured 3 hours and 45 minutes of testing to prove that she can write a cohesive sentence and identify the unknown angles of a triangle. The whole test is so hyped up and our teachers tell us so much that we should be terrified of it that by the time I actually had to sit it, I was quaking. Last night, to keep myself from thinking about it (and giving myself a little panic attack), I made some lovely chocolate macarons filled with salted butter caramel sauce. I can say that I hardly worried about the test last night; they're certainly distracting. Deliciously so.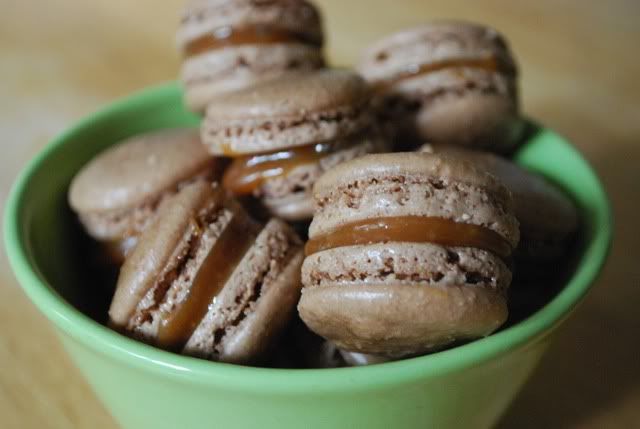 So any plans for Friday night were shot because I had to get plenty of rest for this morning. I did sneak out for a game of soccer with some friends, but I was home at a reasonable hour, with plenty of time to kill before I could make myself go to bed. When I'm nervous I bake, and I could already feel that test anxiety creeping up on me. The fact that it was an absolutely gorgeous afternoon wasn't making me any less restless. So I flung open the kitchen windows and did what any teenager faced with college entrance exams would do; I busted out some egg whites.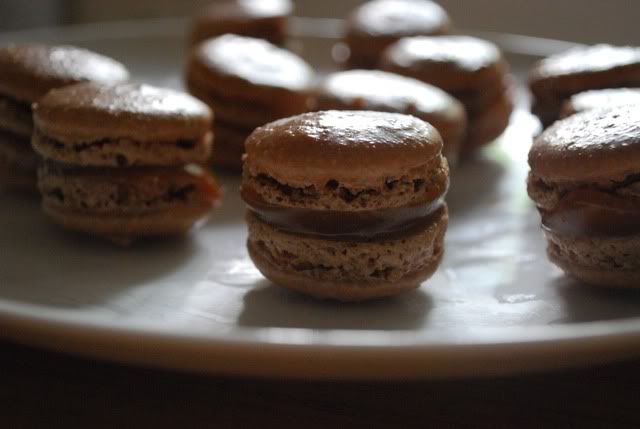 I'd been playing with the idea of filling macarons with caramel sauce for a while, and I decided that the perfect shells for this would be chocolate. The result, of course, is that you really can't get much more decadent than these cookies. Chocolate macarons are a treat in themselves, but spread them with rich, buttery caramel and they're downright indulgent. I absolutely love the contrast you get with these when the crisp, airy shell gives way and mingles with the thick, chewy, satiny caramel. So good. And so delightfully gooey.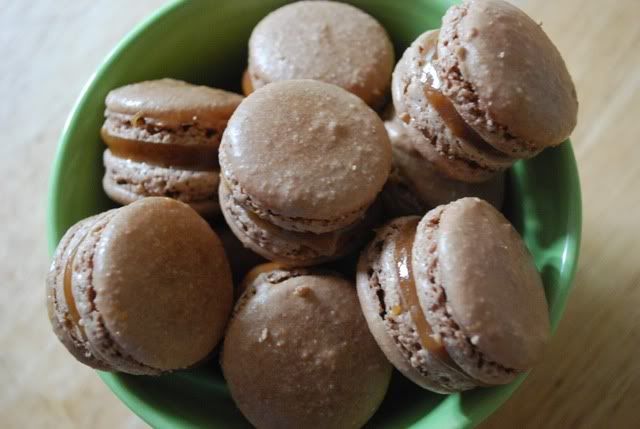 I've been making a lot of cupcakes lately, so these were a nice change. Don't get me wrong; I love cupcakes and everything they entail. They're so cute and a lot of fun to prepare, since you have endless possibilites of cake, filling, frosting, and decoration combinations. But these macarons are a little more sophisticated and the chocolate, caramel, and sea salt trio makes for a flavor that isn't just a pretty face. I'm always afraid to hear that my food is "interesting," since that just sounds like the person describing it can't think of anything nice to say, but that really is the word for these. They taste great, and they also make you stop and think and enjoy the combination.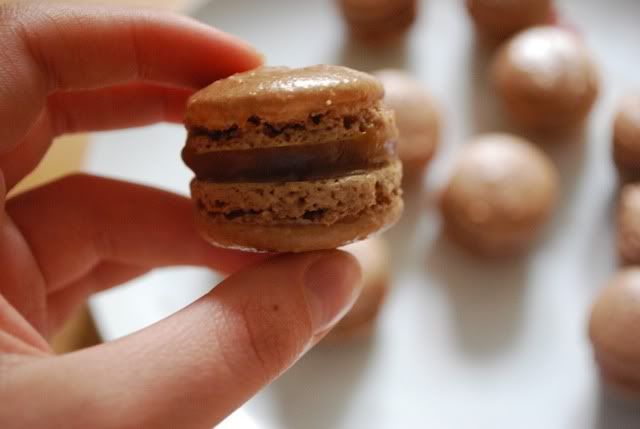 Speaking of cupcakes. The
minis
I took into school were such a success that I ended up with two more cake orders within one eighty-minute period. The first is for a birthday cake, and the second for four dozen petit fours for a cocktail party. I'm so excited for these. May is going to be hectic and wonderful; I have five (count 'em!) orders to get done and a special birthday I'll be making something for. That, and I have to work around the three AP tests I'll be taking. It's going to be intense, but I'm raring to go. As long as I'm baking, I'm happy.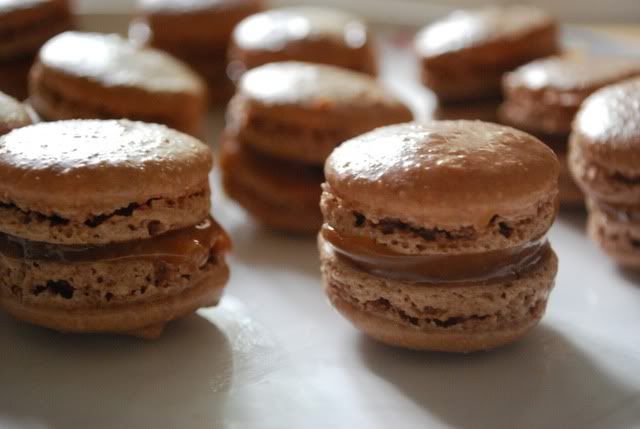 So anyways. Making these macarons definitely calmed me down. I was able to relax and drift as I whipped and folded and piped. I went to bed feeling pretty confident. That's not to say that this morning wasn't chaos. It went a little something like this for me:
7:00
I'm fine. This is going to be fine.
7:15
Pshh. I've got this.
7:30
It's fine. I'm not panicking.
7:45
WHERE IS MY CALCULATOR OH MY GOD HAVE YOU SEEN MY TEST TICKET I'M NOT GOING TO GET IN TO COLLEGE.
Hoping not to jinx it here, but I think the test went alright. I did come home dog tired, though, and all I wanted to do was collapse and never think about right triangles or verb tenses again. However, there were tiny chocolate and caramel macarons waiting for me in the downstairs fridge, so life didn't seem all that bad.
A few bites later, and I knew it really wasn't.
Your Baking Soundtrack for Chocolate and Salted Butter Caramel Macarons:
Rumors
, Fleetwood Mac
This is, for me, the ultimate spring/summer soundtrack. Every time I listen to it, I discover something new to love about the music. The songs are bright, folksy, and yes, perfect for sing-along-time in the kitchen.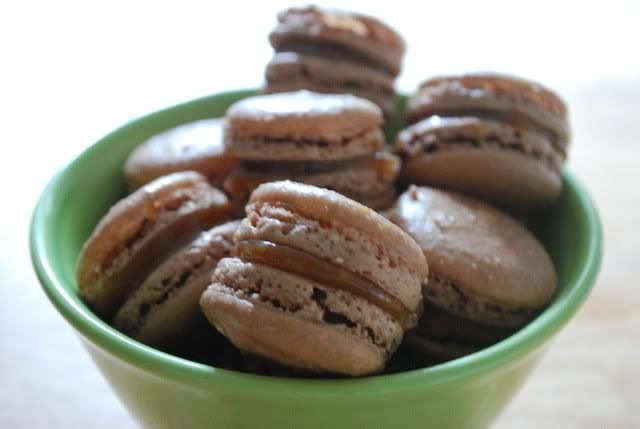 Note: For tips on making macarons, please visit the
Macarons with Guest Baker Anna
post.
Chocolate Macarons
Adapted from
Joe Pastry
Ingredients
2 ounces almonds
3.5 ounces powdered sugar, minus one tablespoon
1.75 ounces egg whites (aged overnight at room temperature, or brought to room temperature and then zapped in the microwave for no more than ten seconds)
.9 ounces granulated sugar
1 tablespoon unsweetened cocoa powder
Cover a cookie sheet with parchment paper.
Place the almonds, chocolate, and powdered sugar in a food processor and grind until very fine. You should see no almond pieces. (You may have to work in batches if the machine is small. Just divide up your almonds, chocolate, and powdered sugar evenly each time.)
Pass this through a sieve or sifter and set aside.
In the bowl of an electric mixer fitted with a whisk, beat the egg whites until they are at the soft-peak stage.
Add the granulated sugar and beat until very stiff.
Add the ground almonds all at once and stir - don't fold - until the batter starts to come together. Slow down as it starts to look consistent.
Test a little bit on a small plate. If it holds a peak, give it a few more turns. If it settles into a nice, peakless (but still full) round, it's just right. If it flattens out completely, you've overmixed, or your egg whites weren't stiff enough.
Fit a piping bag with just the coupler, no tip, and stand it up in a glass for easy filling. Spoon in the batter.
Pipe small circles, about 1.5 inches in diameter, on the parchment paper.
Let these stand at room temperature for an hour.
Bake at 300F for 12-15 minutes.
Let cool and then peel the parchment paper off.
Salted Butter Caramel Sauce


Ingredients
1/4 cup heavy cream
1/8 cup water
1/2 cup sugar
1 tablespoon light corn syrup
1 ounce salted butter (you may use cultured salted as well, as I did)
Heat the heavy cream in a saucepan until boiling. Remove from the heat and cover to keep warm.
Combine the water, sugar, and corn syrup in a heavy saucepan over medium heat.
Stir just until the sugar has dissolved.
Cook without stirring until the caramel is a deep golden (you may play around with the darkness of your caramel, but be careful, as sugar cooks very quickly at this point and will easily blacken if you don't stop the cooking by setting the saucepan in a pan of ice water. If you see dark spots appearing during the cooking, give the sugar a brief stir to prevent it from burning).
When the caramel has reached this color, immediately pour in the warm cream.
The sauce will bubble up. Allow it to become smooth before proceeding.
Add the butter and whisk in until smooth.
Use warm or at room temperature. It should be stored in an airtight container in the fridge, where it will become quite stiff. Allow it to come to room temperature after storing. At room temperature, it is still very thick, so give it a hearty whisk to get it to spreading consistency, or warm it (very briefly) over low heat, stirring all the while.