Here it is! I'm just a few weeks late, but I promised a post on the tapas competition for which I won best dessert and best presentation (though they could only give me the prize for best presentation, since I won in two categories...harumph), and I'm finally getting it up. My entry consisted of "Magdalenas de la Mancha": honey cupcakes with almond buttercream and handmade marzipan bulls.
So these cupcakes were great. I was so happy with how the cakes themselves turned out, and, of course, the adorable little bulls (if you don't get the "de
la Mancha
" thing, know that there are a lot of cows in that area, and, with the whole bullfighting and
giant toro billboards
, bulls are sort of a symbol of Spain). The only thing that messed me up was the buttercream. It tasted absolutely wonderful and went so incredibly well with the honey cake, but I didn't realize that grinding up the almonds before adding them into the cream would make them oily and cause the cream to break up. So I've instructed you to just chop the almonds finely in the recipe included so that the buttercream will pipe nicely and not give you trouble (as it gave me).
I'm honored and overjoyed to have won at the tapas competition, especially since people came up to me throughout the night to tell me how cute the bulls were. People I had never met in my life right away assured me that I had their vote. I hope you enjoy these little cupcakes as much as I enjoyed putting them together.
Your Baking Soundtrack for Magdalenas de la Mancha:
Borrasca
, Ottmar Liebert + Luna Negra
What could be more fitted to preparations for a tapas competition than this upbeat, addictive blend of flamenco, South American beats, and jazz? The whole album will keep you dancing and swinging in the kitchen with Spanish style, even through long projects like this one.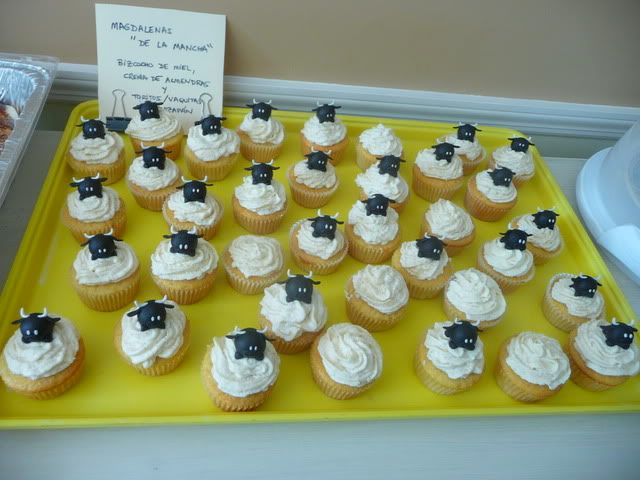 From
Allrecipes.com
Ingredients
1/4 cup butter, room temperature
1/4 cup sugar
3/4 cup honey
2 eggs
1/2 cup buttermilk
1/2 teaspoon vanilla extract
2 cups all-purpose flour
1 tablespoon baking powder
1/4 teaspoon salt
Line 3 12-cup muffin pans (or you may bake one tray at a time, holding the remaining batter in the fridge each time).
Cream the butter and sugar until light and fluffy.
Mix in the honey, eggs, buttermilk, and vanilla.
Mix together the flour, baking powder and salt.
Add the dry ingredients to the wet ingredients and stir until just combined.
Divide the batter evenly among the muffin cups.
Bake at 350F for 20-25 minutes.
Almond Buttercream

1 1/2 cups sugar
1 cup heavy cream
2 sticks unsalted butter, cut into 8 1-ounce (two tablespoon) pieces
1/4 tsp cream of tartar
1/2 cup almonds, blanched, peeled, toasted, and finely chopped
1/4 tablespoon Amaretto or other almond liqueur.

Combine the sugar, heavy cream, cream of tartar, and 2 1-ounce pieces of butter in a medium
saucepan over medium-high heat.
Bring the mixture to a boil, stirring constantly.
Continue stirring constantly and keep it at a boil for 2 minutes.
Remove from the heat.
Allow to cool to room temperature, and then place in the fridge for at least half an hour.

Pour the mixture into the bowl of an electric mixer.
Using the paddle attachment, beat on slow for thirty seconds.
Increase to medium and beat for two minutes, while adding the remaining pieces of butter until fully incorporated.

Beat on high for two minutes, adding the chopped almonds and Amaretto.
Scrape down the sides of the bowl and beat on high for another minutes, until very light and fluffy.

Place back in the fridge to firm slightly before piping.