It's hard to believe that last night was my junior prom. It seems like yesterday that I was in middle school vowing that I would never be silly enough to wear an evening gown and let a boy tie a corsage around my wrist. But my mind has certainly changed since then, and this year, being a junior, I attended our school's prom. Afterwards, a bunch of friends slept over. I woke everyone with a delicious chocolate chip pancake breakfast after our approximated four hours of sleep.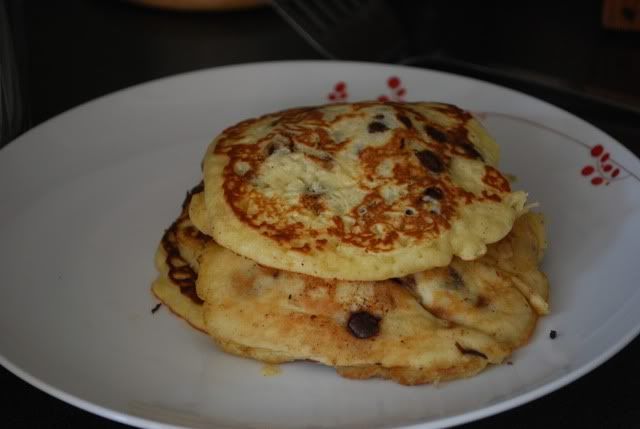 I can't imagine prom going more perfectly. A big group of people came to my house to get ready and take pictures. It was beautiful outside yesterday evening, and of course all our parents made us go out in our backyard and take tons and tons of pictures, including the super typical, super cheesy shot with the line of couples. All the girls wore evening gowns, and the boys looked hilariously formal in their tuxes. When I was in middle school I said that if I ever did go to prom, I would wear a poofy dress with fishnets and Converse sneakers (I thought I was such a rebel in middle school and didn't realize that "goth" was no longer original by the time I discovered it). However, I worked that dress and I wore that corsage like nobody's business.
Prom itself was great (lots of dancing, lots of pictures, lots of girls squealing "Ohmygah you look so prettyyyyyyyyyy"), but the best part was coming home. We started a fire in my backyard and made s'mores (see my previous marshmallow-making adventures
here
), and then we all trooped down to the basement to watch a movie. People started passing out around three, and I suddenly found myself waking up at four in the morning and having to wake the girls up to tell them to go sleep upstairs, away from the boys.
My friend woke me up at eight in the morning. She and her boyfriend had to leave at ten, and I had promised everyone breakfast. "Paaaaaancaaaaaakes," came a voice from underneath a mass of blankets to my left. So I sleepily tied on my hostess apron and set to work.
I thought it would be a good idea to make these chocolate chip pancakes, since hey, what sleepy, hungry teenager says no to chocolate and carbs? And I was right. I originally just made one batch of pancakes, which turned out eight or so medium pancakes, but I quickly realized that
no way
was that enough to feed everyone. So I worked double-time, popping between the kitchen and the dining room as I flipped pancakes, chattered away with everyone, and made sure that no one had run out of milk or needed extra napkins.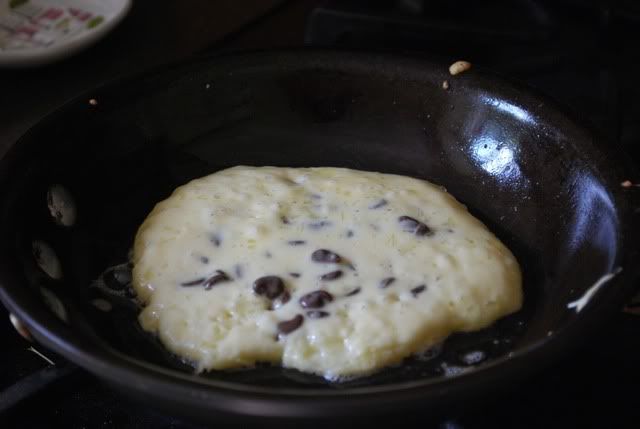 The pancakes are delicious. They're the simplest kind, which, I think when it comes to homestyle cooking, are the best. They're light and fluffy but still have a rich taste to the batter, which isn't too sweet itself (only using 3 tablespoons of sugar). We served them with butter, maple syrup, and chocolate sauce. And of course, glasses of cold milk. Because even when you're sixteen, milk moustaches are a necessity.
The chocolate sauce is another thing to swoon over. I improvised a thin ganache, mixing hot cream and chocolate by eye and adding a few teaspoons of citrus jelly. That's my new trick for ganache, and I love it. Adding a little bit of orange, apricot, or similar jam (even pineapple!) really adds an extra oomph to ganache, but you can't detect that citrus flavor in the final product. It's a lot like adding a little bit of coffee to chocolate cakes; the finished product doesn't taste like the addition, but it does make the dominant flavors in it deeper and more pronounced.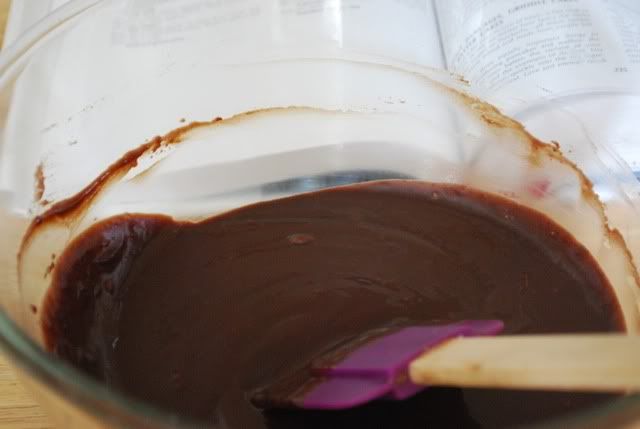 I don't have any pictures of the breakfast table since by that point I felt like the mother of a bunch of kids trying to settle everyone down, keep everybody in their seat, and get us all fed. But I can say that it was a perfect morning, with stacks of hot pancakes coming off the stove, a bowl of chocolate sauce, sunny yellow butter, a jug of maple syrup, and a crowd of smiling faces that really mean the world to me.
It was a beautiful night and a beautiful morning.
Your Baking Soundtrack for Prom Pancakes:
Forever Young (Single)
, Alphaville
The remake of this with Jay-Z was our prom song. What more do I need to say? Just that the original is much, much better.




Chocolate Chip Pancakes
Adapted from
Joy of Cooking
Ingredients
1 1/2 cups all-purpose flour
1 teaspoon salt
3 tablespoons sugar
1 3/4 teaspoons baking powder
2 eggs
3 tablespoons butter, melted and cooled
1 cup milk
1 generous cup of chocolate chips
Combine the flour, salt, sugar, and baking powder in a large bowl.
Whisk the eggs slightly.
Add to the eggs the butter and milk.
Add the liquid ingredients to the dry ingredients and mix until just combined.
Stir in the chocolate chips.
Cook the pancakes by dropping the batter onto a hot, greased griddle (for multiple pancakes at a time) or hot, greased frying pan (for just one pancake at a time). Check the underside of each pancake when bubbles first start to appear on the top. When you see that the bottom is sufficiently browned, flip the pancake with a metal spatula and cook until golden brown to brown on the bottom.