Some boys are very, very spoiled.
I've been working at a food pantry/soup kitchen/men's shelter all this summer with a group of other teens. It's been one of the best experiences of my life, and I've had a wonderful time working in the kitchen, bagging produce, and getting to know everyone there. I'm definitely going back next summer (before leaving for college...*gulp*) because I feel like I've done some genuinely good work, and I've met a lot of great people, both from the shelter itself and from the volunteer program. Now, some of those fellow volunteers demanded cookies this year after figuring out that I'm a little bit nuts about baking. Because I'm a horrible pushover, I agreed to make them some. And because I'm an even more horrible pushover, I agreed to make what they requested: quadruple chocolate cookies.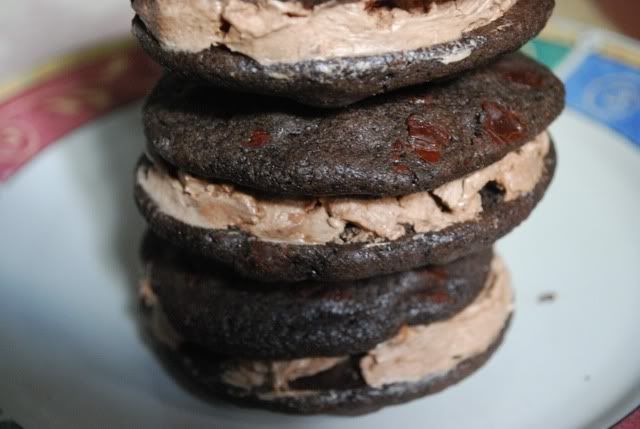 How does one make quadruple chocolate cookies? I was stumped at first, too. They were requested (though "requested" is a gentle term) because they're a step up from the classic triple chocolate cookie: chocolate butter cookie with both bittersweet and white chocolate chunks. I thought of just adding in milk chocolate chunks, but then it seemed like there would be more chunks than cookie. And besides, this was a project just begging for me to be creative and decadent. So what did I do? I made each cookie as intensely chocolaty as I could, with two chocolate cookies (double) with chocolate chips (triple) sandwiching a thick center of chocolate buttercream (quadruple!).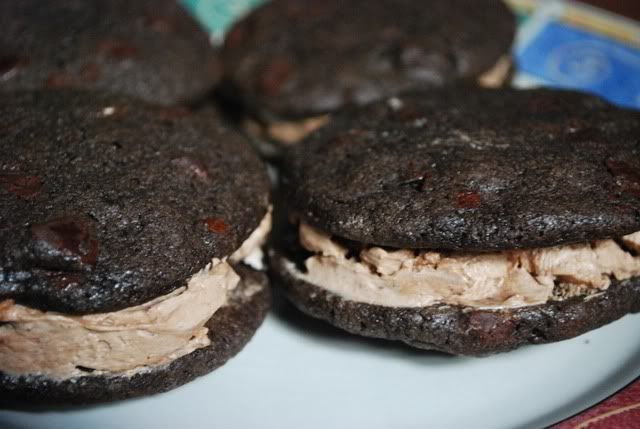 The cookies themselves were a treat. They're dark, chocolaty, and beg for a tall glass of milk. If a glass of milk isn't necessary when eating cookies, they're not chocolaty enough. I made sure to start with nice, cold butter for the creaming step of the recipe, and when the dough had come together I rolled it into a log and froze it for 24 hours. This ensured wonderfully thick, cakey cookies, just the way I like them.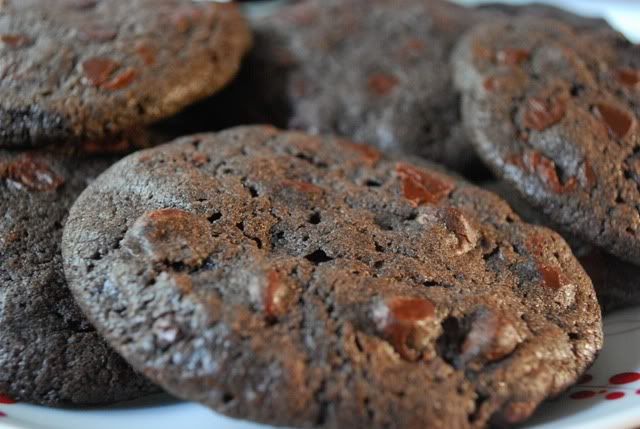 It's amazing how many different cookies you can produce with one recipe, just by altering how you treat the dough. My mom teaches an intro to biology class at the university level and one of the first experiments she has her kids do is the Chocolate Chip Cookie Lab. She gives everyone the same recipe for cookies (the Nestle Toll House one, by the way) and sends them home to make a batch. Everyone brings in their cookies and the class explores why the batches all turned out so differently, from chewy to cakey, thin to thick, powdery to rich, downright disgusting to surprisingly good. It is, apparently, a very popular experiment.
The thing is that there are
reasons
why a certain batch of cookies may turn out one way, while the next one you bake looks and tastes completely different. This applies to all of baking, and when you know those reasons, you can control them and get consistently good results (well, mostly consistent) out of your baking. Chocolate chip cookies just happen to be an excellent example of this. It's a little bit of science and a little bit of common sense. I'll try to keep it mostly to common sense, since a) science isn't really my thing and b) there are so many wonderful sites like
Joe Pastry
that go into detail about the "whys" of the matter.
So I'll just talk about the practical side of it. My credentials, you ask? I'm no scientist, but I've baked a heck of a lot of cookies, and I've turned out a heck of a lot of bad batches. So. If you like thick, cakey cookies like me, here's what to do: start with cold butter. This will prevent your batter from becoming liquidy, which in turn will keep your cookies from spreading out on the baking sheet. Secondly, be very careful not to overbeat your batter. Overbeating will, again, create a runny batter, and your cookies will be more likely to spread. Third, it's a good idea to refrigerate or even freeze the cookie dough before using it. Depending on the recipe you use, you may be instructed to either hold the dough in the fridge as it is, in the bowl or wrapped in cling wrap, or you may be told to roll it into a log so that you can slice off discs later. Either way, if you'd like thicker cookies, this is an important step. Keeping the dough cold as it rests will both relax the gluten (just like pie crusts! Magic!) for a softer-textured cookie and ensure that none of that lovely butter melts out and makes the dough runny. Also, if the cookies are cold going into the oven, they will rise
upwards
rather than out to the sides resulting in a cakier cookie (again,
Joe Pastry
puts this much more eloquently than I can.
If you're into thinner, chewier cookies, guess what? It's as simple as doing pretty much the opposite of what I listed above. Start with warm or room temperature butter for a more relaxed, free-flowing batter. Really go to town when mixing that batter (though just at the creaming state and when adding the eggs; you don't want to develop too much gluten by mixing a lot after adding the flour). Scoop the batter onto the trays right when it's finished so that the cookies are room temperature going into the oven. You can even bang each tray of cookies on a counter before baking them to keep them from rising very high and make them spread more.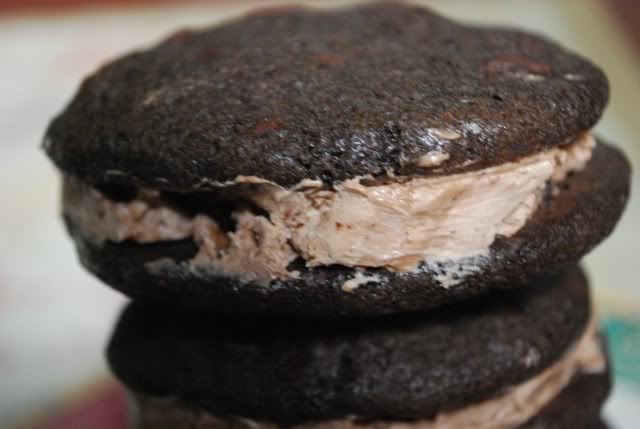 One last thing. If you've been looking for tips on controlling the textures of your cookies, you may have seen sites advising you to change the flour content of your recipe. I really advise against this. Unless your recipe is crummy (and if it is, the obvious choice would be to change recipes), the author of the cookbook or blog or what have you knows what they're talking about. If you're having trouble with a certain recipe,
look for another one
, don't start changing the ratios of ingredients. The reason? Cookies are different from bread. Most bread recipes actually encourage you to add water or flour at the kneading stage to make the dough manageable. That's because bread making requires gluten, and therefore adding more flour can't really hurt, especially for the home baker who can only add so much. But cookies are a type of pastry, and, unlike bread, are expected to be delicate, with a fine crumb. Definitely not touch and chewy, which is what gluten causes. So adding extra flour to a recipe will more likely produce a grainy, tough cookie and ruin the flavor, rather than making it rise better. Just something to watch out for.
Okay, okay. Now for the fun part. Buttercream. I haven't made a Swiss meringue buttercream since April, and I'll admit I was a little bit nervous. SMB has a reputation for turning gloopy once you add the butter, and even though I knew this, I was honestly scared that I'd ruined it somehow, that I'd overbeat the meringue. But it turned out that I hadn't, as the buttercream poofed right up again after a few minutes under the mixer. It was smooth, rich, fluffy, and delicious with the addition of chocolate.
These quadruple chocolate cookies are probably one of my favorite things I've made. They...were...so...good. I only had one, dipped in some coffee at work (Heaven!), and I'll admit that it was hard to stop there. One of the volunteers ate four. The combination of soft, toothsome cookie and smooth buttercream was amazing. And though I felt I was running the risk of chocolate overload making these, they turned out to be just perfect flavor-wise. They'll definitely be making a reappearance soon.
Your Baking Soundtrack for Quadruple Chocolate Cookies:
Mad Dogs and Englishmen
, Joe Cocker
Mr. Cocker is one of the most amazing singers, musicians, and composers I can think of. His bluesy rock (or rocky blues?) is full of emotion, whether melancholy or dance-inducing, and I can't even begin to tell you about his voice. I can't really do its raspy, howling, completely charming qualities justice on a blog. His cover of "Bird on a Wire" outdoes any other version of the song and makes me cry every time I hear it.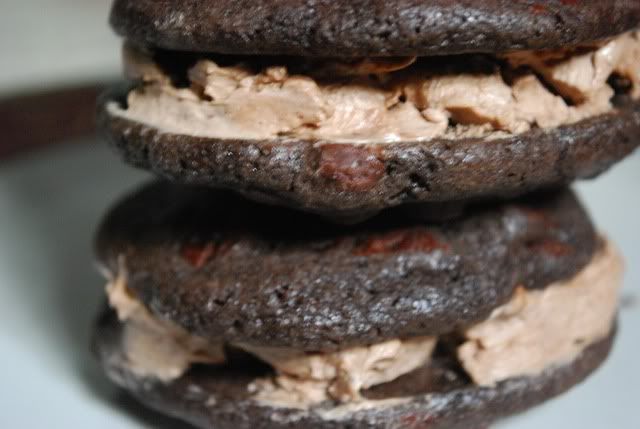 Double Chocolate Fudge Cookies
Slightly adapted from
The Secrets of Baking
, by Sherry Yard
1 1/2 cups all-purpose flour
2 tablespoons unsweetened cocoa powder
1/2 cup plus 2 tablespoons sugar
1/2 cup plus 2 tablespoons tightly packed brown sugar
1 teaspoon vanilla extract
1/2 cup semisweet chocolate chips
Sift together the flour, cocoa, and baking soda.
In the bowl of an electric mixer fitted with the paddle attachment, cream the butter and sugar on medium speed.
Add the sugar, brown sugar, salt, and vanilla and mix on medium speed until smooth. Do not overmix.
Add the egg and beat on low until just incorporated.
With the mixer on low speed, slowly add in the flour mixture, beating just until incorporated.
Add the chocolate chips and mix on low only until evenly distributed throughout the dough.
If baking right away, line two baking sheets with parchment paper. Scoop generous teaspoonfuls of the dough, placing each cookie 2 inches apart. Bake at 350F for 12-15 minutes, or longer, until the cookies look dry and are no longer wet to the touch.
If not using immediately, use a piece of parchment paper or cling wrap to roll the dough into a log and wrap it tightly. Chill for one hour. This may be kept in the refrigerator for up to a week, or in the freezer for up to a month before baking.
When ready to bake, cut 1/3-inch discs off the log and place them 2 inches apart on the prepared baking sheets. Follow the baking instructions above.
Chocolate Swiss Meringue Buttercream

Adapted from
Joe Pastry
(scroll down for SMB)

2 egg whites
2.5 oz sugar
1/8 tsp cream of tartar
1 stick soft unsalted butter
2 ounces semisweet chocolate, melted and cooled

Combine the egg whites, sugar, and cream of tartar in the top of a double boiler over simmering water.
Whisk to combine and continue to do so every so often as the syrup cooks.
Cook to 160F.
Pour into the bowl of a stand mixer fitted with the whisk attachment.
Turn on high and whip to stiff peaks.
Switch to the paddle attachment.
Add the butter piece by piece, with the mixer on medium high.
The mixture will most likely turn goopy and you may think that you've overbeaten the whites. Do not panic, and do not turn the mixer off. Keep beating, even if it seems a lost cause. The meringue will poof right back up after a few (or more) minutes' time.
Beat until thick and of frosting consistency.
Alternately, if your butter is a little cold, the buttercream may "curdle." Again, just keep beating it until it becomes smooth.

Add in the melted and cooled chocolate and beat just until fully incorporated.