It was my birthday recently, and besides going out to a wonderful restaurant with my family and a friend to celebrate (peach-mascarpone cannoli for dessert...I must attempt this at home), I made my own birthday cake. My mindset while planning and baking this was "It's my birthday. Now is the time to put everything that I love and shouldn't be eating in a cake." That's why this cake is now known in our family as the Baroque Cake - it's rich, complicated, over-the-top, and combines more flavors than are really necessary in a dessert. The only way a birthday cake should be done.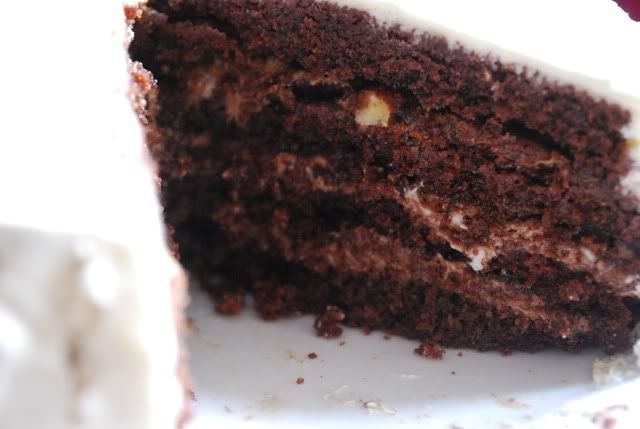 This cake, being designed solely to spoil and pamper me, is my "food porn" fantasy come true. Let me break it down: four layers of my favorite chocolate cake spread with fluffy chocolate mousse and candied almonds, all encased within rum whipped cream. The cake layers are the chocolate cake I always turn to. It never fails, it's delicious, and the recipe makes two perfectly-sized layers. I split each layer in two here to make a quadruple-decker cake. It was my first time cutting cake layers, and I thought it would be a crumbly, messy disaster. But it worked really well, actually, and I was so proud when I ended up with four neat, even layers. The things I get excited about, really.
The mousse is the same chocolate mousse I blogged about before, and the same description still applies here: rich, fluffy, addicting. Spread between layers of rich chocolate cake, it's a cross between fine dining and comfort food; as in, do I eat this with a silver fork and linen napkin, or go at it with a spoon?
I think the almonds, however, are what really make this cake. I decided to include them because while I was planning, I knew I wanted some sort of crunchy contrast to all the soft cake and filling. I thought of just layering in finely sliced almonds, but then I remembered it was my birthday, and now was the time to be baaaaad. So I made candied almonds, the ones my mom always made and the ones she in turn taught me to prepare. They're completely addicting on their own (I seem to be using that to describe a lot of these components...), so you can imagine what they're like paired with chocolate, rum, and cream. I crushed them up when stacking the cake layers, but I think the contrast would have been better if I'd just left them thinly sliced. I can't lie, though, they were still amazing.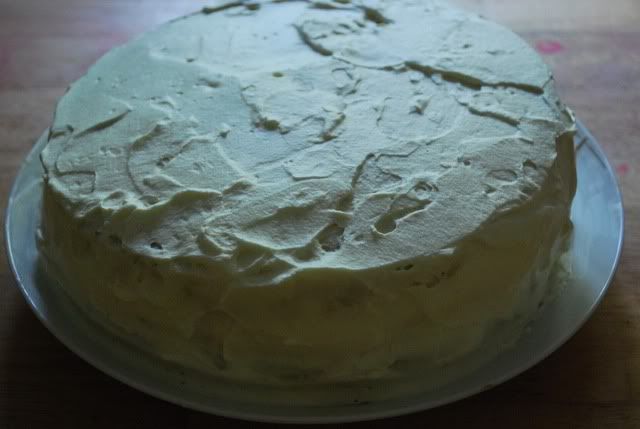 And then there was rum. (Sorry. I couldn't help myself.) The luscious rum-flavored whipped cream on the cake was one I'd made for a
brazo gitano
last year, and one I'd never forgotten. Holy cow it's good. It's the most simple frosting you could think of - cream, sugar, and rum - but that's part of why I love it. While it is indulgent, it's not as rich as a buttercream and not as intense as a boiled icing. I feel like using one of those to cover the cake would simply have been too much, even for the Baroque Cake, but this light, fluffy whipped cream was just right.
Your Baking Soundtrack for Baroque Birthday Cake:
My dad made me listen to this guy. At first I put up a fight: "What's so great about him? He's an old Italian man wearing a huge hat and pretending to be a cowboy." And then I realized that Zucchero's music more than makes up for any bad decisions in headwear. His mixture of blues, rock, bluegrass, pop, and gospel is excellent, and his Italian covers of English songs - and medleys of English songs - are great as well.
Chocolate Cake

From
Baking Bites
Ingredients

1 1/2 cups all purpose flour
1/4 cup cocoa powder
1 cup sugar
1 tsp baking soda
1/2 tsp salt
1 cup buttermilk
1/4 cup butter, melted and cooled
1 tsp apple cider vinegar
1 tsp vanilla extract

Line two 8-inch round cake pans with parchment paper and grease lightly.
Sift together the flour, cocoa powder, sugar, baking soda, and salt.
Make a well in the center and pour in the liquid ingredients.
Stir until just combined.
Distribute evenly between the pans.
Bake for 20-25 minutes at 350F.
Adapted from
The Secrets of Baking
, by Sherry Yard
1/2 cup ganache (see below for recipe)
Tiny pinch of cream of tartar
Melt the ganache over a double boiler. Set aside.
In the bowl of an electric mixer, whip the egg whites on medium speed.
When frothy, add the cream of tartar.
When they reach the soft peak stage, add the sugar slowly and continue beating to stiff peaks.
Transfer to a bowl and set aside.
In the same bowl of the electric mixer, whip the cream to stiff peaks. Place in the refrigerator.
Whisk the yolks in a small bowl. Add them to the ganache and quickly stir to combine.
Add a third of the egg whites to the ganache and yolk mixture and combine quickly with a wire whisk.
Fold in half of the remaining whites with a rubber spatula.
Fold in the remaining whites.
Repeat this process of adding by thirds with the whipped cream.
Pour the mousse into serving glasses and refrigerate.
If you wish to pipe the mousse, refrigerate it until set before filling the piping bag.
Chill for at least one hour before serving.
1/2 tablespoon clear fruit jam
Place the broken up chocolate in a heatproof bowl.
Bring the cream and fruit jam to a boil over medium heat.
Pour the hot cream mixture over the chocolate and allow to sit for one minute.
Stir gently until the ganache is smooth and uniform.
Whip the cream to soft peaks. Add the sugar and rum and continue beating until the cream forms stiff peaks. Refrigerate if not using immediately.