You read it right. The blogosphere's two favorite food trends in one shamelessly cutesy and (squee!) rainbow post. I made these for an art show a wonderful classmate of mine put on to showcase student talent in our city. I
blogged about it
when it was canceled in January due to snowstorms, but this time everything went according to plan. I made cupcakes and macarons in rainbow colors, as that was the show's theme, and because they're two baked goods that always seem to be a hit.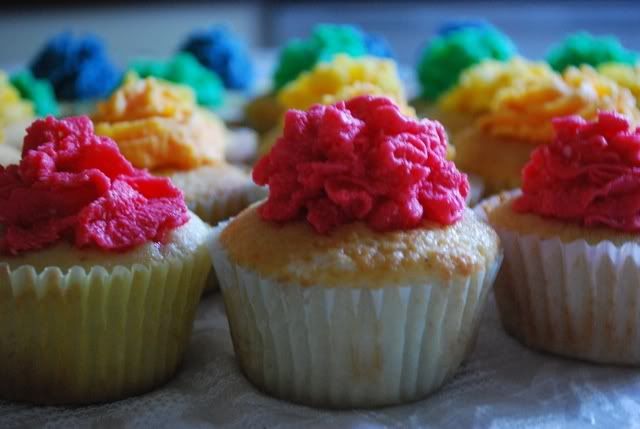 Unfortunately, I was not able to actually be at the art show, because I already had plans for that night when the organizer asked me to bake something. However, I dropped off the goodies earlier in the day, and someone at the show ran the table selling them. I was really happy with how they came out, especially the macarons; they looked so cute all lined up in rainbow order.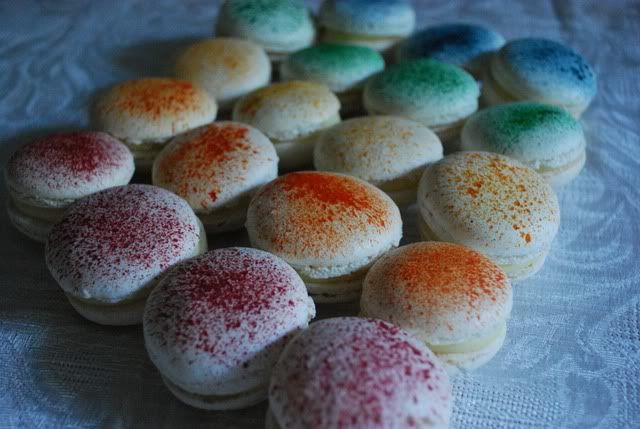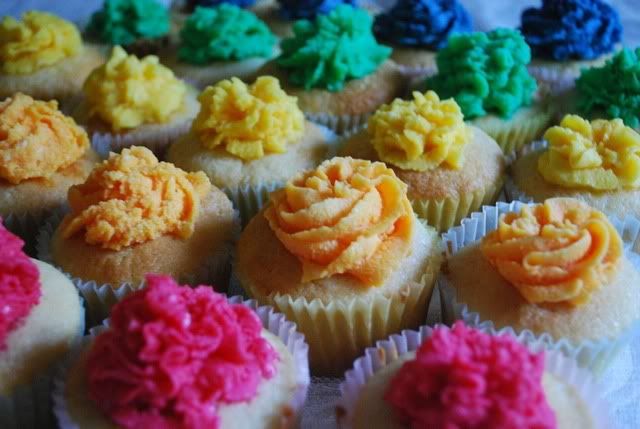 I'll admit that making them was a bit of an adventure. First of all, I had to pipe five different colors of buttercream, and since I wanted the cupcakes to be as fresh as possible, I had to do it all on the morning of the show. I didn't think it would be that bad until I was elbow deep in dish water, scrubbing out my only piping bag between colors. Secondly, it has been
hot
up here, and humid. You know what's not fun to do in intense heat? Pipe buttercream. I couldn't get five cupcakes done without the buttercream starting to melt. It was a constant dash between my kitchen table and the refrigerator, putting each one in the fridge (as well as the white chocolate ganache-filled macarons) before anything could melt. On top of that, I didn't mix the frosting quite enough when adding the butter, so there were a few tiny specks of butter visible even through all that food coloring.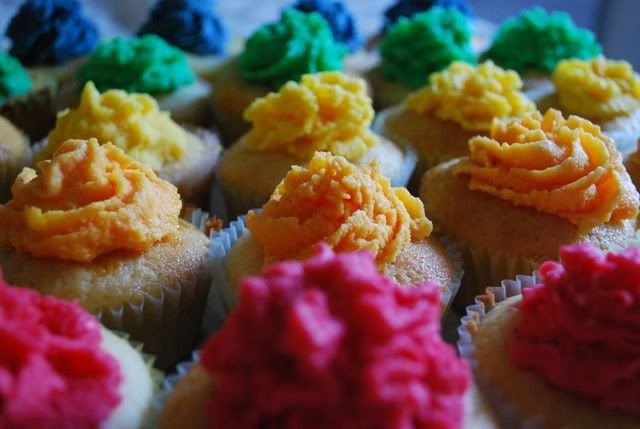 But no fear! They still turned out pretty well, I think, and they certainly looked sweet when all grouped together in a rainbow (though they were noticeably uglier when you were just looking at one cupcake).
On the macarons, however, I really don't have too many complaints. For once they were pretty well-behaved, and except for some puffy ones with cracked tops, they all came out very well. I used the cracked ones for the bottoms of the sandwiches and no one was the wiser.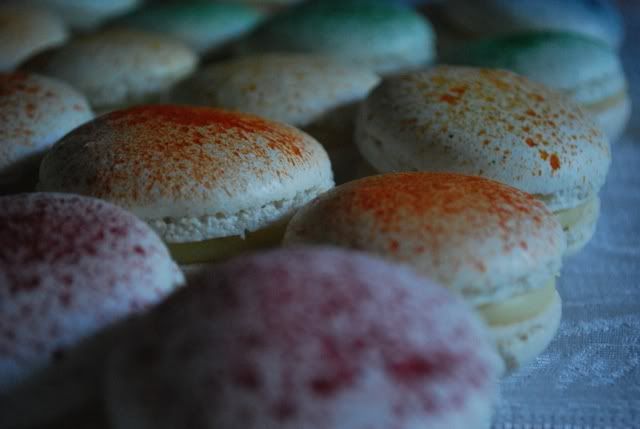 I kept wondering, initially, how I was going to make the macarons fit the rainbow scheme of the event. I considered doing five tiny batches and dying each set of shells a different color, but then I realized that that sounded more like cruel and unusual punishment than a fun baking project. So I baked them all at once without adding any dye, planning to sort of paint the tops with color one way or another. Then I got the idea to splatter each shell with color, rather than painstakingly paint on a design (I'm not lazy, I was just running out of time). So I grabbed five old toothbrushes and five little bowls of food coloring. All I did was dip a toothbrush in a color and flick it over the macaron shell, and it gave a cute speckled effect. The only downside was that my nails were dyed orange, green, and blue for the next few days. Lovely.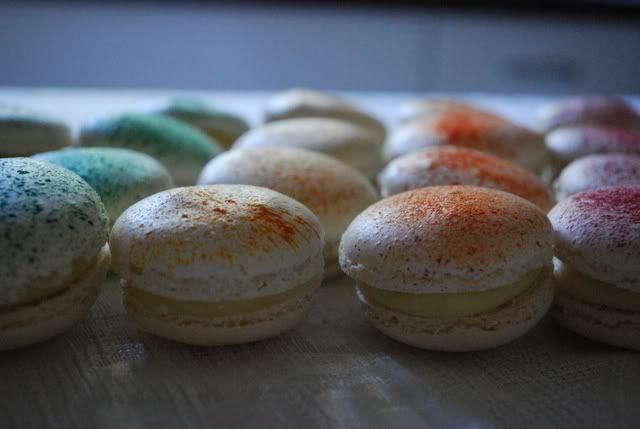 The next time I decide to make large quantities of cupcakes, at least in this heat, I think I'll use a seven-minute frosting. In my experience, it's always held up better in hot weather and humidity than fat-based frosting. Buttercream, though always popular because it's so rich and creamy, just doesn't seem worth it if it's going to be sliding off my cupcakes as soon as I pipe it. Which is what this batch was doing. My kitchen table was a mess of rainbow food color puddles for a while there.
No matter how much I complain about melting buttercream or ganache, though, I'm very proud of both the cupcakes and the macarons. And more than anything, I'm glad that I was able to help out with this wonderful art show in some small way.
Your Baking Soundtrack for Rainbow Cupcakes and Macarons:
Put Up or Shut Up
, All Time Low
Don't judge me. I'm a teenage girl and I'm allowed to like poppy, angsty music as much as obscure Galician bagpipes. AlsoIhaveacrushonthisband.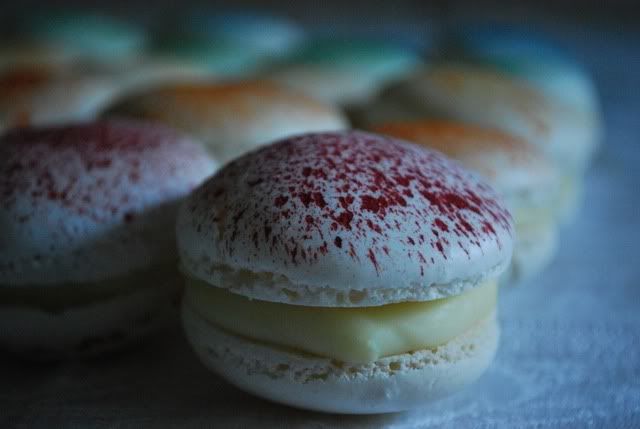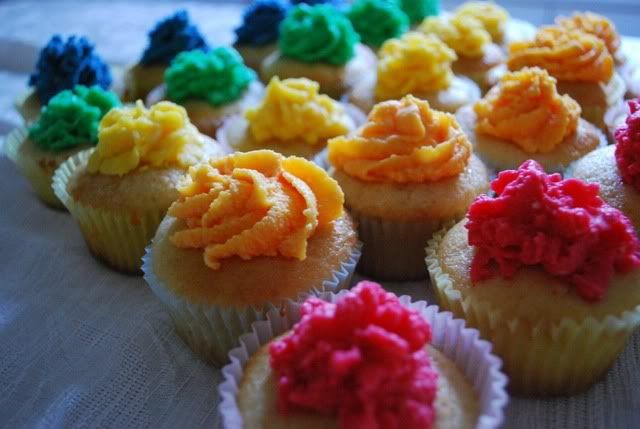 Line two muffin tins with paper liners.
Cream butter and sugar until light and fluffy in the bowl of an electric mixer, on medium speed. Add the eggs and vanilla extract and mix until combined. Set aside.
Sift together the flour, baking powder, and salt.
Alternate adding the dry ingredients and the milk to the butter mixture, mixing on low speed after each addition just until combined.
Fill each tin 1/2 way with batter - these rise like crazy.
Bake on separate racks for 20-25 minutes at 375F, until golden.
Immediately remove from muffin tins.
Rainbow "Crazy Good" Buttercream
3/4 cup sugar
1/2 cup heavy cream
1/2 cup butter at room temperature, cut into four 1-ounce pieces
1/8 teaspoon cream of tartar
Red, orange, yellow, green, and blue food coloring.


Combine the sugar, heavy cream, cream of tartar, and 1 1-ounce piece of butter in a medium
saucepan over medium-high heat.
Bring the mixture to a boil, stirring constantly.
Continue stirring constantly and keep it at a boil for 2 minutes.
Allow to cool to room temperature, and then place in the fridge for at least half an hour.

Pour the mixture into the bowl of an electric mixer.
Using the paddle attachment, beat on slow for thirty seconds.
Increase to medium and beat for two minutes, while adding the remaining pieces of butter until fully incorporated.

Beat on high for two minutes.
Scrape down the sides of the bowl and beat on high for another minute, until very light and fluffy.
Divide the buttercream evenly between five bowls a
nd place back in the fridge to firm slightly.
Add one color to each bowl of buttercream, mixing to combine. Avoid overmixing to keep the cream fluffy, and only keep the other bowls of buttercream in the fridge while you are working on one color.
Allow to firm slightly in the fridge again before piping.
75 grams blanched almonds
60 grams egg whites, room temperature and preferably aged
92 grams granulated sugar
Line two baking sheets with parchment paper.
Fit a large pastry bag with a plain, round tip.
In a food processor, grind the
almonds and the powdered sugar and until very fine. Pass this mixture through a sieve until no chunks remain.
Place 30 grams of the egg whites in the bowl of an electric mixer fitted with a whisk attachment.
Measure out 18 grams of granulated sugar and place this near the mixer.
Place the remaining 74 grams of the granulated sugar in a small sauce pan. Add the water, swirl to moisten all of the sugar, and attach a candy thermometer to the side of the pan.
Over medium heat, cook the sugar without stirring.
When the sugar reaches 190F, begin beating the egg whites in the electric mixer on medium low speed.
When the whites are foamy, add the 18 grams of sugar and beat to soft peaks on medium speed.
When the sugar reaches 230F, turn the stand mixer up to medium high and trickle in the hot syrup, being careful not to splatter the sides of the bowl.
Beat the meringue for 5-8 minutes, until cool.
Combine the remaining 30 grams of egg whites with the almond and powdered sugar mixture, mixing until well combined.
When the meringue is cool, quickly and gently fold (do not mix!) it into the almond mixture. Use as few strokes as possible and fold only until the mixture is just uniform. The batter should flow in a thick, fat ribbon off your spatula when you hold it up, with a thick covering of the mixture remaining on the spatula.
Fill the piping bag with the batter.
Pipe circles about one inch in diameter onto the baking sheets, leaving a bit of room for them to spread slightly.
Leave the macarons to stand at room temperature for 15 minutes.
Bake at 325F for 14 minutes.
Allow to cool COMPLETELY before attempting to remove them from the parchment paper