Sour cream cake + dulce de leche + buttercream = yeah, I'm proud of this one.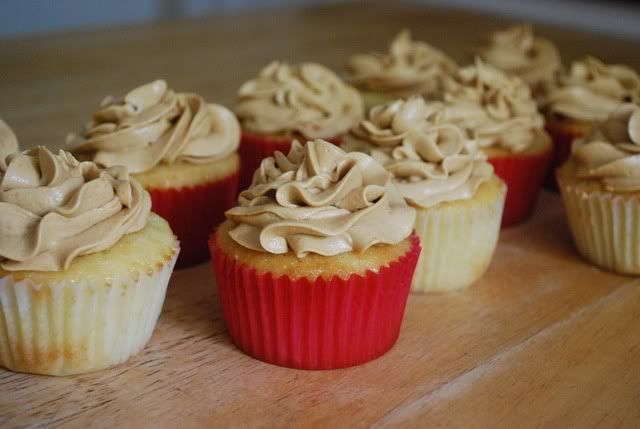 Short post today, because this week is a little crazy. Hope everyone enjoys these! Definitely give them a try. They are
so
worth it.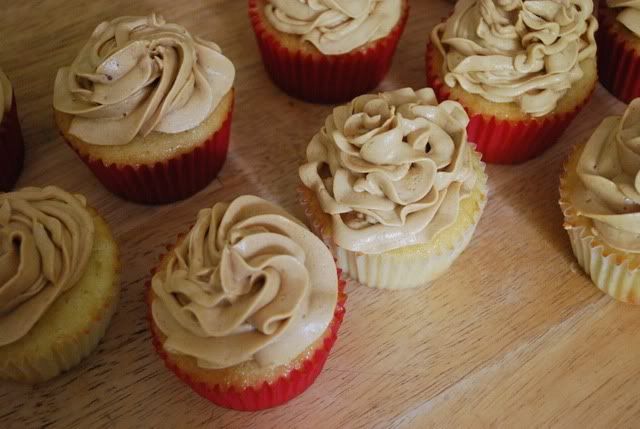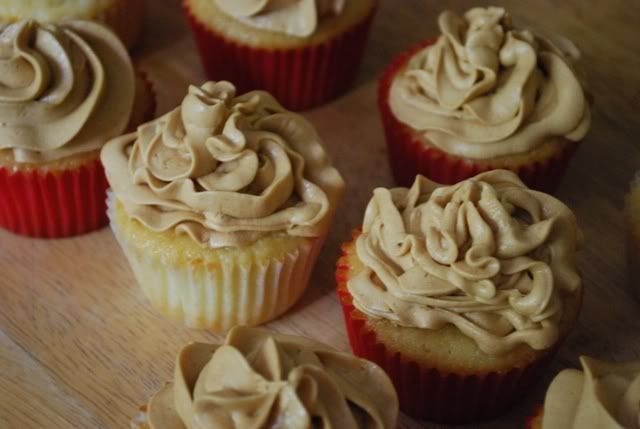 Your Baking Soundtrack for Sour Cream Cupcakes with Dulce de Leche Buttercream:

Even in the Quietest Moments...
, Supertramp
Supertramp is classic. "Give a Little Bit" is classic. This album is classic. And I absolutely love blasting it in the kitchen with the windows open. I figure that the delicious scents of sour cream cupcakes wafting from our house makes up for it.



Sour Cream Cupcakes
From
Seriously Simple Holidays
by Diane Rossen Worthington, via
Epicurean.com
Ingredients

1 1/4 cups all-purpose flour
1/2 teaspoon baking powder
1/4 teaspoon baking soda
1/4 teaspoon salt
2 large eggs
1 cup sugar
1/2 cup butter, room temperature (and I do mean room temperature.)
1 1/2 teaspoons vanilla extract
1/2 cup sour cream
Line one 12-cup muffin tin with paper liners.
Sift together the flour, baking powder, baking soda, and salt.
In the bowl of a stand mixer fitted with the paddle attachment or with an electric mixer, bea tthe eggs and sugar until light and creamy, about two minutes.
Add the butter and vanilla and beat on low until well blended.
Beat in the dry ingredients until combined.
Add the sour cream and beat until blended.
Evenly distribute the batter in the muffin tin.
Bake at 350F for around 23 minutes.
Let cool in the pan for 10 minutes.
Remove from the pan and cool on a wire rack.
Dulce de Leche Buttercream
Ingredients
3/4 cup sugar, minus 3 tablespoons
1/2 cup heavy cream
1/2 cup butter at room temperature, cut into four 1-ounce pieces
1/8 teaspoon cream of tartar
2 tablespoons dulce de leche, room temperature (see below)
In a small saucepan, bring the cream to a simmer.
Remove from the heat and cover to keep warm.
In a separate saucepan over medium-high heat, cook the sugar without stirring until liquid and caramelized.
When the caramel has reached your desired darkness, add the warm cream.
Allow the mixture to bubble for a few seconds and add the cream of tartar and one of the 1-ounce pieces of butter.
Scrape the mixture into the bowl of an electric mixer.
Allow to cool and place in the refrigerator for at least 30 minutes, until well chilled.
Using the paddle attachment, beat on slow for thirty seconds.
Increase to medium and beat for two minutes, while adding the remaining pieces of butter until fully incorporated.

Add the dulce de leche and beat on high for two minutes.
Scrape down the sides of the bowl and beat on high for another minute, until very light and fluffy.
Dulce de Leche
Ingredients
16 ounces whole milk
162.5 grams sugar
100 grams corn syrup
1/8 teaspoon baking soda
Combine all the ingredients in a heavy saucepan over high heat and stir until combined.
Cook without stirring until the mixture begins to brown.
Turn the heat down slightly and continue to keep an eye on the heat as the caramel turns darker.
Once the dulce is a rich caramel color, remove from the heat and allow to cool to room temperature.
Store in the refrigerator.