When I was in elementary school, I never bought lunch.  My mother, suspicious of the school lunches (and rightly so - they were horrible) would pack me a lunch every day before I got up.  But there was one item on the menu I would go for: cornbread.
All of my first grade class looked forward to what were unofficially known as Cornbread Fridays.  Our teacher, Doctor V, was a very kind and very patient instructor, but she was known as the strictest of the elementary teachers.  She always wore a blue button-down shirt monogrammed with her initials, with the starched collar turned up.  Everything had its place, and everything had its certain way of being done in her classroom.  But there was one thing Doctor V went wild for, and that was Cornbread Friday.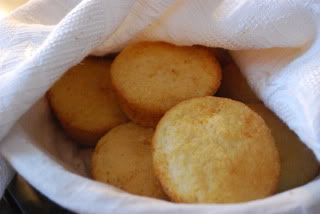 I've always loved cornbread, though it was never exactly a staple in our house.  I love its golden color, its soft sweetness, the crumbs it inevitably leaves all over your plate, and the way it tastes next to meat and cheese.  
I go through what I think of as food phases, where for a few weeks I will get completely wrapped up in the idea of one type of food and won't stop thinking about it until I get a chance to make it.  When I first started baking, it was meringues.  Later on, it was pies.  Right now, it's mousse.  But at one point, I got cornbread into my head and couldn't get it out.  I found a recipe in my parents' yellowed copy of the whimsical Moosewood Cookbook and set to work.
It was a disaster.
Cornbread as I knew it was a deep, buttery yellow, just slightly browned on top.  It was a little sweet.  Its texture was crumbly and soft.  But what I ended up with was a pale, dry mass that tasted a lot like cardboard.  I panicked.  What had I done wrong?  Had I not used enough honey?  Should there have been sugar along with the honey?  Why did the recipe contain a full cup of yellow cornmeal but still look like plaster?  I had followed the recipe exactly, so why didn't I have my perfect cornbread?
So, after tossing my half-eaten muffin to my dog and leaving the rest of the batch in the fridge for someone else to worry about, I did my research.  I learned that there are two types of cornbread; the traditional Southern, and Yankee.  The Southern one, as I understand it, is generally denser and not sweet, and meant to accompany savory dishes (though I've always been served chili with its sweeter counterpart).  It is a bread.  Not a muffin, not a dessert, not a cupcake.  And it's what I unknowingly made with the Moosewood recipe.
Yankee, or Northern, cornbread is a lighter and sweeter variation.  It generally contains sugar, honey, or molasses, and is almost always baked in an oven, whereas some types of Southern cornbread are heated in a skillet.  
There is a whole lot of debate over which cornbread is the most authentic or the best.  From what I've seen of the number of cornbread enthusiasts, I'd say that they're both pretty essential staples in their part of the country.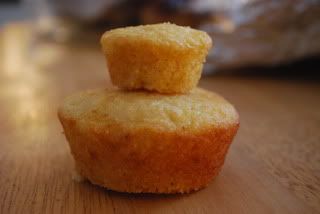 Me, though?  I'm a Yankee girl through and through.
1 1/2 cups all-purpose flour
3/4 cup yellow cornmeal
2/3 cup sugar
5 tsp. baking powder
1 tsp. salt
1/2 cup olive oil
1 egg
1 cup milk
1 tsp. vanilla extract
Grease one muffin pan.
In a large bowl, combine flour, cornmeal, sugar, baking powder, and salt.
Whisk together the oil, egg, milk, and vanilla.
Make a well in the center of the dry ingredients and pour in the liquid.
Stir until just combined.
Spoon the batter into the muffin tins.
Bake for 15-18 minutes at 400F, until golden brown.
Oh, and happy Valentine's Day!