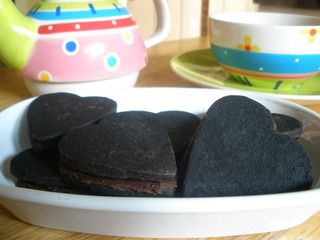 I've been banned from my kitchen until Valentine's Day.
It's gotten to the point where I have to ask permission before baking, because if not I'd be filling the fridge with fattening foods all day.  So I've requested permission to make cupcakes for Valentine's Day, and that means this will be a quick post with a recipe I made a few months ago.
These chocolate shortbread hearts are very dainty and very tasty.  Be gentle when cutting them out, as they break if they are too thin or if your work surface is not floured enough.  Use a good-quality chocolate for the filling; it shouldn't be the priciest stuff you can find, but you will be able to taste the difference.  Also, make sure that it isn't too bitter, as the cookies themselves are not very sweet.
Also!  Like my new header?  I'm going to work on the rest of the layout at some point...now that I have all this time not spent making cookies...
Chocolate Sandwich Cookies
Adapted from
The Silver Palate Good Times Cookbook
1/2 cup butter, cold
1/2 cup sugar
1 egg
1/4 cup unsweetened cocoa powder (I used a black cocoa powder for these, that's why they're so
dark)
1 cup all-purpose flour
For the ganache:
1/4 cup heavy cream
4 oz semisweet chocolate (and I do mean semisweet, not bittersweet)
Sift the flour and set aside.
Cream the butter and 1/4 cup of the sugar until light and fluffy.
Add the egg and beat until incorporated.
Add the cocoa and beat on low until just combined.
Add the flour and stir with a spatula until just combined.
Flatten the dough into a disk and wrap in plastic wrap.
Refrigerate for one hour.
Divide the dough in half.  Flour a work surface.  Roll each half 1/8 thick.  Cut out shapes,
gathering your scraps and rolling again when necessary.
Sprinkle the cookies with the remaining 1/4 cup of sugar.
Bake at 350F for 8 to 10 minutes.
Bring the cream to a boil over medium heat.  
Add the chocolate and stir over low heat until the chocolate is melted.  
Remove from the heat.  Allow to cool completely.
Beat until light and fluffy.
Sandwich a teaspoon or so of the filling between two cookies.
Serve with peppermint tea!