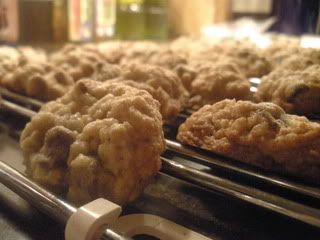 It's finals week at my school, and it's incredibly stressful on everyone - teachers included.  I have had several teachers this year that have been simply wonderful, and I wanted to make them something to show that we students really do notice and appreciate all their hard work.  The first is my health teacher.  She has a great sense of humor and always keeps our classes entertaining, but she also very clearly cares about all her students and is extremely understanding and willing to help with whatever she can.  The second is my physics teacher, who has been absurdly patient with our class this year; we're pretty noisy, to say the least.  However, he has walked us through every conceivable type of problem, tutored us in the morning, delayed tests, and helped with homework, all without once freaking out at us.  Which definitely deserves a batch of cookies, if not a medal.
I felt that, since I was baking for a health teacher and all, the treats should at least attempt to be a little bit healthier.  As I'm not one to sacrifice sugar or butter, that meant they would have to incorporate some sort of healthy component into an otherwise tasty, artery-clogging recipe.  The result?  A highly addicting batch of cowboy cookies, chock full of oats, pecans, and chocolate chips.  Perfect (if not necessarily pretty).
Now.  I hate thin chocolate chip cookies.  I know a lot of people don't mind, and many actually prefer them that way, but I like my cookies voluptuous (and yes, I did just use that to describe a cookie).  Using some techniques I learned from
Joe Pastry
, these came out just the way I like them - thick, soft, and chewy.  Cookie manna.  I've adapted the instructions from the original recipe to make for cakey cookies, but if you prefer them thinner, you can 
a) Use soft butter to start with.
b) Overbeat the butter and sugar
c) Not refrigerate the dough before baking
Really great posts on making differently textured cookies can be found here, at Joe Pastry's
chocolate chip cookie
entries.
I'm also including photos of the different stages in the process, as all too often I find that recipes aren't specific enough in what the dough should look like at different points.  Hopefully, this will help to make the technique clearer.
I took these in to class today.  I presented my physics teacher with his bag of cookies and a thank you for being so patient with our class, and I left a little carry-out box with the treats on my health teacher's desk as a surprise.  Both lit up a little bit.  It made munching on the leftovers seem that much sweeter.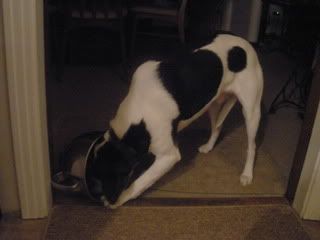 Riley, my ever-faithful dish washer.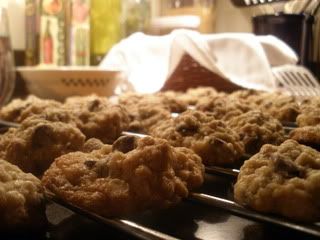 Don't overcream the butter and sugar.
Have your eggs at room temperature and, once added, mix only until combined.
Fold in the oats, pecans, and chocolate chips with a spatula.
Adapted from the Nestle Toll House recipe.
1 3/4 cups all-purpose flour
1 tsp baking soda
1/2 tsp salt
1 1/4 cups packed brown sugar
1 cup (two sticks) cold butter
1/2 cup granulated sugar
2 large eggs
2 tbsp milk
2 tsp vanilla extract
2 1/2 cups quick oats
2 cups semi-sweet chocolate chips
1 cup chopped pecans
Combine flour, baking soda, and salt.  Set aside.
Cream butter and sugars until light and fluffy.  Do not overbeat. 
Add eggs, milk, and vanilla extract and beat on medium-low until just combined.
Gradually beat in flour mixture on medium-low.
With a spatula, mix in oats, chocolate chips, and pecans.
Refrigerate the dough for forty-five minutes or until thoroughly chilled.
Preheat the oven to 375 when the dough is good and cold.
Drop the dough by tablespoons onto a work surface and give each ball a quick roll between
your palms, so that it takes a relatively smooth shape but doesn't warm up.
Place on greased baking sheets and bake for 9 or 10 minutes.
Unless you have a commercial oven at home, you'll be working in batches with these.  Make sure to refrigerate the dough while each batch is baking, so that the next cookies you roll out will still be cold going into the oven.