So it's a little after the fact.  So what?  Christmas is exciting at any time of the year, and I really want to share this one, even if it is January now.  This Christmas was so full of great food that it seems a shame not to write about it here. 
We went to visit my family in Florida, as we usually do.  I've never been crazy over the idea of a white Christmas; I'm definitely not a cold weather person.  So I've always been happy to get away from school and work and, most importantly, all that snow, and head to the tropics.  The only Christmas in recent history I can remember that we didn't go to Florida was two years ago, when we stayed home for the holidays, and by the end of winter I was ready to pull my hair out.  I think that's when my parents decided that the plane tickets might be worth it.
This year we got in on Christmas Eve, maybe around four or five in the afternoon.  How do grandparents of any culture greet their family?  Food.  Way, way too much food.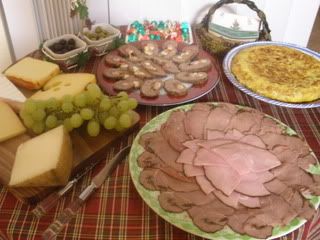 They had a lovely little side table set up with cold cuts,
lomo de cerdo relleno
 (filled pork), tortilla Española (Spanish omelette of potatoes and onions), black and green olives, and all kinds of cheeses.  And, of course, the very traditional Hispanic Hershey's Kisses in the back.
But it wasn't all eating, at least not immediately.  We quickly put ourselves to work setting out even more food.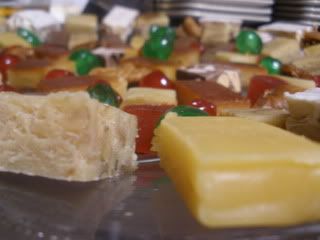 My mom and I were in charge of the dessert platter of
turrón
, almond-based candy for which I have always had a very big soft spot.  There's
turrón de yema
,
front right (made with egg yolks and very, very rich);
turrón de nata y nueces
, front left (a lot like marzipan, but with walnuts throughout); another kind of the
yema
, with a dark, toasted top;
turrón de Jijona
 (a soft melty affair that is my personal favorite);
turrón de Alicante
(a hard, crunchy one with whole almonds);
turrón de chocolate
(how could we not put chocolate in turrón? It's just too good of an idea); and candied fruits sprinkled throughout.  
Turrón
isn't easy to find in the United States, unless you live in an area with a large Hispanic population (we came back from Florida with about half our suitcase occupied by
turrón
).  If you do manage to find it, scoop it up before someone else does.  If you order it online, buy a good-quality brand like Delaviuda, or try
La Tienda
.  I could spend days on that website and end up with way more
horchata
,
chorizo
, and olives than I'd know what to do with.
Hah.  As if it would be unlike me to eat it all.
Speaking of going shopping, we inevitably had to go out for basic groceries a day or two into our stay.  Normally grocery shopping seems like a chore, but put me in an Hispanic supermarket lined with foods I see once or twice a year on special occasions, as if they're the most normal things in the world...
I got a little crazy.  I don't even have to tell you about the
turrón
.
I'd actually never had a persimmon before, but I'd wondered about them since reading Li-Young Lee's "Persimmons
."  
We don't have them at home, so when I saw crates full of them practically overflowing in the supermarket, I jumped.  And I'm glad I did; they're delicious.  You'll often hear persimmons describes as tasting "floral," which they do.  They're unlike any fruit I've ever tasted.  The best description I can give of these two particular persimmons was that they tasted a bit like mango with cinnamon, with a wonderfully light, flowery hint to them.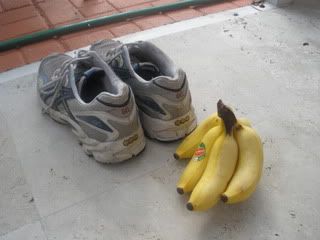 Here we have
manzano
 bananas.  Look how tiny they are!  They're supposed to taste like apples (hence, "manzana"), but these weren't very ripe, and they just tasted like bananas.  They did have a curiously smooth texture, though.  Regardless of what they did or didn't taste like, they're adorable.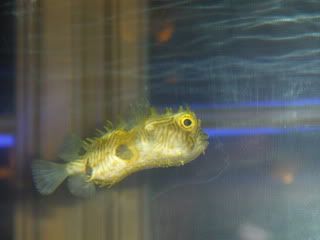 Pufferfish!  One of the few things we didn't eat.
Last year when we went to visit, my little cousin and I made spice cheesecake and apple cupcakes with a brown sugar cream.  She was really excited to bake again this year, though unfortunately we didn't have much time to do so.  My mother requested we make
magdalenas
, small, traditional Spanish cakes.  You might call them cupcakes, but for some reason, that seems incorrect to me.  They're made with olive oil, and they are supposed to taste like it.  However, my grandmother only had extra virgin in her house.  I didn't like the idea of making them with a strong-flavored olive oil, but I had a little cousin hell-bent on making cupcakes on one hand and a mother refusing to eat anything made with butter on the other.  So we made the
magdalenas
 with extra-virgin olive oil.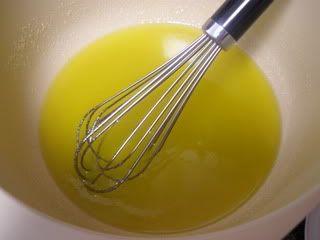 The moral of the story?  Always trust your instincts.  The cakes tasted like we had baked olives right in there.  The brown sugar cream we made only made things worse.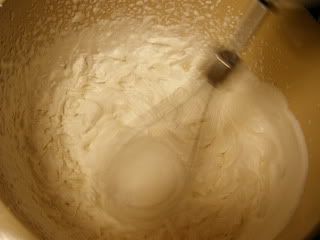 Though it was quite good on its own.
The sad thing is that
magdalenas
 are usually very good.  However, I admit the recipe I used wasn't the best, and that extra virgin olive oil didn't help.  Below is a much better, thoroughly tested recipe, and I highly suggest you try these little cakes if you get a chance.
We stayed in Florida for a week.  Christmas is the only time of year I get to see my family, and I tried to make every second count as much as possible.  The climate was wonderful, the food, of course, was great, and I felt myself sinking a little as our plane took off for home.
There's always next year, though, and third pressed olive oil.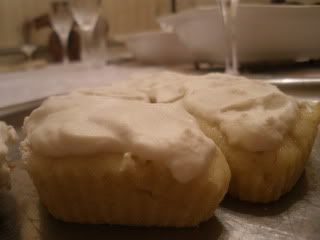 Grab your scale; this is Europe, baby!
7 tablespoons olive oil (do not,
do not

 

use extra virgin)
100 grams sugar
2 eggs
100 grams all purpose flour
1 teaspoon baking powder
The zest of one lemon
Extra sugar, for sprinkling (optional)
Line a muffin tin with paper liners.
Sift together the flour and baking powder.  Set aside.
Whisk the eggs and the sugar until light.  Add the oil and whisk gently and slowly, until soft and fluffy.  Add the lemon zest.  Gently add the flour and baking powder, folding very gently until just combined.
Fill the muffin tins 2/3 of the way up with batter.  You may sprinkle them with the extra sugar here, if desired, though I suggest you don't if you want to use the brown sugar cream below.  
Bake at 355 F for 20 minutes, until golden brown. 
Brown Sugar Creme Chantilly
1 cup heavy cream
2 tablespoons brown sugar
Whip the cream to soft peaks.  Add the brown sugar and continue whipping until it holds stiff peaks.  Do not overwhip.