Things have been pretty hectic around this household lately. The first semester of senior year is, I'm learning, a killer: I'm swimming in college applications right now, and even though I got started decently early, I'm still afraid I'm barely keeping my head above water. This week has seen a lot of apps, a lot of homework, and a lot of very long schooldays. Last night I decided to ignore my phone, my friends, and Facebook, and come straight home. Sometimes a girl just needs some baking therapy.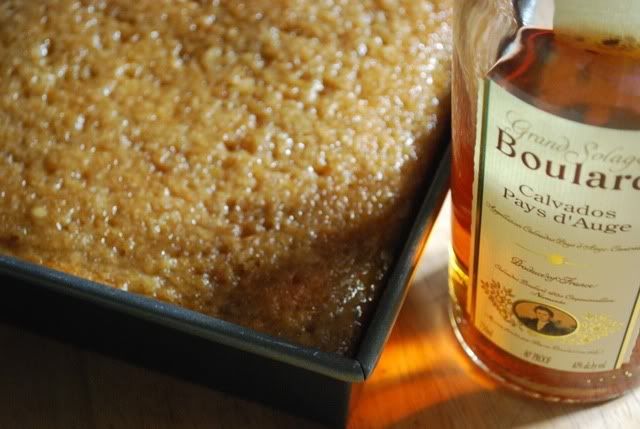 My parents have been talking about this one dream cake for about a year now. Apparently, one of my dad's students brought a really marvelous coffee cake to work, and they both got to try it. They've been asking for a replica ever since. The original was a plum cake with brandy and an orange syrup on top. You can imagine that I wasn't exactly opposed to the idea.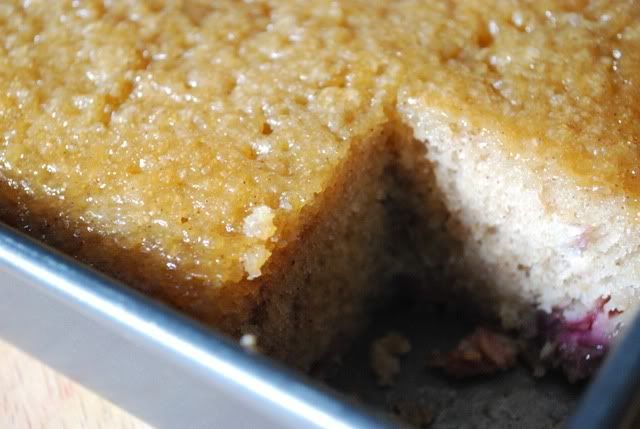 They described this cake as being plum-flavored, but not with whole pieces of plum in it. I started looking for plum cake recipes last night, but all I could find was tarts that have plum halves baked into the bottom. I didn't want to just use my
All-Purpose Vegetable Cake
with plum puree, since I've posted that recipe various times on this blog. Instead, I decided on a recipe that incorporates small pieces of plum into a spongy batter. The orange brandy syrup was my own addition.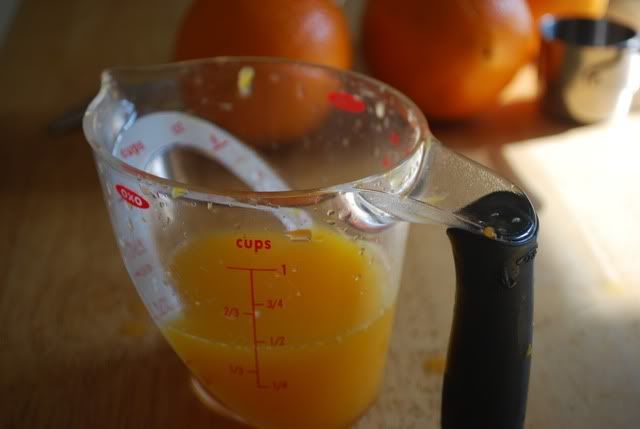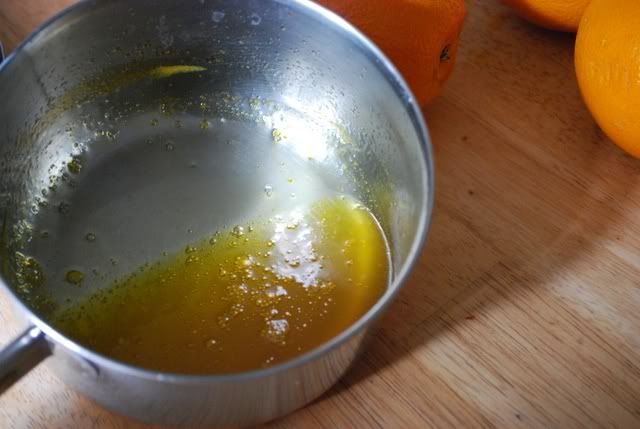 When I sliced off a little square for my mom this morning, she said that a) it was very good, and b) "Está totalmente
borracho
,
¿no? "Bizcocho borracho" literally means "drunk cake" in Spanish, which is an excellent description for this cake. It's fruity and boozy, but since the brandy syrup is cooked, you can totally get away with serving it at breakfast.
Despite its array of flavors, this cake is wonderfully unpretentious. It is, as its great ancestor "The Mysterious Cake From Work," a simple coffee cake at heart. No fluffy icings or fillings or fruit coverings here; like a true lady, it has lots of flavor, but it doesn't make a scene.
I can't believe I just said that.
Anyways. College applications, transcripts, essays, and recommendations = good in the long term. Cake = good right now. Booze on top = even better.
Your Baking Soundtrack for Fresh Plum Cake with Orange-Brandy Syrup:
Life Won't Wait, Rancid
I am a tiny, tiny white-looking Hispanic girl who wants to bake for a living and listens to ska punk. I feel like Rancid would be totally cool with that.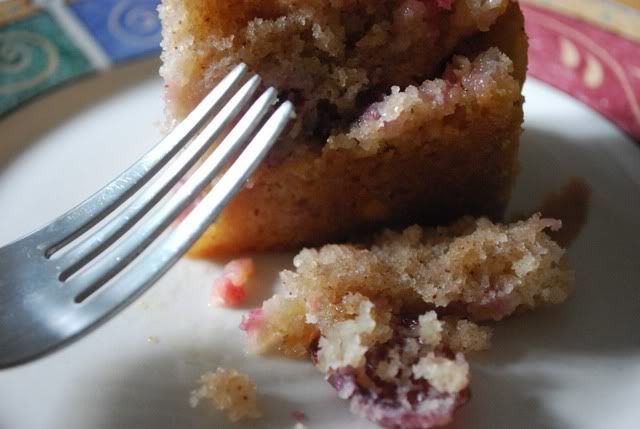 Fresh Plum Cake
Ingredients
1 cup vegetable oil (canola or mild olive)
3/4 cup diced, fresh plums (about 1/4-inch pieces)
Grease an 8x8 inch square baking pan.
In a medium bowl, combine the sugar, salt, nutmeg, cinnamon, baking soda, and flour.
In a large bowl, beat the eggs until pale yellow and frothy, then add the oil and buttermilk.
Slowly add the flour mixture to the egg mixture and mix until thoroughly combined.
Pour the batter into the prepared pan.
Orange-Brandy Syrup
Ingredients
1/3 cup fresh-squeezed orange juice
Combine the sugar, orange juice, and brandy in a small saucepan.
Cook uncovered, stirring constantly, for three minutes.
While the cake is still warm, poke holes in the top with a fork.
Apply the syrup to the top of the cake with a clean pastry brush.