*Yawn*
Good morning.
*Holds out a tray of delicious glazed donuts and a pot of coffee*
Life is good, isn't it?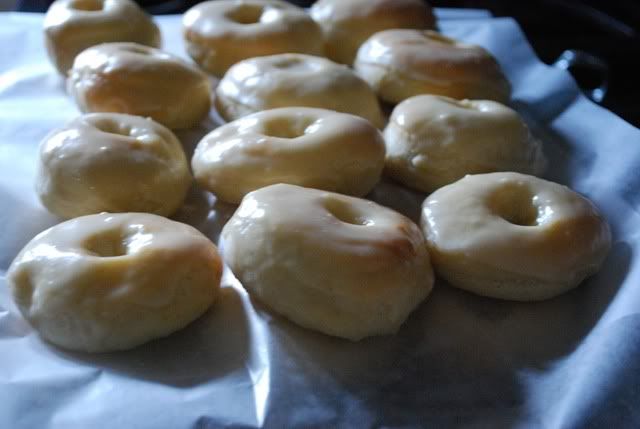 So yesterday I volunteered for a recruitment open house at my school. We had a ton of people come in for our department, including teachers and students, that were instructed to talk to prospective students and their parents about the program. Our department coordinator had asked me to bake something for the volunteers, as a reward for coming in to school at quarter to nine on a Saturday. She told me that there would be about 30 students and 20 teachers, so there had to be lots and lots of treats. I offered to make the above donuts (which turned out 3 dozen), a dozen cream cheese muffins, a dozen chocolate, and 18 banana chocolate chip.
I'll be doing separate posts for each type of muffin, since I really want to focus on the donuts today. They. Were. So. Good. One teacher had four. Another girl had five. They absolutely disappeared. I was so happy that people kept telling me how much they liked them, and of course, there's no better compliment than people gobbling up the things you bake.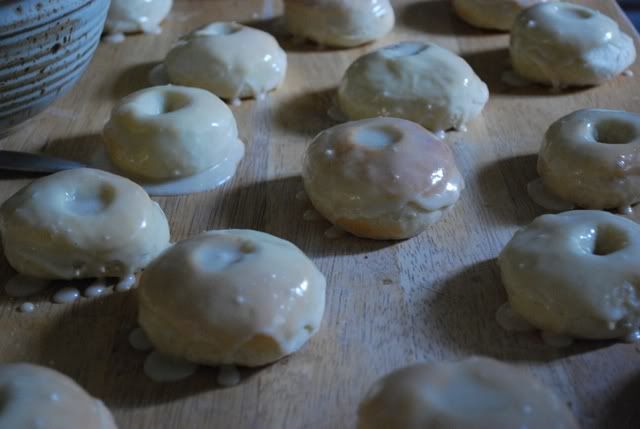 These donuts were perfect for the recruitment. Everybody was sleepy and worn out, especially the juniors and seniors. Our class was assigned four English essays, all due at the same time last Friday, so I for one hadn't slept more than four hours a night all week. Plus, I'd had an order for ninety mini cupcakes for Friday afternoon, and then I'd stayed up till past midnight on Friday night baking all the goodies for the next morning. I was replacing sleep with coffee and it was not good. So these soft, sweet, comforting donuts were welcome by me, and pretty much everyone else. Especially alongside the pot of coffee left in the break room.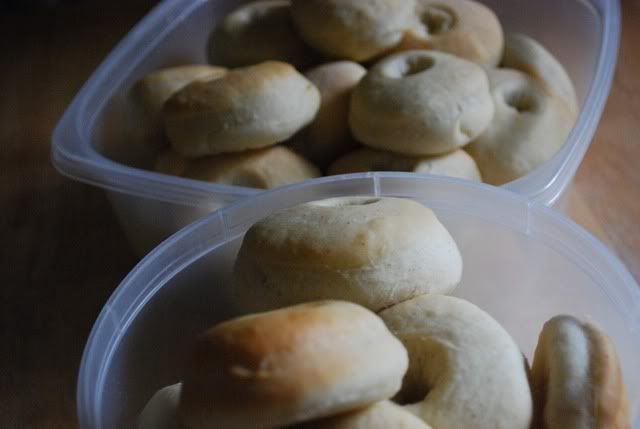 In case you were wondering, I finally did get to catch up on my sleep. Thirteen hours straight last night. I feel like the stereotypical lethargic teenager. Or I would, if I hadn't gotten all those essays, calc homework, environmental science, psychology, fiction, cupcakes, and breakfast goodies done on time. So I think I deserve a donut.
P.S. Like my new layout? My friend Greg did the doodle for me and I just loved it! Hopefully I'll have time to tweak it and make the layout a little prettier in the next week or so.
Your Baking Soundtrack for Baked & Glazed Donuts:
Bring it On!, Horrorpops
Crazy, manic, upbeat, Gothy rockabilly with an upright bass and dancers dressed in straightjackets. They are definitely on more caffeine than me.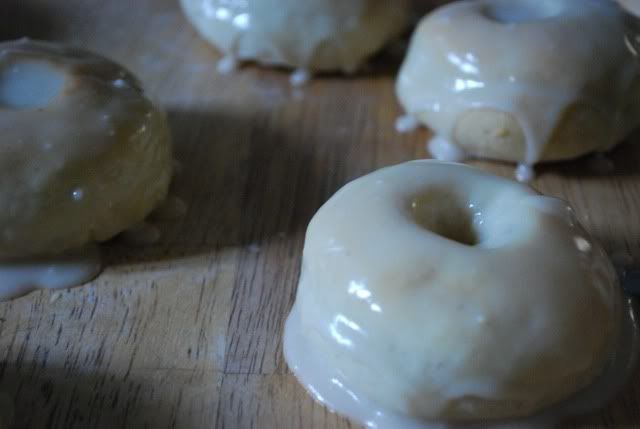 Baked Donuts
Ingredients
1 1/3 cups warm milk (95-105F)
2 1/4 teaspoons active dry yeast
2 tablespoons butter, diced
2/3 cup sugar
2 eggs
5 cups all purpose flour
Pinch of nutmeg
Pinch of cinnamon
1 teaspoon salt
Line four cookie sheets with parchment paper.
In the bowl of an electric mixer fitted with the dough hook, stir together 1/3 cup of the warm milk and the yeast. Allow to stand for five minutes.
Stir the butter and sugar into the remaining warm milk.
Add to the yeast mixture.
Stir the eggs, flour, nutmeg and salt into the milk and yeast mixture with a fork until the flour is all moistened.
Beat the dough for two minutes on medium speed, until soft and smooth, not sticky.
Add more flour or milk bit by bit if needed.
Transfer the dough to a greased bowl, cover with a towel, and allow to rise in a warm place for an hour.
Lightly degas the dough and roll it out on a floured surface to a 1/2-inch thick.
Use a 3-inch cookie cutter (these will be small donuts) to cut out rounds.
Transfer these rounds to the prepared sheets.
When they are on the sheets, use a very small round cutter (I actually used a water bottle cap) to cut out the center hole of each donut.
Cover each sheet and allow the donuts to rise for 45 minutes.
Bake at 375F for 8-10 minutes, until the bottoms are light golden brown. Begin checking the donuts at 8 minutes.
Krispy Kreme Donut Glaze
Ingredients
1/3 cup butter
2 cups sifted powdered sugar
1 1/2 teaspoons vanilla extract
4-6 tablespoons hot water
Melt the butter.
Stir in the powdered sugar and vanilla until smooth.
Add the water, one tablespoon at a time, until the glaze is a good consistency (liquid, but not too thin).
Dip the top of each donut, allow the excess to drip off, and let the glaze harden.