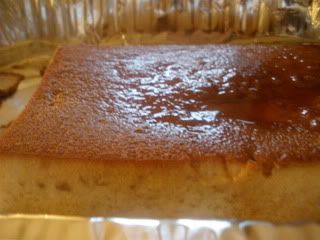 My mom and I share a book of recipes where we keep all the things we intend to make, or things that have turned out so well in the past we have to keep them handy at all times.  Or, maybe I should say that my mom has a book of recipes, and since I've been cooking I've adopted it as my own as well.
Her recipes are mostly Penzeys clippings, recipes she's gotten from friends, a few things she's jotted down but definitely doesn't need a recipe to make, like paella and squid ink rice and pulpo a la Gallega.  My additions are recipes for tarta de Santiago, brazo gitano, and hordes and hordes of different American brownies printed out on brightly colored scraps of paper.  We've run out of pages at this point, and I've just started sticking folded-up recipes in the back and hoping they don't get lost.
One of the recipes neither of us really needs is for my mother's flan.  It's neatly printed in loopy pencil on yellowed lined paper, with minimal directions.  It calls for coconut, but neither of us use it.  And it is the flan that makes the party every time.  It's the one everybody fights over for seconds, the one you can make for every single party in a holiday season and not once carry home leftovers.  It is extremely good, thick and creamy with an outstanding taste that goes beyond most flan.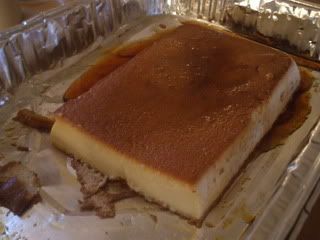 Nom freaking nom nom nom.
The recipe makes two small pans, and we like to reserve one for the party and keep one for ourselves.  Trust me, you'll feel the same way.
Flan
Granulated sugar, for the pans

4 large eggs
1 can sweetened condensed milk
Milk, enough to fill the above can
150 grams unsweetened shredded coconut (optional...I don't care for it)
Fill the bottoms of two small pound cake pans with a thin layer of sugar.  Place the pans over medium heat on the stove until the sugar begins to caramelize, moving them around so that the liquid caramel covers the entire bottom of each pan.  When it is a rich amber, remove from the heat and allow to cool.
Separate the eggs.  Beat the whites until they are stiff but not dry.  Mix the yolks with the two types of milk.  Gently fold in the egg whites.  Carefully add the coconut if you are using it.
Divide the batter between the two pans.  Prepare the bain-marie: fill a broiling pan with one or two inches of water and set the pans inside.  Bake at 350F for an hour.  The flan should be firm.  Refrigerate until ready to serve, and then invert onto a serving plate (or you can be classy like my family and cut it right out of the pan).
Also...an update on the Devil's Food Cake in the last post.  It turned out absolutely delicious!  I got so many compliments at the Christmas party, and there was none left over, which is always the ultimate compliment for me.  If you don't believe the
recipe
was good, just ask my lovely friend what she thinks...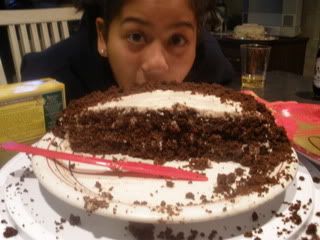 I'll take that as a definite thumbs up.
Hope everyone has a great week!